Flood fury rages
After greater Sylhet, floods hit Bandarban, Ctg; road communication disrupted; water, food crises in affected areas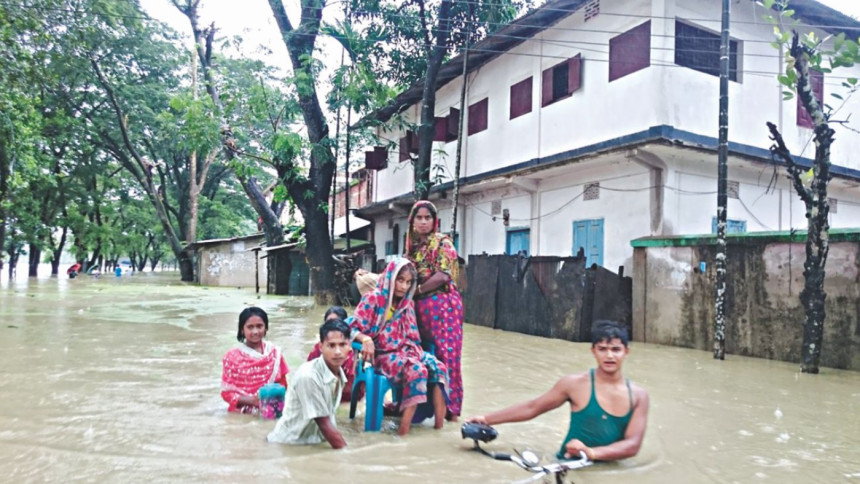 Fresh onrush of flood water has submerged parts of the hilly southeast -- Bandarban and Chittagong -- while Sylhet in the country's northeast continues to suffer due to floods triggered by early monsoon. 
The flood situation has worsened further in Sylhet and Moulvibazar districts as waters in the Surma and Kushiyara rivers continue to swell snapping communication. Nearly three lakh people of the districts are now facing a crisis of food and drinking water. 
In a more recent development, rain-induced flashfloods have left as many as 2,000 families marooned at Lama upazila in Bandarban. Low lying areas of the port city have also been getting flooded during high tides causing sufferings to thousands of people.
Last month, at least 150 people were killed in landslides following heavy rainfall and onrush of water in the hilly areas of Chittagong, Rangamati and Bandarban. 
Incessant rain over the last couple of days inundated a vast area in Lama upazila of Bandarban. All important offices in the upazila have been flooded.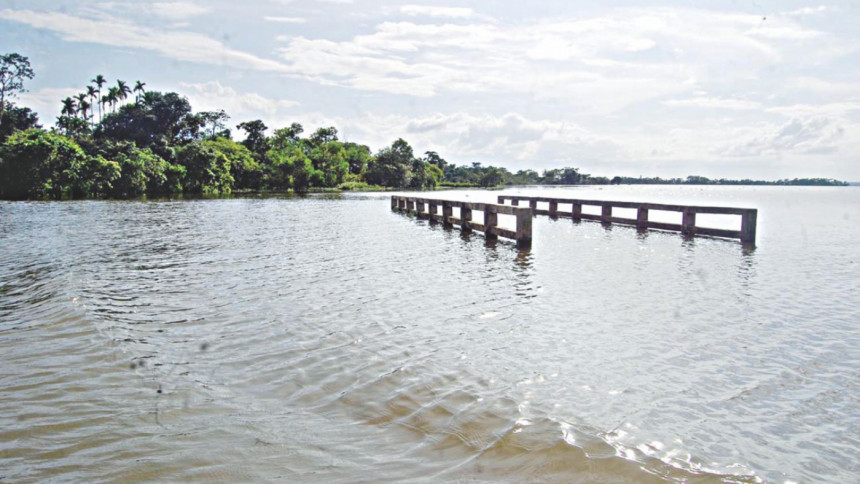 Sources at the Lama upazila administration said low lying areas of Lama municipality including police station, upazila nirbahi office, veterinary office, food office, post office, Lama Bazaar, Ruposhi Para, Sarai and Fashiakhali went under five to six feet of water.
The upazila administration and municipality authorities have opened shelters for flood-hit people.
Road communication between the upazila and other parts of the country has remained suspended since Monday night as many roads and bridges are under water. The Mathamuhuri river is flowing above the normal level due to the onrush of water from the hills.
Many families had to take shelter at schools and cyclone shelters, said Bandarban Deputy Commissioner Dilip Kumar Banik.
Lama Municipality Mayor Jahirul Islam said 10 shelters were opened in the affected areas.
The district administration asked people living on the hills to evacuate the areas as incessant rain may cause landslides. Nearly 1,000 families are living at the foot of the hills ignoring the risk of landslides.
In Sylhet region, people in 1,188 villages of the two districts are affected by floods.
At least 500 educational institutions have been shut down while the authorities opened 44 shelters for more than a thousand families. 
Many people, especially children, have been infected by water-borne diseases, reports our correspondents.
The water level of the Surma is rising while the Kushiyara is still flowing above the danger level.
The water levels may start decreasing today, according to the flood forecasting and warning centre.
People living at Bhadeswar area of Golapganj said they were suffering from many diseases, mostly skin diseases, since they were having to wade through dirty flood water. They were even unable to go to the upazila health complex for treatment as road communication with the upazila sadar had been snapped.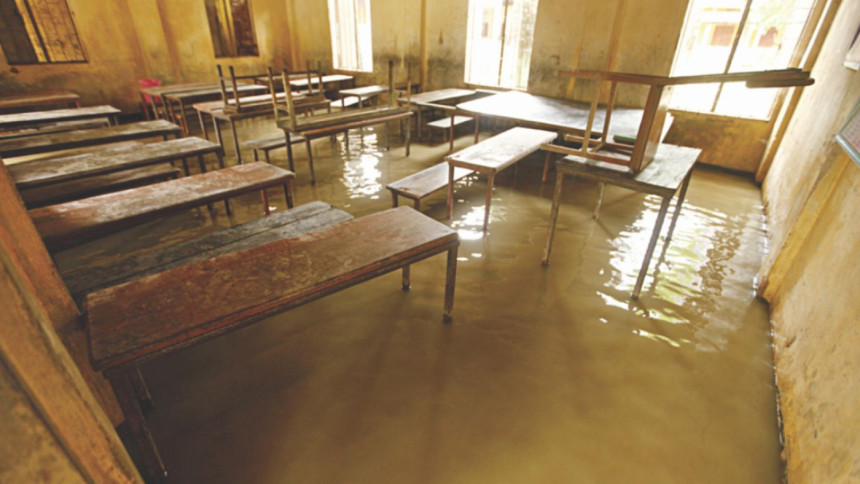 Children were suffering from respiratory problems and pneumonia, said Safiqul Islam, upazila health officer of Fenchuganj. Doctors fear that there may be an outbreak of diarrhoea before the water starts receding.
Waters flowing over the Surma and Kushiara flooded several hundred villages in Zakiganj, Fenchuganj, Beanibazar, Golapganj, Osmaninagar and Balaganj upazilas in the last seven days.
In Moulvibazar, villages in Juri, Kulaura and Barlekha upazilas have recently been inundated.
Abdul Kasem, 58, of Kathaltoli village in Barlekha, said flood was triggered by heavy rain in the last few days. Water from the Kushiara started to enter our home since the Eid day on June 26, he added.
Moirun Begum, 65, of Mirshankar village under Kulaura upazila, said more than 10 houses in the area were flooded. Helpless villagers took shelter on government roads.
Safi Alam Yunus, mayor of Kulaura municipality area, said thousands of families living along the river banks were anxious about losing their cropland and homestead.
Kulaura Upazila Nirbahi Officer Chowdhuri Md Golam Rabbi said he had visited some of the affected areas to make an assessment of the loss caused by sudden floods.
At a relief distribution programme in Badeghat of Kulaura, Disaster Management and Relief Minister Mofazzal Hossain Chowdhury Maya said the government would distribute adequate amount of relief materials to the flood victims as long as they were surrounded by water.