Bangabandhu Satellite: PM to open two ground stations today
They'll be named after Joy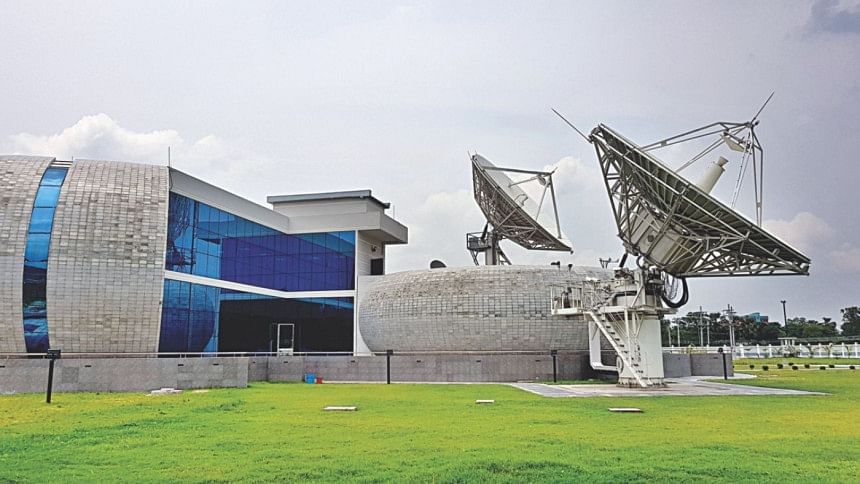 Prime Minister Sheikh Hasina will today inaugurate two ground stations for Bangabandhu Satellite-1, the country's first satellite.   
Via video conference from Bangabandhu International Conference Centre in the city, she will inaugurate the main station in Gazipur's Telipara and the alternate at Rangamati's Bethbunia, said project officials.
Both the stations will be named Sajeeb Wazed Ground Station.
The satellite was launched on May 11 from Florida, USA.
"Launching the satellite is one of the country's highest achievements in digitalisation and that needs to be celebrated," Mustafa Jabbar, the ICT and Telecom minister, told The Daily Star yesterday.
Jabbar said Bangladesh had entered the elite Space Club with the launch of its first geostationary communications satellite and now the youngsters of the country could finally dream of working in "rocket science".
Finance Minister AMA Muhith, Information Minister Hasanul Haq Inu and the PM's ICT affairs adviser Sajeeb Wazed Joy will be present at today's event organised by Posts and Telecommunication Division.
Ten days after launch, Bangabandhu Satellite-1 reached its orbital slot on 119.1 degrees east and it was being fully controlled from the Gazipur station, said Md Mezbahuzzaman, project director of Bangabandhu Satellite-1.
Designed by the French manufacturer Thales Alenia Space, the satellite is equipped with 40 transponders.
The satellite, a Tk-2,765.66 crore project, will offer Direct-to-Home (D2H) services, making people's access to worldwide TV faster and easier.
It will cover mostly South Asian countries, along with Indonesia, the Philippines, Myanmar, Tajikistan, Kyrgyzstan, Uzbekistan, Turkestan and a part of Kazakhstan.
Mezbahuzzaman said they had run a network expectation tests with the help of Thales Alenia Space experts and the result was positive.
"We are expecting the satellite to be ready for commercial use by the end of September."
However, before its commercial launch, the government-owned Bangladesh Communication Satellite Company Ltd (BCSCL), which owns the satellite, will start negotiations with different government agencies and businesses.
The BCSCL has recently written to the finance ministry to request banks to take connection from the satellite.
It has also signed a contract worth about Tk 42 crore per year with the shipping ministry to ensure connectivity for vessels navigating the Bay of Bengal and around the country.
The company is also in negotiations with about seven ministries, including the youth and sports ministry, which are interested in taking support for e-learning.
The BCSCL has also negotiated with the disaster management and relief ministry and the information ministry.
Home and cabinet divisions, along with the establishment ministry, have also expressed their interests in this regard, said a BCSCL official.