Attack on Police: Ctg Shibir cadre Nasir jailed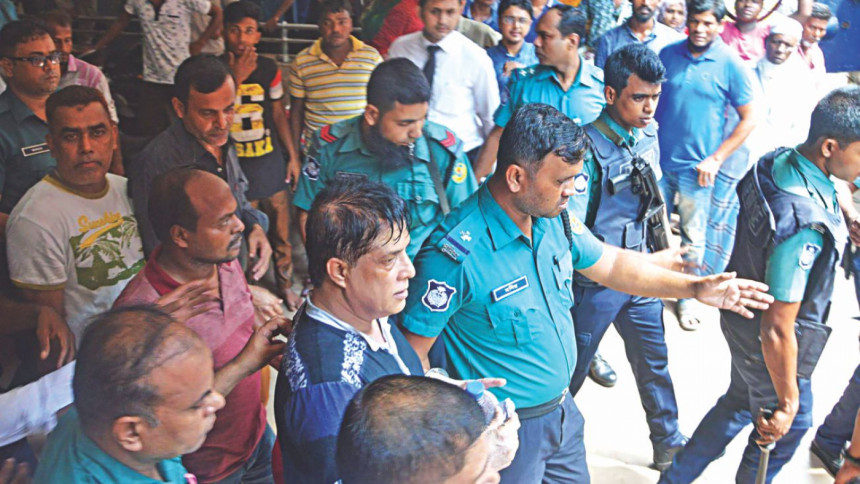 A court in Chittagong yesterday sentenced top Shibir cadre Nasir Uddin alias Shibir Nasir to five years and three months jail in a case filed with Kotwali police station in 1998 for an attack on police.
The court of 4th Metropolitan Magistrate Md Safiuddin passed the order in presence of Nasir, a criminal backed by Islami Chhatra Shibir, examining all the records and witnesses, said Assistant Public Prosecutor (APP) Md Raihad Chowdhury Roni.
"The court sentenced Nasir to five years and three months of imprisonment under sections-186, 353 and 332 of Penal Code while also fined him TK 10,500, in default, to suffer six months and 15 days more in jail," the APP said.
Before the verdict, Shibir cadre Nasir was taken to the court from Chittagong Central Jail amidst tight security, court sources said.
According to the case statement, cohorts of Nasir had opened fire on police personnel at Sher-e-Bangla dormitory of Chittagong College when police went there to arrest Nasir on April 06, 1998.
Later Nasir was arrested. Several police personnel were injured during the gun fight between police and shibir cadres and a case was filed with Kotwali police station in this regard accusing Nasir and his cohorts.
Police submitted the charge sheet implicating Nasir on November 17, 2001 while a court framed charges against him later.
Shibir cadre Nasir is accused in 36 cases including murder and arms filed with different police stations in Chittagong.
With the rise of Shibir cadres in the early 80's, Shibir factions had been dominating different educational institutes including Government Chittagong College and Government Haji Muhammad Mohsin College and Chittagong University.