DPL 2016
Fractious Abahani-Doleshwar tie postponed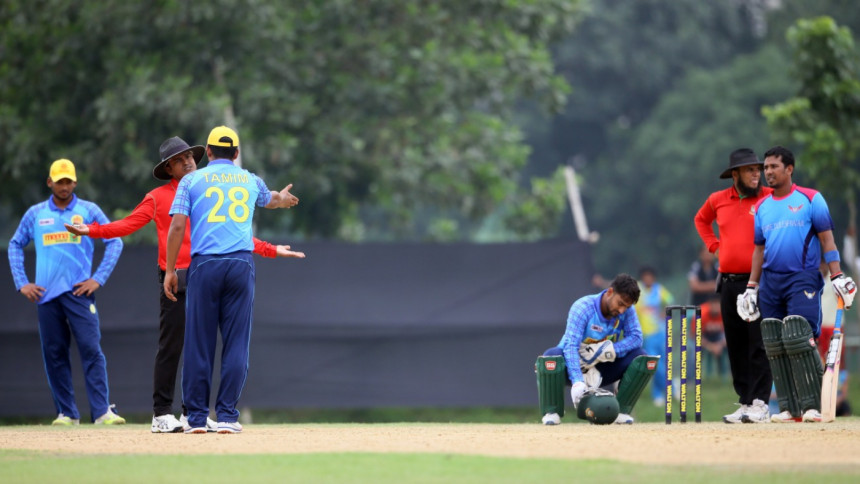 The Super League match between Abahani Limited led by Tamim Iqbal and Nasir Hossain's Prime Doleshwar Sporting Club at BKSP-3, which was stopped on June 12 because both umpires supposedly fell ill, will not take place on the reserve day today and has been postponed.
The decision was made during a Cricket Committee of Dhaka Metropolis (CCDM) meeting last night. It was learnt that the match has been posponed and that the CCDM intends to form an inquiry committee to look into the events of the match. As of now, the fate of the Super League clash will be decided later.
Batting first, Abahani were bundled out for 191 in 42.4 overs on June 12, 2016. In reply, Prime Doleshwar had reached 59 for 2 in 17 overs, after which umpires Gazi Sohel and Tanvir Ahmed left the field.
In the 17th over when Raqibul Hasan was given not out by umpire Gazi Sohel off a stumping appeal from left-arm spinner Saqlain Sajib, the Abahani players protested and their fans began to hurl abuse at the umpires, including a heated exchange between Tamim and the umpires, after which they left the field upon consulting with match referee Montu Dutta, reports ESPNcricinfo.
The official statement from the match referee was that both umpires had suddenly fallen ill and could not continue. Since there was only one reserve umpire present at the venue, the match had to be stopped.
Eventually, Prime Doleshwar were asked to chase a revised target according to the D/L method, but they refused saying the weather was not a factor and the interruption was not their fault.
"Why should we go by the Duckworth/Lewis method? Our club officials are not going to abide by it today. The match didn't stop because of us. What happened was quite unfortunate," Prime Doleshwar coach Mizanur Rahman Babul said.
After the match was stopped Tamim said that he was surprised to see the way the umpires reacted.
"Firstly, let me say that from what I saw on the field, the batsman was clearly out stumped. Now, even if I had crossed a line with the way I communicated with the umpires, they could have reported against me. If I was guilty, I would have been guilty, but that does not mean that the umpires leave the match," the Abahani skipper explained.
"Also, the game was stopped twice in the first innings because of a similar incident that took place with Nasir [Hossain] involved. Why didn't the umpires leave then? This does not happen anywhere in the world," added Tamim.