Nazmul, Nasir seal Abahani's 19th title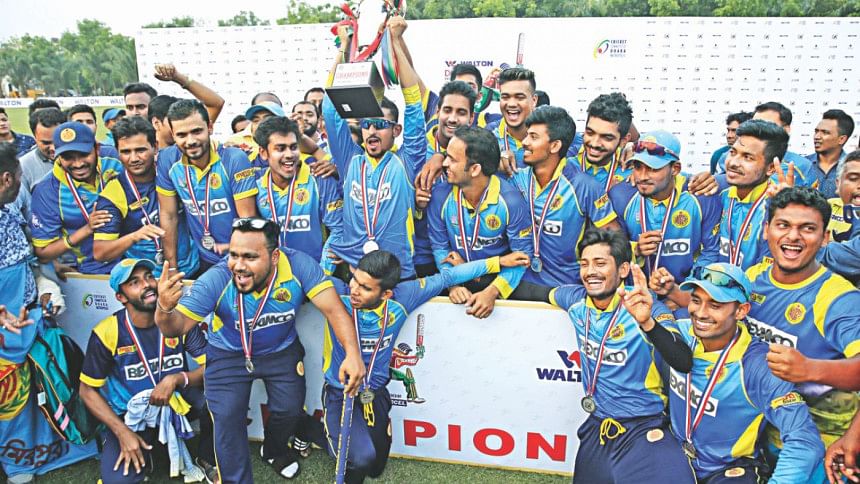 All the preparations were made from Abahani's side. A sizeable Abahani contingent turned up at BKSP and the noise started from the very first ball of the innings and there was no shortage of hospitality from the officials. Interestingly, there was no need for them to wait for their team's outcome against Legends of Rupganj to celebrate the triumph as the four-wicket defeat of their nearest contenders Sheikh Jamal DC against Khelaghar Samaj Kallyan Samity at the Sher-e-Bangla Stadium in Mirpur made sure that Abahani regained the prestigious Dhaka Premier League title after a gap of one season.
In the end, the fans danced to the beat of the drums and enjoyed the party as Abahani clinched their 19th league title with a massive 94-run victory against Rupganj in the last Super League match thanks to Nazmul Hossain (107-ball 113) and captain Nasir Hossain (91-ball 129). Both made hundreds, but the former's was fantastic to watch in contrast to Nasir, who relied on luck to make his maiden hundred of the season.
The fate of the match, however, was all but written on the wall when Abahani posted yet another mammoth total of 374 for six after making the highest List A total of 393 against Prime Doleshwar in their previous match at the same venue.
Opener Anamul Haque (57 off 51) deserved some credit for giving Abahani a flying start along with Nazmul on a tremendous batting track, sharing 91 runs for the opening stand and setting the tone to bounce back from their forlorn batting against Khelaghar at Mirpur; a match that raised many eyebrows following some controversies.
Abahani's innings suddenly lost steam courtesy of some accurate bowling from Parvez Rasool and Mosharraf Hossain -- the only shining part of the match in terms of competiveness. The quick dismissals of Mohammad Mithun and Indian Hanuma Vihari and Nasir's ungainly early approach -- when he struggled to negotiate the ball till he crossed 70 -- was the reason for Rupganj wresting back the initiative.
But left-hander Nazmul remained fantastic and chose the right ones to punch. When Nasir finally regained his rhythm, things totally changed. Nasir was dropped twice before fifty and once after fifty but completed the hundred before Nazmul, smiting 15 boundaries and four sixes during his 91-ball innings while Nazmul completed his fourth hundred of the season, smashing 11 fours and two sixes. It was then the small cameo of an eight-ball 28 from Mashrafe Bin Mortaza which not only entertained the crowd under the scorching heat but also set a target that was all but impossible in a crunch game.
Rupganj however were nowhere near realising a miracle as they lost the wickets of Mohammad Naim (70 off 54) and Mushfiqur Rahim (67 off 66), who was dismissed through a brilliant running catch by Saif Hassan at wide long on. The subsequent efforts were not enough. Captain Naeem Islam's approach was especially sordid and probably showed why he has failed to draw the attention of the national selectors despite scoring good runs in the domestic circuit.
There were three matches yesterday and two were low-scoring affairs as Gazi Group suffered a humiliating defeat against Prime Doleshwar at Fatullah. BKSP however produced a high scoring match but unfortunately it was not a high quality game, considering the below-par bowling efforts from both sides but, as Mashrafe said, Nazmul's innings was the one which provided some consolation for those who braved the long and arduous traffic to get to BKSP.
SCORES IN BRIEF
Abahani: 374 for 6 in 50 overs (Anamul 57, Nazmul 113, Nasir 129, Mashrafe 28 not out; Shahid   2-81, Rasool 3-42)
Legends of Rupganj: 280 all out in 42.4 overs (Naim 70, Mushfiqur 67, Naeem 76, Rasool 29; Mehedi 2-29, Sunzamul 2-63, Sandip 2-53, Nasir 2-67)
Result: Abahani won by 94 runs.
Gazi Group Cricketers: 95 all out in 21.4 overs (Mahedi 39; Salauddin 2-31, Sunny 3-26, Nasum 4-10)        
Prime Doleshwar SC: 99 for 5 in 24 overs (Mahmud 31, Sayeem 36, Sharifullah 22 not out; Hider 3-27)
Result: Prime Doleshwar SC won by 5 wickets.
Sheikh Jamal DC: 160 all out in 45 overs (Nurul 47, Shohag 27, Al-Imran 25; Robiul 2-19, Menaria 2-38, Saddam     2-18)
Khelaghar SKS: 161 for 6 in 36.5 overs (Nazimuddin 61, Rafsan 46; Nazmul 5-32)
Result: Khelaghar SKS won by 4 wickets.