Arrest warrants issued against Khaleda Zia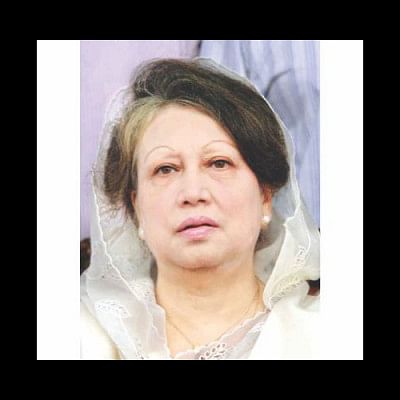 Arrest warrants have been issued against BNP Chairperson Khaleda Zia in two cases filed in connection with Zia Orphanage Trust corruption and undermining the country's map and national flag.
With this, four arrest warrants have so far been served on the BNP chief in different cases.
On completion of recording self-defence statements in Zia Orphanage Trust graft case yesterday, Judge Md Akhtaruzzaman of the Special Judge Court-5 set up at a makeshift court in Bakshi Bazar issued an arrest warrant for Khaleda.
Her lawyers submitted a petition, seeking an adjournment of hearing the case. But the court dismissed it, saying it was filed only to delay the trial proceedings.
The court also fixed October 19 for hearing arguments in the case.
Following yesterday's order, Khaleda's lawyers lost their right to take part in the arguments, her lawyer Ziauddin Zia told The Daily Star.
Earlier, the court recorded statements of 32 prosecution witnesses, including complainant and investigation officer of the case.
Khaleda, who stands accused in over 36 cases, has been skipping the hearing in the case since July 15, while another accused, her elder son and BNP Senior Vice-Chairman Tarique Rahman, is shown fugitive in the case.
On July 3, 2008, the Anti-Corruption Commission filed the case with Ramna Police Station, accusing Khaleda, Tarique and four others of misappropriating over Tk 2.10 crore that was received as grants for orphans via a foreign bank.
Two of the four accused, former BNP lawmaker Qazi Saleemul Huq Kamal and businessman Sharfuddin Ahmed, who were on ad interim bail, were sent to jail after cancelling their bail yesterday.
Two other accused -- former principal secretary Kamal Uddin Siddiqui and late president Ziaur Rahman's nephew Mominur Rahman -- are absconding.
'UNDERMINING COUNTRY'S FLAG'
Earlier in the day, Metropolitan Magistrate Nur Nabi issued another arrest warrant for Khaleda as she failed to appear before the court even though the court asked her repeatedly to attend yesterday's hearing in undermining the country's map and national flag case.
The court also directed the officer-in-charge of Gulshan Police Station to submit a report by November 12 on execution of the arrest warrant.
After AB Siddique, president of Bangladesh Jananetri Parishad, a pro-Awami League organisation, submitted a petition with the court, seeking an arrest warrant for the BNP chief on September 17, the court warned Khaleda of arrest warrant if she failed to appear before it yesterday.
On November 3 last year, Siddique filed the case with the court, accusing Khaleda and her late husband and former president Ziaur Rahman of undermining the country's map and national flag.
Dropping Zia's name from the case as he is dead, investigation officer of the case submitted the probe report to the court on February 25.
According to the case statement, Zia had taken over as the country's president after the killings of Bangabandhu Sheikh Mujibur Rahman along with most of his family members on August 15, 1975. Zia also threatened Hasina and confined her after she arrived in the country from abroad on May 17, 1981.
Khaleda had formed a coalition government with Jamaat-e-Islami in 2001. She appointed ministers from the party and handed over the map and the national flag of independent Bangladesh to them even though they fought against the country during the Liberation War in 1971, the statement read.
Those activities were tantamount to undermining the country's map and national flag, it added.
Earlier on October 9, a Comilla court served another arrest warrant on Khaleda in a case filed in connection with killing eight people by setting fire to a bus on February 3, 2015.
On November 17 last year, the BNP chief got an arrest warrant by another Dhaka court in a case filed for celebrating a "fake and false birthday" on August 15.