9 hurt in Magura arson
Injured freedom fighter dies a day after Feni bomb attack; BNP calls fresh 72-hour hartal for 'Salauddin's release'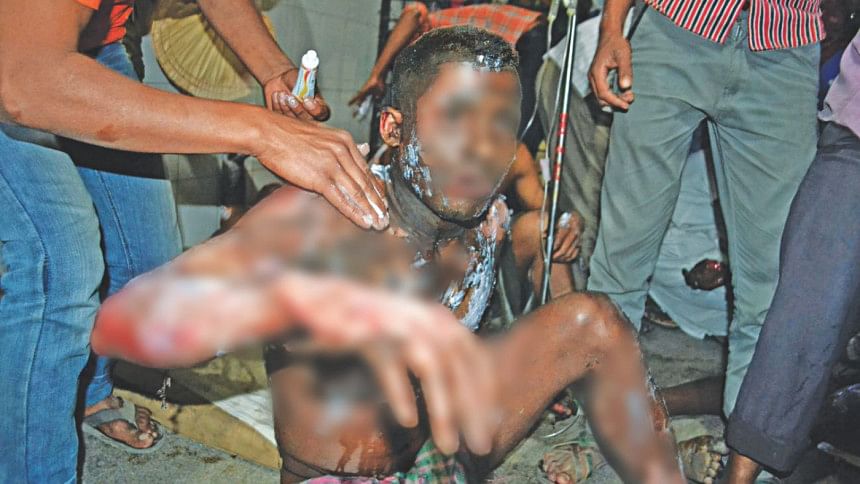 Yusuf Khan, who fought for the country's independence in his youth, lost his battle for life yesterday, a day after he suffered burns in a petrol bomb attack in Daganbhuiyan of Feni.
He breathed his last at the Dhaka Medical College Hospital around 9:30pm.
Meanwhile, nine people suffered severe burns in yet another petrol bomb attack on a truck in Magura yesterday.
The incident took place on the Magura-Jessore highway around 7:45pm, hours after the BNP-led 20-party alliance announced a fresh spell of 72-hour countrywide hartal from today.
Criminals hurled two petrol bombs at the Magura-bound truck from Moghirdal area, leaving seven labourers, the driver and his helper injured, said Jahangir Alam, officer-in-charge of Magura Sadar Police Station.
The victims were identified as Ilias Ali, 40, Roushan Ali, 36, Imran Hossain, 25, Faruk Ali, 35, Nazmul Hasan, 35, Arab Ali, 35, Yeadul, 33, Shakil, 32 and Nawsher Ali, 42. All of them hail from Sadar upazila of the district.
They were first taken to Magura Sadar Hospital. Of them, the conditions of five were critical.
Around 10:00pm, seven ambulances with the nine victims started for the DMCH, Magura SP Ziadul Kabir told The Daily Star around 1:00am.
DEATH OF THE FREEDOM FIGHTER
With the death of sixty-year-old trucker Yusuf, 89 people have been killed and over a thousand injured in the ongoing political violence since January 6.
Yusuf, a skilled driver, loved his profession. On the fateful day, he was driving a fish-laden truck.
After the bomb attack, he was rushed to a local hospital in Feni and shifted to Comilla Medical College Hospital the next day.
Finally, he was admitted to the DMCH around 3:00pm yesterday.
"He [Yusuf] told us that he had fought in 1971 with the dream that people would live in peace. But now poor people like us are getting killed without any reason," said Yusuf's nephew Matiur Rahman, also a trucker.
"The politicians make money out of politics and become more powerful while we have to lose our lives," Matiur told The Daily Star at the DMCH burn unit last night.
Yusuf's wife Nasrin Akhter, who was waiting on the corridor of the unit, was not informed of her husband's passing as of 1:00am as she herself was very sick.
"Let me go to him [Yusuf] … he wants to drink water," Nasrin kept saying, wailing.
Yusuf, who hailed from Comilla, left behind three sons and a daughter.
Hearing the news of Yusuf's admission to the DMCH, officials of the liberation war ministry visited the hospital and gave Tk 10,000 for his treatment, said the victim's relatives.
FRESH HARTAL
The call for hartal came at a time when BNP leaders hinted at the party's possible move to back some candidates for the upcoming mayoral polls in Dhaka and Chittagong.
The shutdown, beginning at 6:00am today, will continue until 6:00am Wednesday, according to a press statement issued yesterday by BNP Joint Secretary General Barkatullah Bulu.
The opposition combine called the fresh shutdown demanding the release of its arrested leaders including BNP joint secretary general Salahuddin Ahmed as well as to protest "enforced disappearance, killing, torture, abduction and arrest of its leaders and activists".
The alliance has been enforcing the countrywide hartal on all working days since February 1 on top of its indefinite blockade from January 6.
The worst victims of the shutdowns are some 1.5 million candidates of SSC and equivalent exams. The hartals left their exam schedules in tatters and forced them to sit for their exams on Fridays and Saturdays only.
The SSC and its equivalent examinations of March 8 and 10, which were postponed earlier, will be held on March 27 and 28 respectively.
As per the new schedule, the exams of March 27 will begin at 9:00am, while those of March 28 at 10:00am, said a press release of the education ministry yesterday.
The revised date for the postponed Dakhil exams of March 11 will be announced later, the press release stated.
According to the press release, the authorities concerned are asked to complete all the practical exams, including music and basic trade, between March 29 and April 2.
Meanwhile, criminals torched a local land office at Ullapara upazila in Sirajganj early Saturday.
Ullapara Uapzila Nirbahi Officer Mohammad Shamim Alam said a group of criminals set afire the land office around 12:30am, burning down valuable documents. On information, two firefighting units rushed in and doused the flames.
A three-member probe committee, led by an additional district magistrate of Sirajganj, was formed to investigate the incident.
The upazila administration filed a case in this connection, said Tajul Huda, officer-in-charge of Ullapara Police Station.
Two cops were injured as alleged pro-hartal pickets hurled several crude bombs at Dainik Bangla intersection in the city's Paltan around 8:00pm.
Assistant Sub-inspector (ASI) Nazmul Islam, 40, and Constable Kamrul Islam of Paltan Police Station were hurt when 4 to 5 cocktails were exploded in the area, ASI Sentu Das of Dhaka Medical College Hospital police camp told The Daily Star.