32 held over leak of exam papers
Recruitment test for pry school teachers begins today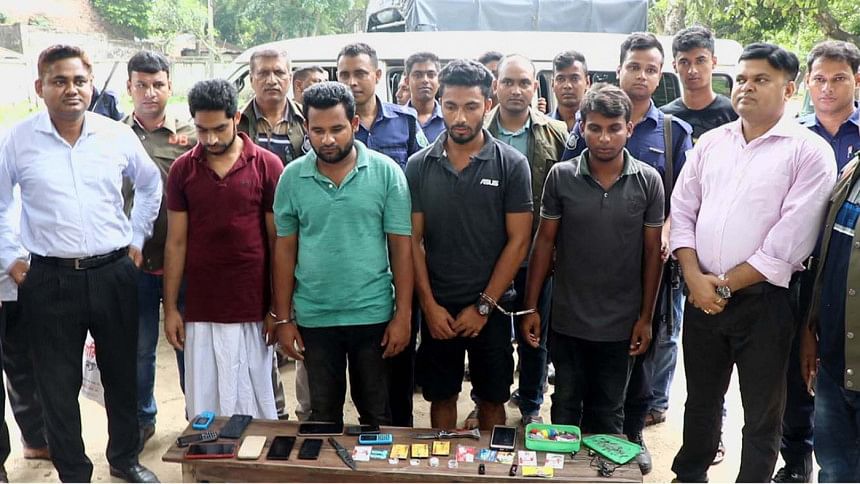 At least 32 jobseekers and suspected gang members were arrested in three districts on charges of trying to leak the question papers of recruitment tests for primary school teachers yesterday.
As the first phase of the staggered recruitment tests began yesterday, an assistant sub-inspector of police was sent to jail after being caught while passing on answers to a jobseeker in Patuakhali.
In Satkhira's Kalaroa, Rab arrested 28 job seekers and their guardians and suspected gang members on charges of trying to leak the question paper hours before the exams started.
Two of the arrestees are suspected gang members who promised the jobseekers that they would get the question papers ahead of the exams, said Lt Mahmudur Rahman, company commander of Rab-6.
The jobseekers had agreed to pay the gang Tk 12 lakh for the questions, police said.
A team of Rab-6 and Detective Branch of police raided a building in Kalaroa town around 5:30am and arrested them.
ASI Mahbubur Rahman of Patuakhali Sadar Circle was sentenced to a month in prison by Executive Magistrate Ummey Habiba after he was caught passing on answers to a jobseeker during the recruitment test at Patuakhali Rashid Kisholoy School.
Mahbubur was in uniform as he provided the multiple choice question answers inside an exam hall, Additional District Magistrate Nurul Hafiz said.
In Pabna, law enforcers arrested four examinees at a mess near Pabna Edward College yesterday morning on charges of attempting to leak the questions.
They had been sent to jail, said Goutam Kumar Biswas, additional superintendent of police in Pabna.
The Directorate of Primary Education is recruiting around 13,000 teachers. Over 24 lakh applications had been submitted for the posts.
About 5.19 lakh jobseekers sat for the test yesterday. Around 5.23 lakh others will sit for the test on May 31, 6.94 lakh on June 21 and 6.63 lakh on June 28.
Correspondents in Satkhira, Patuakhali and Pabna contributed to this report.