The Philippines offers Rohingyas citizenship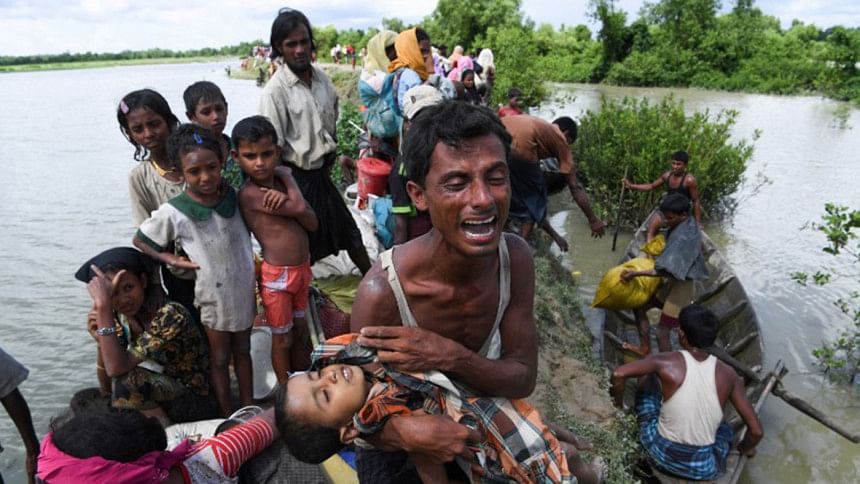 The Philippines President Rodrigo Duterte on Tuesday offered citizenship to Rohingya refugees, reiterating his willingness to accept them into the country.
 "I am willing to accept Rohingyas," he said in a speech before a convention of Philippines' League of Municipalities at the Manila Hotel, reports GMA News, a major online news portal in Philippines.
The offer comes at a time when Bangladesh finds itself burdened by sheltering and providing humanitarian assistance to Rohingyas, as well as repatriating them to Myanmar.
Duterte said in April last year that the Philippines was willing to provide refuge for Rohingyas fleeing "genocide" in Myanmar. The remark prompted a Myanmar government spokesperson to respond that Duterte had no restraint and knew nothing about their country.
The Philippines president then issued a public apology to Myanmar's de facto leader Aung San Suu Kyi for his remarks and backtracked saying his comments were meant to criticise European countries which only accused Myanmar of human rights violations but did little to help.
Former presidential spokesperson Harry Roque said last year that the Philippines had facilities that could accommodate refugees, citing the Philippine Refugee Processing Center (PRPC) in Bataan.
Roque added that the Philippine government had an "open-door policy" for refugees.
Over 750,000 Rohingyas fled Myanmar's Rakhine state following a brutal military crackdown since August 2017. They joined some 300,000 Rohingya who had fled to Bangladesh following previous waves of violence in Rakhine, where they are denied citizenship.
The UN and several Western countries have accused Myanmar of ethnic cleansing, an allegation which Myanmar denies. Human rights organisations termed the crackdown a genocide and crimes against humanity.
In 1975, the Philippine government accommodated thousands of Vietnamese refugees who fled their country after the Vietnam War ended.
Earlier, the Philippines under then-President Manuel Quezon gave refuge to Jews escaping the Holocaust in the late 1930s.