Sincerely Yours - Nuhash!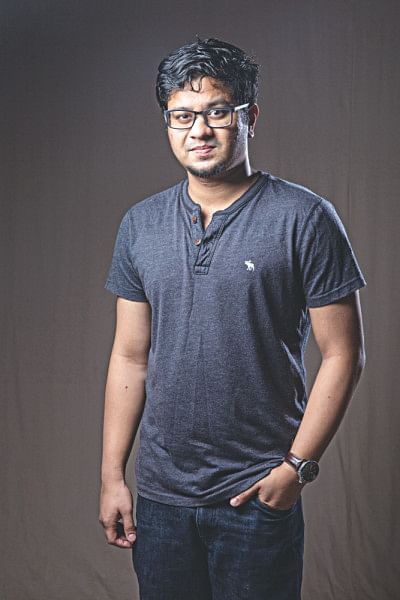 Nuhash Humayun has already proven his capabilities as a filmmaker with his television debut 'Hotel Albatross' and award winning short film 'Paper Frogs'. The young director now sets his sight on one of the most ambitious projects in Bangladeshi film history, as he talks about his future plans with The Daily Star.
You've been quite busy with direction recently. What projects are you working on at the moment?
I just finished shooting a film called Sincerely Yours, Dhaka and it's unbelievably exciting. It's an anthology film with 11 filmmakers combining individual short stories into one film about a singular character – Dhaka city itself. I believe it's the first of its kind in Bangladesh. I'm working with talents such as Syed Ahmed Shawki, Golam Kibria Farooki and many more. It's produced by Impress Telefilm with the award winning Abu Shahed Emon as a Creative Producer. We're all pouring our hearts in to make something phenomenal!
What else has kept you busy besides the film?
I just directed my first commercial for a telecom company. This was very special to me, years ago I was the model for the same telecom company's ad directed by Piplu Bhai (Piplu R. Khan) and he asked me if I wanted to pursue acting. I said, "To be honest, I'd love to be behind the camera instead of in front." It's cool because that day's finally come. I had the support of my incredible team at Medium Rare and Little Big Films for the commercial, as well as some of my favourite people on set – the commercial stars my niece and nephew who are absolute sweethearts. On top of that, they're the children of my favourite actor of all time, Sheila Ahmed. It didn't feel like advertising, it was a nice family reunion!
Do you ever consider being more regular as an actor?
Honestly, my passion will always be telling stories. It's not that I haven't been offered scripts, I just don't want my face to be the focus right now. But hey, who knows what the future holds?
What do you want to achieve in the near future?
I am gearing up to write and direct my own feature film. There are many steps to that process. When I started out, I wanted to do everything by myself. Now, I understand the importance of collaboration and it is in no way to be understated. I want to build and be a part of a network of young directors who will help each other grow and be, in turn, better at their craft. We have a small local industry that needs to be nurtured through collaboration and hard work.
Do you have anything to say to your fans?
I will just say that ever since I started my career as a director, people have always been curious about my work and had many opinions. I am always learning. I'm very grateful for the support that I have been shown.