SHAHABUDDIN AHMED in residence at Rashtrapati Bhavan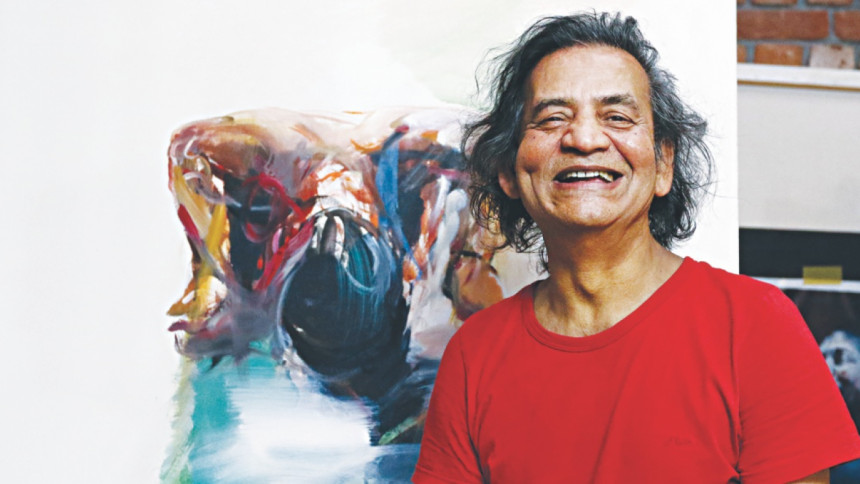 Internationally-acclaimed Bangladeshi painter Shahabuddin Ahmed today secured the distinction of becoming the first foreign artist to live in the hallowed precincts of Rashtrapati Bhavan here as an Artist In-Residence as a guest of Indian President Pranab Mukherjee.
During his stay at the Rashtrapati Bhavan located on Raisina Hills, an exhibition of 67-year-old Ahmed's 12 paintings, including portraits of iconic figures of freedom like Mahatma Gandhi, Rabindranath Tagore and the architect of  Bangladesh's independence Bangabandhu Sheikh Mujibur Rahman, will be put up for public viewing at the Museum of the Bhavan.
The paintings bring out the struggle and sufferings of the commoners and greatness of political leaders in vibrant hues of blue.
 "The experience of war has guided my path but contrary to what many believe, I don't paint war and it is in no way my creed. What I want to depict is the human sufferings in defiant postures, borderline situations along which an individual reaches his limits," said Ahmed, himself a Freedom Fighter, who was a platoon commander at the age of 21. He was the first to hoist the flag of Bangladesh on the roof of erstwhile Pakistan Radio on December 16, 1971. No wonder why the exhibition is titled "Shanti".
The 67-year-old artist says India is close to his heart and people like Gandhi, Tagore and Mother Teresa have been a great source of inspiration for him.
The 'In-Residence' programme in Rashtrapati Bhavan for artists and writers was launched by President Mukherjee on December 11, 2013 with the aim of providing them an opportunity to stay in Rashtrapati Bhavan and be a part of its life. The programme seeks to provide an environment which will inspire creative thinking and rejuvenate artistic impulses.
Prominent Indian Artists In-Residence who have stayed in Rashtrapati Bhavan so far include Jogen Chowdhury, Shri Paresh Maity and Jayasri Burman.
The Indian President's interest in Ahmed's works exhibition at Rashtrapati Bhawan grew when he inaugurated a similar show of the artist in Kolkata in December 2015.
President Mukhjerjee then invited Ahmed to be a resident-artist at Rashtrapati Bhavan and display his art works for public viewing.
Ahmed has been the recipient of the "Fifty Master Painters of Contemporary Arts" in 1992 at the Olympiad of Arts, Barcelona, besides being awarded the prestigious 'Ordre des Arts et des Lettres' in 2014 for his contribution to art in France as well as the rest of the world.
The exhibition will be on till February 22.
Shahabuddin's works are in the collection of the Museum of Bourg-en-Bresse in France, the National Museum of Bulgaria, the Olympic Museum of Lausanne in Switzerland, the Seoul Olympic Museum in South Korea, the National Museum of Taiwan, Bangladesh National Museum and many other galleries and private collections.