"La La Land" breaks record at Golden Globe
Politically-charged show takes jabs at Trump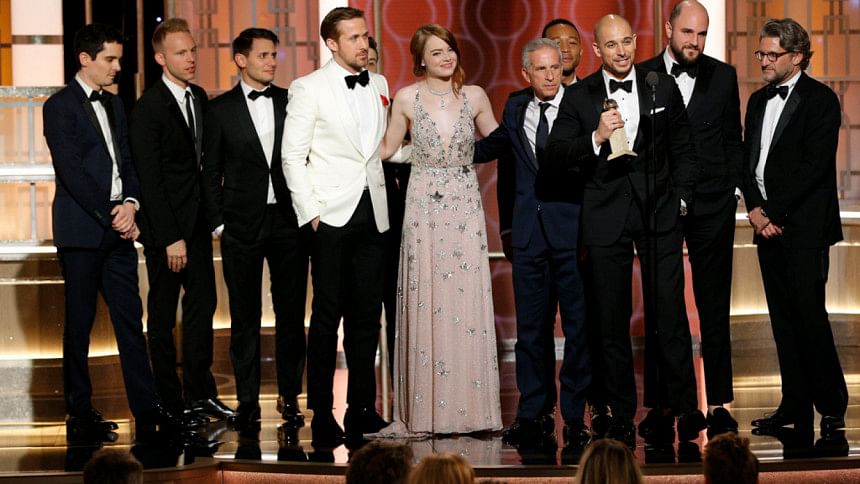 "La La Land" dominated Sunday's Golden Globes, winning a record-breaking seven statues including best musical or comedy. The ode to Los Angeles and vintage musicals also won best screenplay and director honors for the 31-year old Damien Chazelle, as well as picking up acting statues for Ryan Gosling and Emma Stone in the musical or comedy category at the ceremony held yesterday at the Beverly Hilton Hotel in Los Angeles.         
When it came to television, Globe voters spread the love among newcomers. "Atlanta", an FX series about aspiring rappers, and "The Crown", a Netflix historical drama about the British monarchy, captured the best comedy and best drama statues, respectively. Both shows are in their inaugural season.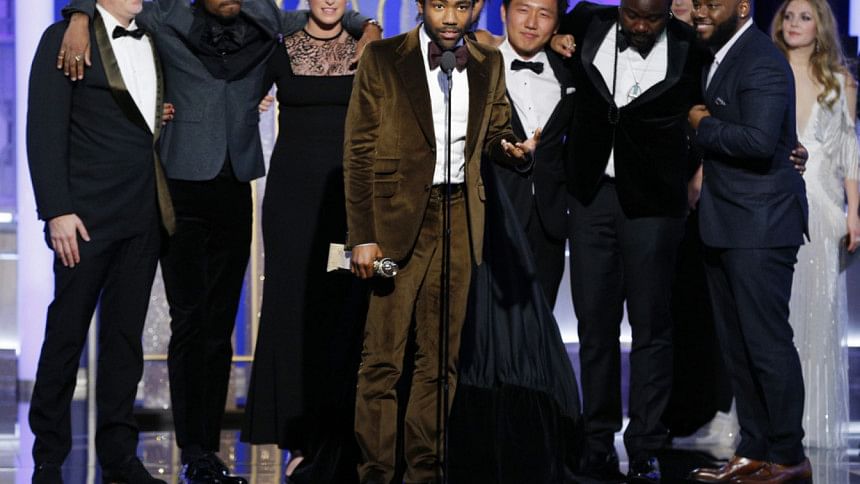 "La La Land," a valentine to Tinseltown and the artistes who go west proved to be a panacea for a time when Hollywood finds itself out of step with a rising political conservatism in the country. "La La Land" broke the previous high-water mark of six wins hit by "One Flew Over the Cuckoo's Nest" and "Midnight Express". "La La Land" won in every category in which it was nominated. Its other victories were for its score and for the song "City of Stars", the film's moody anthem.
In the best drama film category, "Moonlight", a low-budget coming-of-age story about a sexually confused boy in the Miami ghetto, beat out heavy hitters such as "Manchester by the Sea" and "Hacksaw Ridge".
The evening was filled with politics — from the films and shows that were honoured to the speeches themselves, many of which took issue with President-elect Donald Trump.
The Golden Globes are an essential stop during Hollywood's months-long awards season odyssey, and differ from the Oscars in several important ways. The awards show rewards work on both the big and small screen, and segregates drama films from musicals and comedies.
Casey Affleck picked up a best actor in a drama award for his work as a grieving janitor in "Manchester by the Sea". Isabelle Huppert nabbed a best actress in a drama award for "Elle", the story of a woman who exacts revenge on an assailant.
The 2017 Globes was notable for honouring shows and films that deal with race in America. In addition to "Moonlight" (which is directed, written, and starred by black artistes), television awards went to "Atlanta" and "The People v. O.J. Simpson: American Crime Story", which won best limited series.
Best actress in a TV comedy winner Tracee Ellis Ross ("Black-ish") used her time at the microphone to address Hollywood's poor track record with creating shows and films for people of color. "Atlanta" creator and star Donald Glover, who also earned a best actor in a TV comedy award, had a similar message.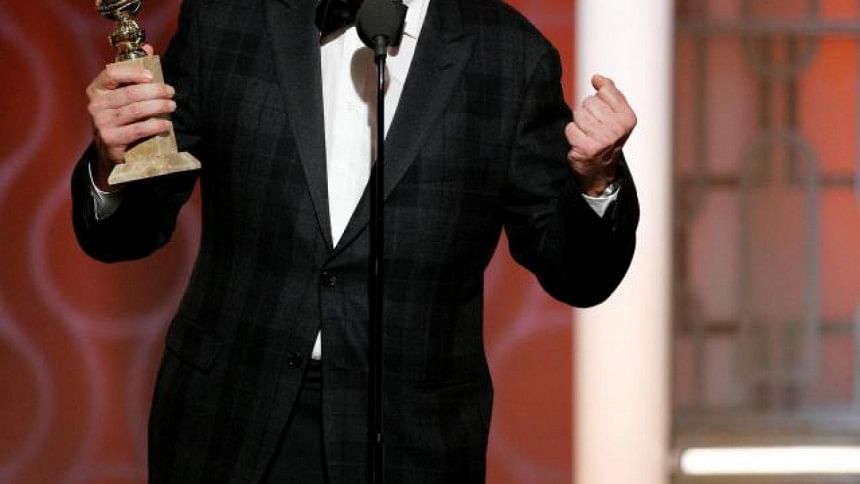 Best supporting actor in a limited series or TV movie victor Hugh Laurie ("The Night Manager"), echoed Streep's comments. It was a good night for "The Night Manager," a sleek adaptation of John Le Carre's thriller. In addition to Lauire, Olivia Colman nabbed a best supporting actress in a TV movie or limited series award and Tom Hiddleston picked up a best actor statue.
Even "Zootopia", the best animated feature winner, waded into the issue of bigotry and intolerance. The film focuses on an animal city where certain species are discriminated against.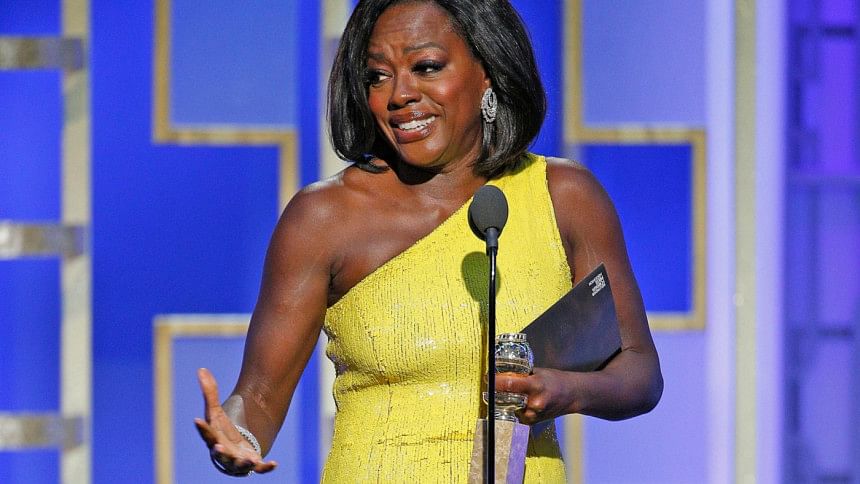 As expected, Viola Davis picked up a best supporting actress award for her work as the wife of an egotistical garbage man in "Fences". She dedicated her award to her father, a race track worker with a fifth-grade education.
But it was also a night overflowing with upsets. In addition to Huppert's surprising win, Aaron Taylor-Johnson picked up a best supporting actor for his work as a criminal psychopath in "Nocturnal Animals". He was in good company when it came to upsets: Billy Bob Thornton picked up a best TV actor in a drama for his performance as an unconventional lawyer in the Amazon series "Goliath". In addition to nabbing the best TV drama award, "The Crown" won a best actress in a TV drama statue for Claire Foy.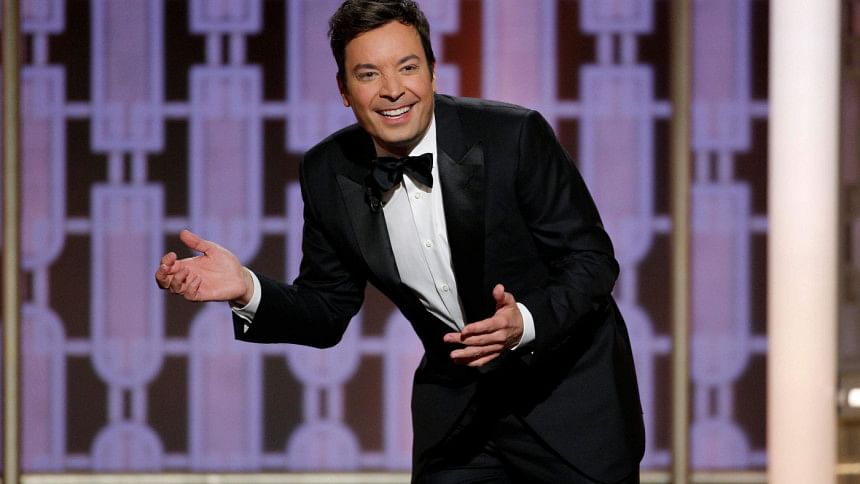 Host Jimmy Fallon got the show going with a nod to the "La La Land" opening number, alongside stars such as Nicole Kidman, Amy Adams, Ryan Reynolds, Kit Harrington  Storm Troopers, and the kids from "Stranger Things".
The aftershocks from Trump's unexpected White House victory hung over the ceremony. Fallon's opening monologue was peppered with several election zingers that played well in a room filled with progressives. Meryl Streep, the winner of the Cecil B. DeMille award for career achievement, slammed Trump for having an "instinct to humiliate," citing the president-elect's mocking of a disabled reporter. "Disrespect invites disrespect," she said. "Violence incites violence. When the powerful use their position to bully others, we all lose."
Source: Variety