Movie fans hit the multiplexes for 'Barbenheimer'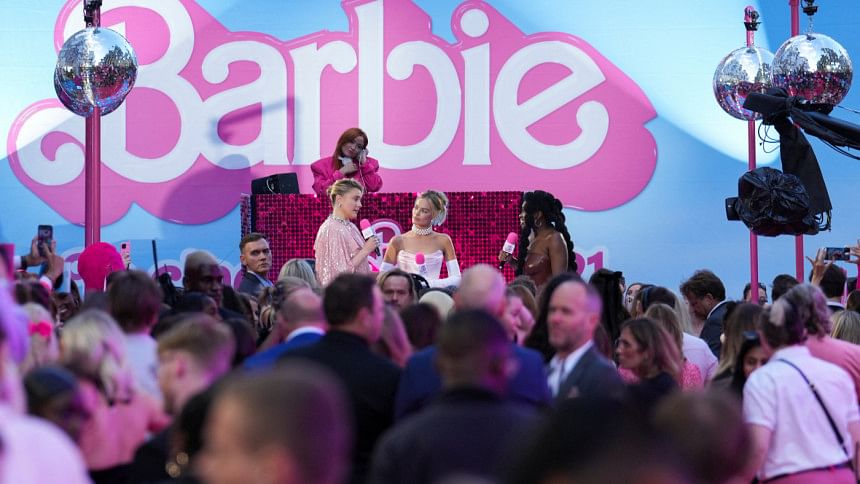 Film fans headed to cinemas in Los Angeles for early screenings of frothy comedy "Barbie" and nuclear arms biopic "Oppenheimer" - a double feature billed as "Barbenheimer."
At the TCL Chinese Theater on Hollywood Boulevard, some moviegoers were fully getting into the global "Barbenheimer" craze, with plans to see both films on the same day.
"I bought my tickets months ago as soon as they were available," 25-year-old Joey Litvak said as he walked to an "Oppenheimer" screening on Thursday.
"I'm seeing Barbie ... right after. Barbenheimer."
Both films open on Friday, a simultaneous release dubbed "Barbenheimer," but they could not be more different.
"Barbie" stars Margot Robbie as the Mattel doll, who is living her idyllic life in Barbie World, until one day she starts having dark thoughts and flat feet.
"Oppenheimer," from acclaimed director Christopher Nolan, stars Cillian Murphy as U.S. physicist J. Robert Oppenheimer, who oversaw the creation of the atomic bomb during World War Two.
"It's showing that you have two movies that couldn't appear on the surface more different, but really they're appealing to the same audiences," said Jackie Brenneman, executive vice president of the National Association of Theatre Owners.
"It's very clear that to fully appreciate these movies, you have to experience them with other people," she added.
Earlier this week, the association reported that about 200,000 people had bought tickets to see both movies on the same day.
Film fan Christian Cage, 45, said he planned to see both films before heading to work later at night.
"I'm going to be exhausted, but it's a really hot day here in LA, so there's no better place to be than a nice air-conditioned room watching movies all day," he said.
Many of the fans coming to see "Barbie" dressed up in pink and posed for pictures in a makeshift Barbie toy box.
"I love it, it's like the only toy I used to play when I was a girl," said Claudia Ripper, 39, who came to see "Barbie" with her daughter.
"I used to dress them and do their hair. ... Barbie was my thing. So obviously now I have a daughter, I want to see it with her. ... I love Barbie."
"Barbie" is expected to rake in more than $100 million in U.S. and Canadian theaters in its first weekend, while "Oppenheimer" is projected to bring in over $50 million.
Brenneman predicted robust box office numbers this weekend, which would be welcome news to the U.S. movie theater business after experiencing a slower rebound in post-pandemic consumer spending than other events like sports and concerts.