"The world of theatre faces huge losses due to the pandemic"
– Mamunur Rashid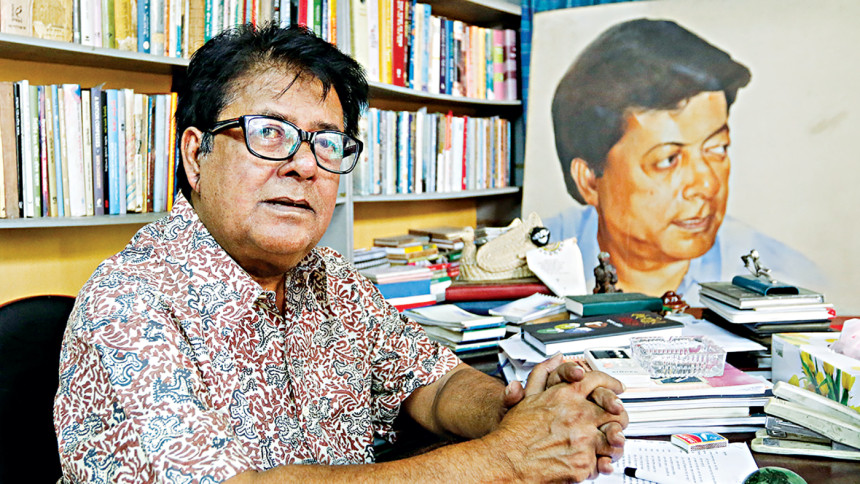 Noted thespian, director and playwright Mamunur Rashid spearheads Aranyak Natyadal, one of the most prominent theatre troupes in Bangladesh. His plays have garnered both national and international acclaim. The Ekushey Padak-winning artiste is also the current chairman of Bangladesh Group Theatre Federation. In a candid chat with The Daily Star, he talks about the issues in the theatre arena and more.
How are you spending time at home these days?
I have been watching different kinds of movies, from Italian and Russian films to films from the silent age. I am enjoying classic movies now more than ever. Recently, I watched the film based on Maxim Gorky's Mother. It was excellent. I also read Mrinal Sen's biography recently, and I have been writing columns for different national dailies regularly.
How do you think theatre artistes are coping with the ongoing coronavirus pandemic?
The world of theatre faces huge losses due to the pandemic. It will be difficult to bring audiences back to the halls and auditoriums. We have no idea when the performing spaces will reopen. Most actors work in theatre because of the passion and respect they have for the craft. For them, money is secondary. Unlike other countries, our actors and workers do not receive minimum wages to have proper careers in theatre. We have approached the government multiple times regarding this issue.
Where do you believe the theatre arena will be headed, once things get back on track?
The future of theatre artistes did not look promising, even before the pandemic hit Bangladesh. Most of our actors do not earn enough. There are many actors and crew members who work for just ten days in a month to run their families. Now, they are all unemployed. The government helped them out in different ways initially, but those aren't sustainable solutions. It seems like no one cares about our artistes.
As a veteran of the industry, what do you think should be done to help out struggling cast and crew members in this time of crisis?
We have reached out to the Ministry of Cultural Affairs and made collaborative efforts to support artistes and workers who are financially struggling, confidentially.
What do you think about the current projects and talent in television, theatre and the web platforms? 
I try to keep myself updated on all kinds of projects, and I watch the ones that interest me. I do not have any specific favourites, but I am hopeful about the young generation of actors and creators. Some of the newcomers are doing exceptionally well. However, at times, I feel that some of them still have a lot to learn when it comes to the technicalities and the craft.  A sad fact about our industry is that most people are more interested in the financial gains, than the work and the projects these days.
Shongshoptok, based on Shahidullah Kaiser's novel of the same name,began rerunning on BTV in May. You produced the theatrical adaptation of the novel. Tell us a little about how you came across the project. When Shahidullah Kaiser lived in Kayettuli, I worked on adapting his novel for the theatre stage. I used to go to Kaiser's house in the mornings to read out the script to him. He was a very busy person and yet, took out the time for me. I have great memories of those meetings. Furthermore, when Abdullah Al Mamun started working on the series, he wanted to work with me and I personally chose the role of SekandorMaster. Shongshoptok is a masterpiece of Bangladeshi television.