Tangia Zaman Methila crowned Miss Universe Bangladesh 2020
The winner will represent Bangladesh on the 69th main stage of the Miss Universe 2020 pageant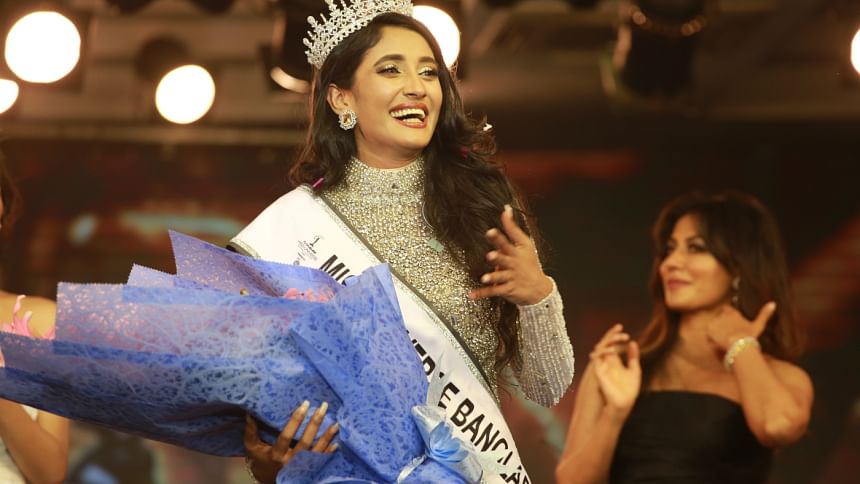 Tangia Zaman Methila won the title of Miss Universe Bangladesh 2020, the national round of Miss Universe, one of the most prestigious beauty pageants in the world. This year's slogan for the event is 'Confidently Beautiful'.
Farzana Yasmin Ananna and Farzana Akter Ani, were the first and second-runner up respectively, according to a press release.
The grand finale was held at the Radisson Blu Hotel in the capital on Saturday, where popular Indian model and actor Chitrangada Singh, special judge, crowned the winner. The programme was presented by Kazi Sabbir.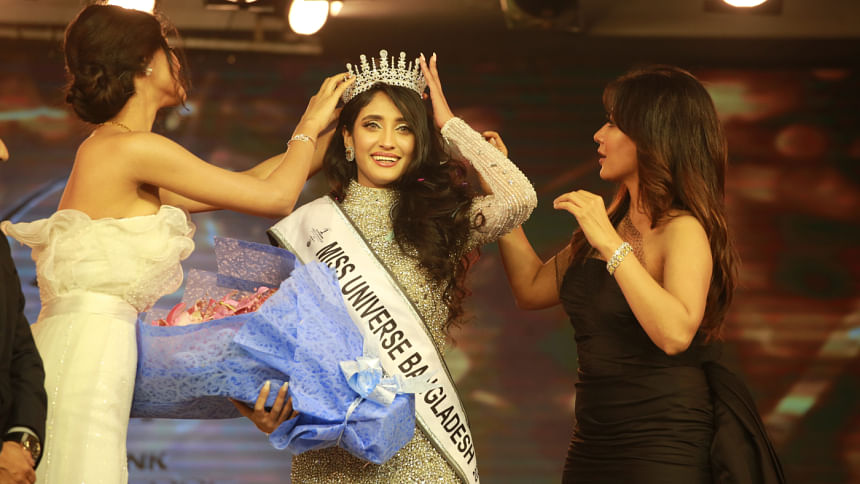 In addition, five contestants were nominated in five different categories, according to their special qualifications.
They were: Miss Congeniality Farzana Yasmin Ananna; Miss Shining Star Apana Chakma; Miss Photogenic Nidra Dey; Miss Body Beautiful Tangia Zaman Methila and Miss Talented Touhida Tusnim Tifa.
The episode of Miss Universe Bangladesh 2020 ended with fierce competition among the top 10 contestants.
Prasad Bidapa (India), Mehruz Munir, Ireen Somer Tilgar, Gautam Saha, Bidya Sinha Saha Mim, Riaz Islam, Sara Suleman and Tahsan Rahman Khan were the judges in the grand finale.
President of Miss Universe Bangladesh Rafiqul Islam Duke, CEO of RTV Syed Ashiq Rahman and National Director of Miss Universe Bangladesh Shafiqul Islam, were present on the occasion.
"The winner will represent Bangladesh on the 69th main stage of the Miss Universe 2020 pageant, which will be held in Hollywood, USA on 16 May 16 2021," Rafiqul Islam Duke, President, Miss Universe Bangladesh said.
"We are very optimistic about Methila. Our goal now is the main stage of Miss Universe," he added.
Flora Bank was the title sponsor of the event. Godrej Bangladesh was the powered by partner. Other partners were: RTV, Persona, Northbrook Consultants, Radisson Blu Dhaka,  Rejuva,  and A. Wahab & Co. Associate. Flora Telecom, Spectra Convention Center, Thyro Care & Sugandha Enterprise were co-sponsors of the event.