BSA celebrates World Music Day 2019
Marking the Fête de la Musique or World Music Day, which has its roots in France, Bangladesh Sangeet Sangathan Samonnoy Parishad, in association with the Ministry of Cultural Affairs, celebrated the international occasion on June 21, at the National Art Gallery Auditorium in Bangladesh Shilpakala Academy (BSA). This year's mantra was "Shurer Agun Chhoriye Debo Shob Praney". A colourful procession was brought out at the premises of BSA, graced by the State Minister for Cultural Affairs, K M Khalid, who attended the occasion as the chief guest, along with the Director General of BSA, Liaquat Ali Lucky, and various musicians and participants of the day.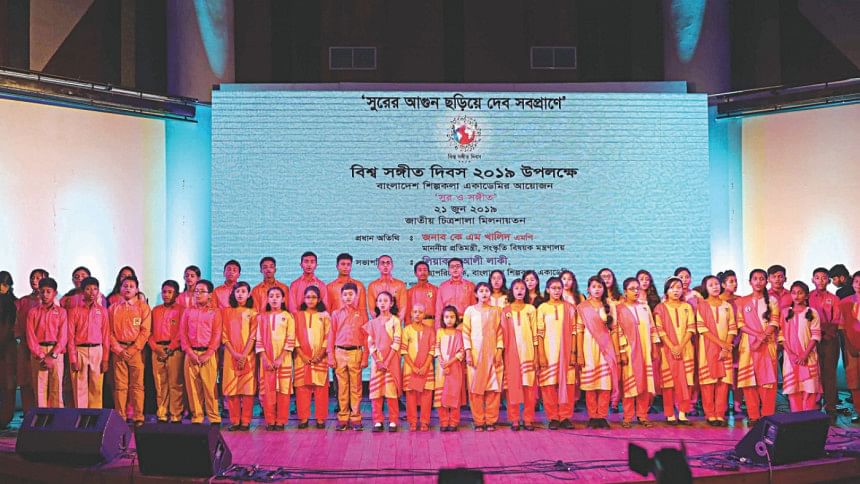 The programme began with the national anthem, where everyone in the packed auditorium sang with an essence of patriotism, followed by a powerful instrumental, presented by Bangladesh Musicians' Foundation. The performance was directed by eminent artiste Foad Nasser Babu. Later on, a video was showcased in memory of all the late great musicians of Bengal and beyond.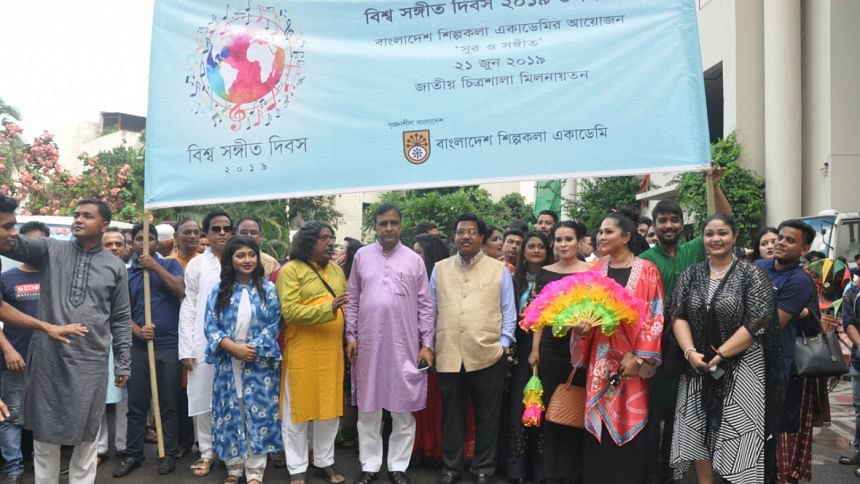 The evening proceeded with a discussion session where the likes of Dinat Jahan Munni, Khurshid Alam and Lily Islam addressed the houseful audience. As the day was celebrated at many other locations across Bangladesh, some renowned artistes were missed and remembered during the event. Following their talks, Dinat Jahan Munni and Lily Islam presented the State Minister for Cultural Affairs, K M Khalid with an uttoriyo (honorary scarf).
During his speech, the chief guest acknowledged the importance of music in our culture and assured that the next year's celebrations will surely strive to top this year's, in terms of arrangements and artistes. "From next year, we also have plans to conduct a music festival, where artistes from all across the country will participate," mentioned K M Khalid. "As part of the grandiose celebrations being planned to mark Bangabandhu Sheikh Mujibur Rahman's birth centenary next year, and the golden jubilee of our independence the following year, the artistes of our nation will have a major role in the celebrations and will be provided with all the necessary support."
"Musicians and music enthusiasts all across Bangladesh and the world are celebrating today," addressed Liaquat Ali Lucky. "The power of music speaks for itself."
As the evening unfolded, a variety of artistes from multiple music organisations enlivened the celebrations with their presence and prowess. Apart from Bangla melodies, an interesting array of Japanese, Hindi, Urdu, Chinese, Arabic, English, Spanish, Nepalese and Russian songs were also on the roster. Emceed by Maskure Sattar Kollo and Tamanna Tithi, the programme was well executed and managed to keep the audience entertained throughout.