In Remembrance
Happy Akhand's romance with music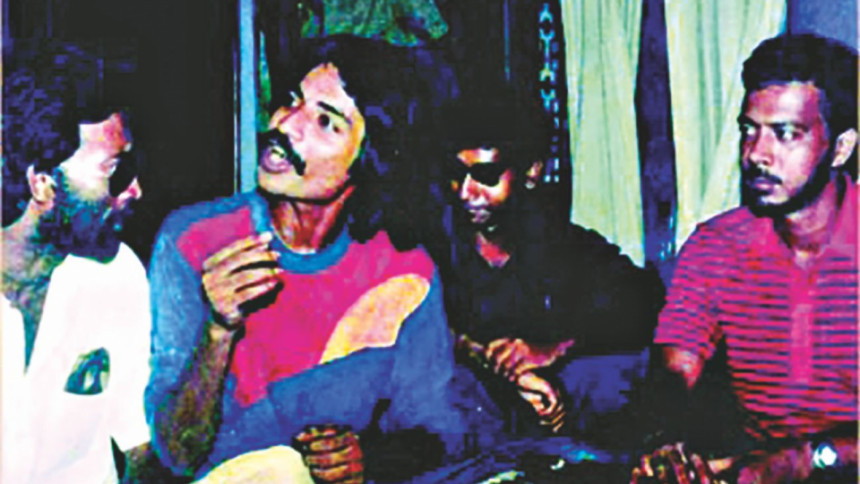 Shortly after Bangladesh's War of Liberation in 1971, Azam Khan -- a pop legend in the making -- along with his band Uchharon and the Akhand Brothers (Lucky and Happy) created hype in the music industry with their magnetic songs. Happy Akhand's "Abar Elo Je Shondha" remains a milestone in Bangla music. His untimely demise at the age of 27 (on December 28, 1987) was a big blow to all musicians who were inspired and influenced by the passion of a pioneering figure in Bangla pop music. If he were alive, Happy Akhand would turn 57 today (October 12). 
Happy Akhand's contributions to folk, band and overall Bangla music are immense. Ignoring his own career, he worked for others, including noted folk singer Firoz Shai.
"Happy directed music for many timeless songs, including 'Emon Ekta Maa De Na' (recorded by Ferdous Wahid) and 'Torey Putuler Moto Korey Sajiye' (recorded by Kumar Bishwajit). Happy supported Ayub Bachchhu, James and Miles with his guitar, keyboard and practical lessons," said Happy's elder brother Lucky Akhand in a 2011 interview with The Daily Star.
In spite of his all-too-brief life, Happy brought joy to other singers and musicians with his prodigious musical talent. He could not record many songs, but is remembered till date for songs like "Khola Akasher Moto Tomakey Hridoy Diyechhi", "Swadhinata Tomakey Niye Gaan Tho Likhechhi", "Ke Banshi Bajaye Rey", "Tumi Amar Prothom Premer Gaan", "Polatok Shomoyer Haat Dhorey", "Tumi Ki Dekhechho Pahari Jhorna", "Neel Neel Shari Porey", "Ei Prithibir Bukey Aashey Jara Nei Ki Tader Kono Asha" recorded by Happy. 
"Happy could not leave behind an illustrious body of his own singing... or we could say it was the result of negligence towards him. My heart bleeds from the pain. The condition of radio and television was abysmal. Media had not flourished. I have plans to do something for Happy. I would like to arrange musical shows in his memory and institute a prize after his name," Lucky Akhand had dreams to celebrate his brother's music. 
"Happy could have been established as a legend in our musical scene. I received all the love, blessings and honour at HMV Calcutta (now Kolkata) where I worked with Manna Dey, Hemanta Mukherjee, RD Burman, Manabendra and other legends. I was the junior-most composer at HMV and composed songs for Gora Chand Mukherjee, Banashree Sengupta and others. I took the record of Happy's song 'Abar Elo Je Shondha' with me. One day in 1972, I played the record at Banashree Sengupta's residence. Hearing the song, Manna Dey and RD Burman were much impressed. Later, in 1975, Happy sang eleven songs at a concert in Durgapur, Beerbhum in India. RD Burman and Asha Bhonsle were the main attraction of the concert. After the concert, RD Burman appreciated Happy profusely for his performance and guitar-playing," concluded the late legend Lucky Akhand.