Ailing Lucky Akhand flown to Bangkok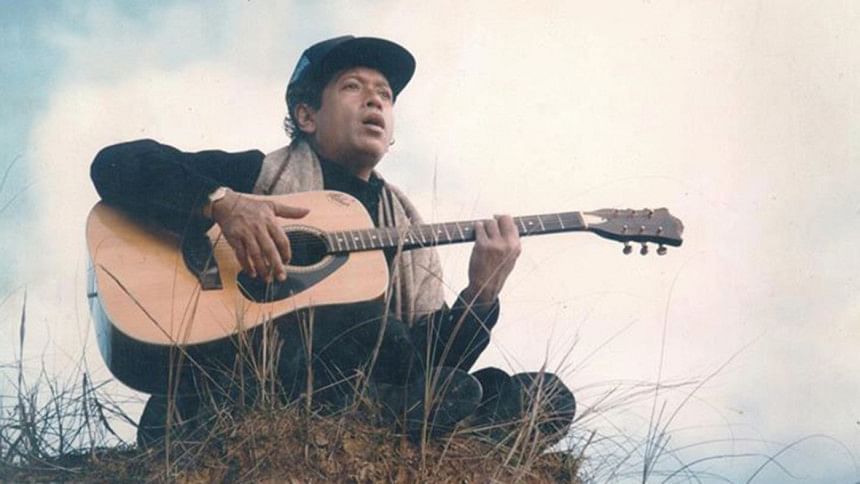 "Let me come back from Thailand. I'll surprise you all."
Lucky Akhand was talking to this correspondent, hours before his departure.  "I am working on some new music," he said, with a glow on his face.
A veteran singer, composer, creator of numerous timeless modern Bangla songs and artiste of war-time radio station Swadhin Bangla Betar Kendra has been diagnosed with lung cancer.
"I should have flown to Thailand yesterday [Wednesday]. Let's see what happens today," he said, sitting in his bed at the Coronary Care Unit of Bangabandhu Sheikh Mujib Medical University, where he was taken on September 1.
The family will need a lot of money for the treatment but the 68-year-old, told the media that he did not want a charity. Rather, he wants the royalties for his songs, many of which have been popular for decades. 
Asked whether any of the companies that have been doing business with his music for years contacted him, he said, "Yes. Some of them contacted me. But there is copyright registration issue. I have to go to their offices.
"But I cannot go anywhere before my return from Bangkok."
Yesterday, friends, relatives and fans were visiting or calling him to know his condition.  He was answering most of the calls and also talking to visitors regarding his future plans and programmes. 
During the conversation with this correspondent, he took a call. It was singer Maqsood on the other side. "Let me come back from Thailand. I'll compose some new songs and select some from your old songs for an album," he said.
In the meantime, his daughter Mum Minti over the phone told him about his Thai visa confirmation.
Regarding his situation, Dr DMM Faruque Osmany, assistant registrar, department of cardiology of BSMMU said Lucky had been diagnosed with grade-IV (advanced stage) lung cancer. At this stage, a surgery was not possible. He has to be treated with chemotherapy or radiation.  
He will be admitted to Phyathai Hospital in Bangkok as a medical board of the BSMMU recommended shifting him to a specialised cancer hospital.  
Two jewels in one family -- Lucky Akhand and his brother Happy Akhand – are undoubtedly one of the few musicians who shaped the post-war music scene of Bangladesh. Happy's Abar Elo je Sondhya and Lucky's Neel Monihar are the milestones in Bangla music.
Both multi-instrumentalists, the Akhand brothers never kept their talents confined to themselves. Careers of many famed singers including, Samina Nabi, Kumar Biswajit and Ferdous Wahid, were enriched by their melodious composition.
Today's rock music in Bangladesh, for where it stands now, also owes a great deal to Lucky and Happy.
Bangla music suffered a great loss when Happy met untimely death in 1987. With a bleeding heart, his elder brother continued his musical journey -- for his commitment to good music, not for stardom or media attention.  He is now the director (music) of national radio network Bangladesh Betar.  
Born in 1955 in Old Dhaka, Lucky Akhand was enlisted as a music composer (Surokar) of HMV Pakistan when he was barely 14 and a musician of HMV India at 16.
In 1971, he joined Swadhin Bangla Betar Kendra, a radio station that throughout the Liberation War remained engaged in a propaganda battle against the Pakistan occupation forces and kept up the morale of freedom fighters through patriotic songs.
Now geared up for another battle, Lucky Akhand along with his daughter Mum Minti flew to Bangkok around 10:25pm.
And thousands of fans, fellow musicians and well-wishers are keeping their finger crossed that he will recover and return soon. They surely will love to hear his new melodies.