Our melody man, his new fight
Lucky Akhand flown to Bangkok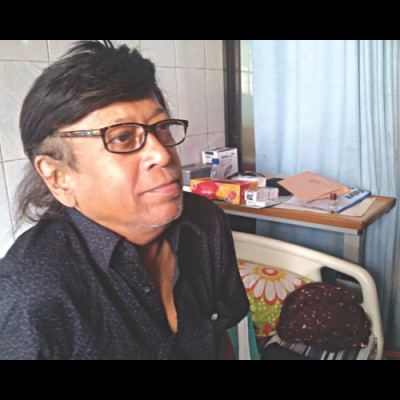 Pitted against a lung cancer at an advanced stage, he still exudes an air of undying passion for music. When he talks about his compositions, his eyes gleam with excitement.
Undaunted by the scale of the battle ahead, he says, "I'm working on some new music. Let me come back from Thailand. I'll surprise you all."
That's Lucky Akhand, one of the most gifted singer-composers the nation has ever produced, talking to The Daily Star hours before he left for Bangkok for treatment last night.
The creator of timeless tunes like Agey Jodi Jantam, Amay Dekona, Jekhanei Simanto Tomar, Kobita Porar Prohor Esechhe, and an artiste of wartime radio Swadhin Bangla Betar Kendra, Lucky was admitted to Bangabandhu Sheikh Mujib Medical University on September 1. There he was diagnosed with grade-IV lung cancer.
Dr Faruque Osmany, assistant registrar of BSMMU, said since Lucky's cancer is already at an advanced stage, a medical board of the hospital has recommended shifting him to a specialised cancer hospital.
He will be admitted to Phyathai Hospital in Bangkok. 
For the expensive treatment, family members say, they have managed the money to meet the immediate needs, but they will require a lot more in the coming days.
However, the 68-year-old musician, always a man with a sharp sense of self-respect, does not want any charity; rather, he wants the royalties on his songs, many of which have been popular for decades. 
Asked if any of the companies that have been doing business with his music for years has contacted him, he said, "Yes. Some of them contacted me. But there is a copyright registration issue, for which I have to go to their offices.
"But I cannot go anywhere before I return from Bangkok."
Yesterday, friends, relatives and fans were visiting or calling him to know his condition. He was answering most of the calls and also talking to visitors about his future plans. 
During the conversation with this correspondent, he took a call. It was from singer Maqsood.
"Let me come back from Thailand. I'll compose some new songs and select some from your old songs for an album," Lucky told the singer-songwriter on the other side of the phone.
In the meantime, his daughter Mum Minti over the phone told him about his Thai visa confirmation.
Two jewels in one family -- Lucky Akhand and his brother Happy Akhand – are undoubtedly among the few musicians who shaped the post-war music scene of Bangladesh. Happy's Abar Elo je Sondhya and Lucky's Ei Neel Monihar are the milestones in Bangla music.
Both multi-instrumentalists, the Akhand brothers never kept their talents to themselves. Careers of many famed singers, including Samina Chowdhury, Kumar Biswajit and Ferdous Wahid, were enriched by their melodious composition.
Today's pop-rock music in Bangladesh, for where it stands now, also owes a great deal to Lucky and Happy.
Bangla music suffered a great loss when Happy met untimely death in 1987. With a heavy heart, his elder brother continued his musical journey -- unwavering in his commitment to good music and never chasing stardom or media attention.  
Now the director (music) of national radio network Bangladesh Betar, Lucky was born in 1955 in Old Dhaka. At the age of 14, the music prodigy became a listed composer (Surokar) of HMV Pakistan, and a musician of HMV India at 16.
In 1971, he joined Swadhin Bangla Betar Kendra, a radio station that throughout the Liberation War remained dedicated to keeping up the morale of the freedom fighters through patriotic songs and programmes.  
Faced with another fight, Lucky along with his daughter left for Thailand on a Bangkok Airlines flight at 10:25pm.
And thousands of fans, fellow musicians and well-wishers are keeping their fingers crossed that he will recover and return soon. They surely will love to hear his new melodies.