Lucky Akhand laid to rest
Given guard of honor at Shaheed Minar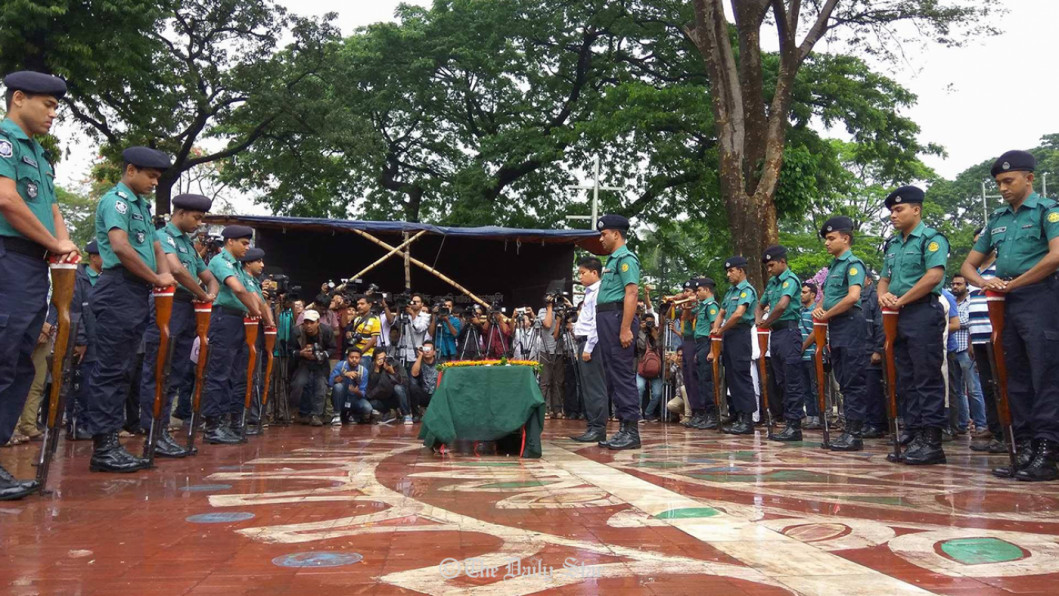 Renowned singer-composer and freedom fighter Lucky Akhand was buried at Martyred Intellectuals Graveyard in Mirpur of Dhaka this afternoon.
He was laid to rest at the graveyard around 2:45pm amid hundreds of fans and followers shedding their tears.
Earlier, people from all walks of life, including ministers, political leaders, cultural activists, civil society members, fans and family members, paid their last tributes to the legendary singer and composer at the Central Shaheed Minar.
Lucky was given a guard of honour when his body was kept at the Shaheed Minar premises around 11:15am.
Information Minister Hasanul Haq Inu , Cultural Affairs Minister Asaduzzaman Noor , media personality Faridur Reza Sagor, singer Fakir Alamgir, Belal Khan, lyricists Gazi Mazharul Anwar, Kabir Bakul and among others were present there.
Two hours later, his body was taken to Dhaka University Central Mosque where his second namaz-e-janaza was held after Zohr prayer.
His first namaz-e-janaza was held at his Armanitola residence in the city around 10:00am.
Lucky, also lyricist, instrumentalist and an artiste of war-time radio station Swadhin Bangla Betar Kendra, died at Mitford Hospital in the capital around 6:00pm yesterday. He was 61.
He was the creator of some timeless tunes that epitomised melancholy, yearnings for love and depth of pain. His inimitable style of composition evoked an array of emotions among millions of hearts over decades.

A legend in every sense of the word, he had many an identity -- a singer, music director, lyricist, instrumentalist and an artiste of war-time radio station Swadhin Bangla Betar Kendra.
READ more: The legend will sing no more
Diagnosed with grade-IV lung cancer back in 2015, he was hospitalised in Bangladesh on September 8, 2015 and later taken to Bangkok for better treatment.

He came back in March last year and since then, he had been taking treatment at Bangabandhu Sheikh Mujib Medical University quite regularly.

As his condition improved, the freedom fighter-artiste was taken to his Armanitola residence from Bangabandhu Sheikh Mujib Medical University two weeks ago.

Lucky was hugely popular in the 1980s, when he was at the peak of his career as a singer, composer, lyricist and music director. His first album got released in 1984.


His songs like Agey Jodi Jantam, Amay Dekona, Jekhanei Simanto Tomar, Kobita Porar Prohor Esechhe and many more are considered milestones in modern Bangla music.
Born in 1955 in Old Dhaka, the music prodigy became a listed composer of HMV Pakistan at the age of 14 and a musician of HMV India at 16.
In 1971, he joined Swadhin Bangla Betar Kendra, a radio station that throughout the Liberation War remained dedicated to keeping up the morale of the freedom fighters through patriotic songs and programmes.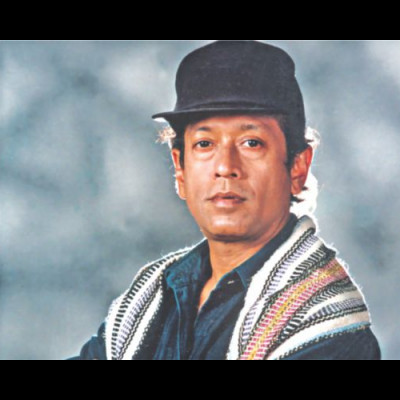 He later became the director (music) of national radio network Bangladesh Betar.
Two jewels in one family -- Lucky and his brother Happy Akhand -- are undoubtedly among the few musicians who shaped the post-war music scene of Bangladesh. Happy's Abar Elo je Sondhya and Lucky's Ei Neel Monihar are the two precious gems of Bangla music.
Both multi-instrumentalists, the Akhand brothers never kept their talents to themselves. Careers of many famed singers, including Samina Chowdhury, Kumar Bishwajit and Ferdous Wahid, were enriched by their melodious composition.
Today's pop-rock music in Bangladesh, for where it stands now, also owes a great deal to Lucky and Happy.
Bangla music suffered a great loss when Happy met untimely death in 1987. With a heavy heart, his elder brother continued his musical journey -- unwavering in his commitment to good music and never chasing stardom or media attention.