Upholding the life, work and cultures of the margins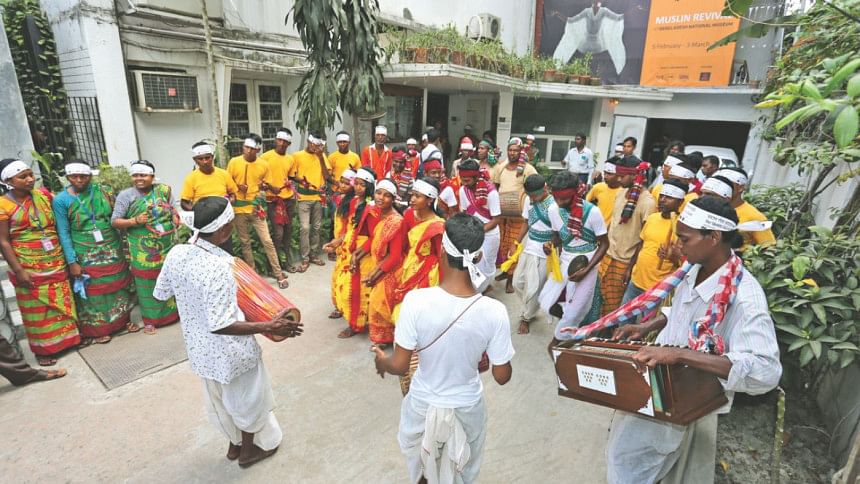 A five-day (April 17-21) photography exhibition titled "On the Margins", featuring images of tea workers and ethnic communities of Bangladesh, drew to a close yesterday at Drik Gallery, Dhanmondi. Dr. M Golam Rahman, Chief Information Commissioner of Bangladesh, inaugurated the exhibition as chief guest on April 17. Society for Environment and Human Development (SEHD) organised the exhibition.  
Philip Gain and others were the featured photographers for the exhibitions. Philip Gain, director of SEHD, had  captured most of the images on camera over the last three years; though the exhibition also showcased images that dated back 12 years.
"The key message that we try to communicate through the images is that the tea workers and their communities are one of the most vulnerable people of Bangladesh. They deserve special rather than just equal treatment by the state. Unfortunately they continue to remain socially excluded, poorly paid, overwhelmingly illiterate, deprived and disconnected. They have also largely lost their original languages, culture, history, education knowledge and unity," said  Gain.
What is unique about the tea workers and their communities is that their occupation and alienation from the Bangali majority gives them a common identity as tea workers. But the reality is that they belong to many ethnic and caste identities -- as many as 80 – as has been mapped by SEHD under a project, "Mapping and capacity building of tea plantation workers and little-known ethnic communities". SEHD discovered these 80 communities in 156 tea gardens in Sylhet, Habiganj, Moulvibazar, Chittagong and Ragnamati districts.
A cultural programme, showcasing traditional songs and dances of tea garden workers, was held prior to the opening of the exhibition. Besides, a seminar with panel discussions, book launch, documentary screening and another cultural programme were held alongside the exhibit.