Celebrating Life Concert at SUST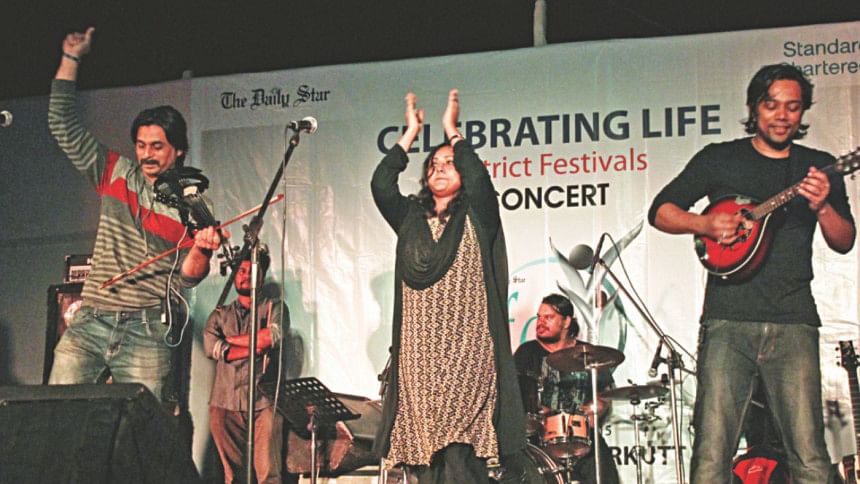 Thousands of young enthusiastic audience joined a daylong photography exhibition and concert titled "Celebrating Life", that was held at Basketball ground of the Shahjalal University of Science & Technology (SUST) in Sylhet on Saturday. 
Vice Chancellor Professor Dr. Md. Aminul Haque Bhuiyan inaugurated the exhibition featuring photographs from Standard Chartered-The Daily Star Celebrating Life, a composite competition, which brings film, photography and lyrics contests on the same platform.
The programme was jointly organised by The Daily Star and Standard Chartered Bank under the yearly contest.
As many as 22 winning photographs from the last year's contest were put on display at the exhibition. A large number of enthusiastic students and local residents visited the exhibition and enjoyed the cultural evening. 
The photo exhibition began in the morning while the cultural programme began with a patriotic songs in the evening. Popular band Chirkut then sang one song after another, responding to requests from the audience, for about two hours. 
Syed Ashfaqul Haque, deputy executive editor of The Daily Star; Bitopi Das Chowdhury, head of corporate affairs of Standard Chartered Bank and Kamruzzaman Chowdhury, the university proctor spoke at the event. 
Rafi Hossain, convener of Standard Chartered-The Daily Star Celebrating Life, moderated the event.