Photography exhibition Chirayata Chattagram held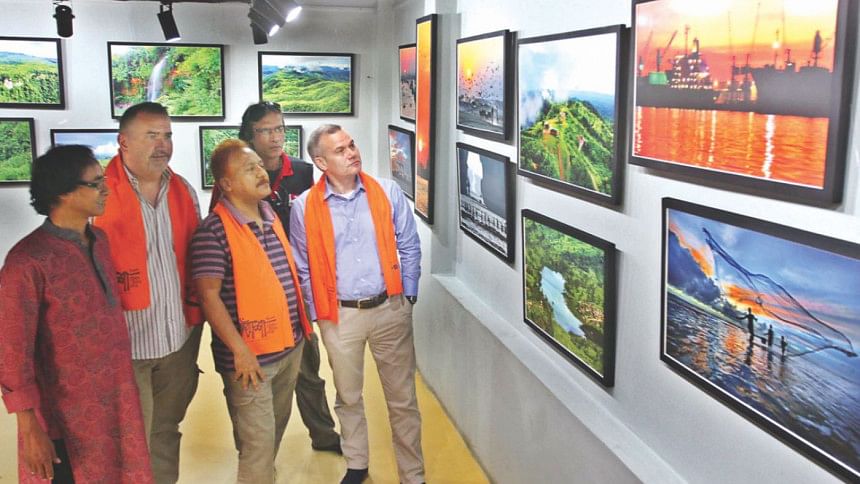 A photography exhibition of famed photographer Shoeb Faruquee titled "Chirayata Chattagram" was held in the port city with an aim to upholding various tourist attractions of greater Chittagong.
Chittagong's cultural centre Haatkhola, in association with Photobank Gallery, organised the exhibition at Haatkhola's exhibition hall in Surson Road. 
A total of 34 photographs depicting the life, culture, religions, heritage and scenic beauty of the region were on display. The unexplored natural waterfalls of Chittagong hill tracts, urban life and tribal life also featured at the exhibition.
Radisson Blu Chittagong Bay View's General Manager Geir Sikko inaugurated the event. Haatkhola Coordinator Yusuf Mohammed was also present at the programme. 
"These images portray the richness and exuberance of the culture of indigenous, urban and working people of the greater region and I am happy to be present here," said Mahboob Ul Alam, a faculty member of BGMEA Institute of Fashion and Technology.
"I am happy as the Radisson Blu announced to permanently display many of the photographs of the exhibition with my biography", said Shoeb Faruquee. 
"I think the exhibition will help the people know the prospects and the characteristics of the culture of Chittagong," said Shoeb, who is also the director of Photobank Gallery.