'TIME: As We Know It' underway at EMK Center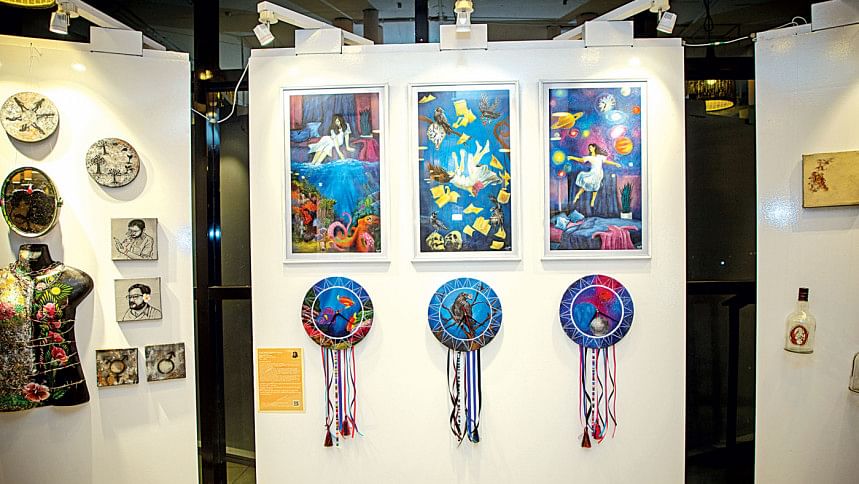 "TIME: As We Know It" is a group exhibition with 55 artworks of ten young artists as they explore their perceptions about time. The exhibition is currently underway at EMK Center, Dhanmondi. 
The participants — Anika Roy, Fuad Hasan, Procrity Sarker, S M Raahim, Sadia Afrose Piya, Sagufta Nowrin, Shifa Tasnim, Shimanto Ghosh, Tapos Sarker and Tasfia Habib are students of Faculty of Fine Art, University of Dhaka. They planned this exhibition during the pandemic. Since most of the artists are from out of Dhaka, the exhibition promotes art from peripheral regions.
"I have tried to capture time inspired by Sigmund Freud's Dream Theories and Salvador Dali's style," Sagufta explained. Her series on display features three paintings narrating three dreams. Each painting is accompanied by a running clock, in the form of a dreamcatcher, that distinguishes the dream time from the real time.
Raahim's watercolour paintings, titled 'Witness of Time' depict the continuous nature of time. His acrylic work, 'Time Flow', is a clock highlighting the different stages of a person's life. On the other hand, Shimanto's mixed media installation, 'Transformation of Life to Life', presents a different take on transformation, while addressing gender identities. 
Piya's works 'Kunjor', 'Nature' and 'Tale of Clay' add a diverse angle to the exhibition. Her mixed media installation describes the changes in the patterns of ceramic art over the centuries. "I have shown how clay items, once considered a household necessity, have now emerged to be a fancy show-piece," she shared. Another mixed media installation by Anika, 'Metamorphosis of Emotion', shows the evolution of humankind, mind and emotion. 
Shifa's artwork series, 'Time Born' includes two acrylic paintings and a QR code that allows visitors to go through her digital illustrations. "Time Born depicts the beginning and flow of time. It also captures how people do not utilise time but waste it unknowingly," she said.
Arna has displayed eight mixed media works under the series 'The Story of Life and Time'. These artworks hint at an overall sense of uncertainty and the depressing episodes of surviving a pandemic. In contrast, Rudra's artworks include three acrylic paintings surrounding the idea of freedom of expression.
Procrity has displayed mixed media on paper through a series capturing some fond memories of this group of friends organising the exhibition. Lastly, Fuad's pen on paper series, Mrinmoyee, is a tribute to maternity and presents the various stages of a woman's life.
The exhibition will be open to visitors till November 29. 
 
The author is a medical student and a freelance journalist. Email: [email protected].