A LOST SOUL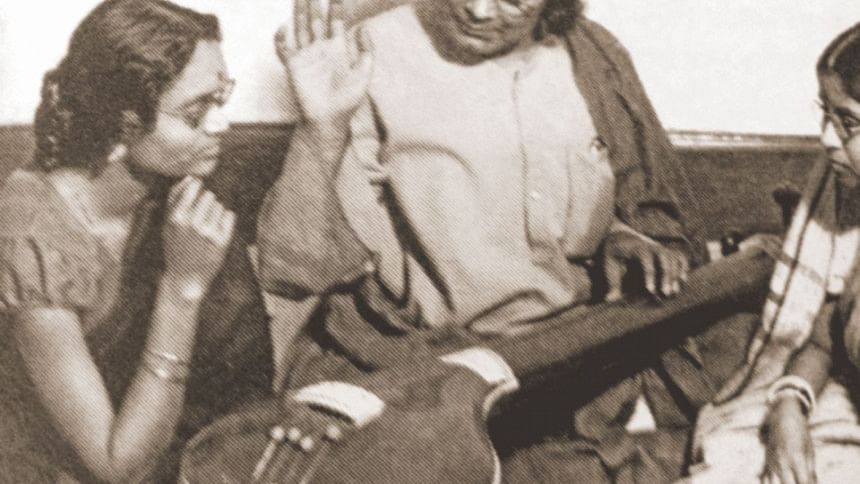 Nazrul was restless -- a defining trait of  his character. He had been granted permission to come down from heaven to his beloved country to see for himself how his devotees were celebrating his 117th birthday. While the angels draped him in his favourite 'gerua khadder panjabi', he put on the black military boots that he always wore. His trademark -- untamed long curls falling loosely from underneath the bright yellow silk turban, he hummed a favourite tune "Sheye choleye gecheye boley... The twinkle in his eye said it all -- he would hardly wait.
Nazrul had a plan chalked out. He would spend the day visiting all the organisations that work to cherish and honour him, in particular the Nazrul Institute. He would also make time to visit the Bangla Academy, the Shilpakala Academy, radio and the TV channels. The institutions had to be the focus, where he could see for himself the people teeming in, music in the air and reminisce on the days of yore.
Weaving his way to the Nazrul Institute through a crammed Dhanmondi road 28, he became increasingly confused. He figured that once in the vicinity, he would simply follow the crowd. But where was the crowd? Where was his house? It took him some time to finally spot the decrepit building and what he saw shocked him to his core.
Nearly 40 years ago, this used to be his home. He had slowly slipped into a terminal illness and watched in silence as hundreds of people thronged day in and day out to get a glimpse of him and to express their adulation anyway they could. It was here where he bade farewell to the world, leaving behind his admirers in a sea of grief. He had hoped the house would remain as a link to him and his memories. Now it seems, along with him, the house had died a premature death; the worn out structure looking helpless in the midst of a concrete wilderness.
As he walked in with dreaded steps, he saw a droopy receptionist at the entrance, responding half-heartedly to a few visitors. The auditorium itself looked like a post war scene. It seemed a heavy shower or mild tremor would bring the ceiling crashing down. The musty smell was nauseating. Termites had taken full control of the auditorium. A chill ran down his spine, "It's only a matter of time before my lifetime's work is ruined because of sheer negligence and apathy," he thought.
At the Gramophone Company when Nazrul was signed as an exclusive trainer, eminent artistes such as Dilip Kumar Rai, Sachin Dev Burman, KL Saigal, Tulsi Lahiri,  Abbassuddin Ahmed, Kamol Das Gupta, Juthika Rai, Angur Bala, Indu Bala, Kamala Jharia and many others recorded songs under his guidance and gained immense popularity, turned into legends.
At the library, Nazrul noted with horror, the CDs featuring songs from original records, and 31 volumes of notations containing a thousand songs, lay under a layer of dust. Most artistes unfamiliar with the technique of following swaralipi, had probably bailed out and shifted to other genres.
The situation perplexed Nazrul. It wasn't as if there were no funds allocated by the government. But most of it seemed to go to printing books, pamphlets, reprints -- anything -- but original articles. The songs that were so close to his heart were clearly not given the priority they deserved.
Nazrul remembered that he had composed 3,500 songs -- on patriotism, ghazals, devotional, for theatre and cinema, and based on Turkish, Arabic and Cuban tunes all within a span of just 22 years. "Was that all in vain?" -- he thought to himself.
Agitated, he left the venue and decided to go to Bangla Academy, which was a hub of scholars and cultural activities. The dimmed lights, however, were a clear indication that the programme had either been cancelled or not promoted properly. There were several other venues in the country where celebrations were on, but the mediocrity was too painful for the poet to bear any longer. Uncontrolled tears welled up, as it became apparent that his desire to listen to his creations on his birthday would remain unfulfilled.
As the moon emerged in the sky, Nazrul sat on the lawn and reminisced on his days in the Alipore Jail. Tagore had dedicated his play "Basanta" to Nazrul. He remembered his emergence on the literary scene of Kolkata, as a soldier poet -- a time when Tagore's influence was dominant. This was the golden age of Tagore's literature and it was difficult for any poet not to be swept away by his presence. Nazrul himself was influenced by Tagore. But very soon Nazrul started to break away from that trend, composing songs with a fiery spirit, heroic sentiment and ignited a newfound passion among readers and music enthusiasts. It seemed that the fire was now being put out through sheer apathy -- had his work inherited his terminal illness?
Subhas Chandra Bose had once said that he had travelled to many war fronts of India, but never had he been so moved by a song as spirited as Nazrul's "Durgomo Giri". Nazrul took a deep breath -- were the songs taught at educational institutions to familiarise the young ones with the National Poet's works? Perhaps not, he thought.
What about the media, he thought? Surely with all the new technological developments he had observed from above, something could be done? And what about this "globalisation" he had heard about? Didn't that imply promoting one's ideas to the world? Re-recording of the original songs by talented singers, attractive visual presentations of the songs could also draw the audience, couldn't they? What also concerned Nazrul was a dearth of skilled teachers across the country. He was also surprised that the government institutions, as well as sponsors or private institutions, seemed oblivious to the gradual decline that had set in.
From afar he watched several prominent Nazrul artistes and organisations had assembled to protest the neglect of the memorial plaques at the Kazi Nazrul Islam Avenue.
Perhaps there were others who shared his grief, but it was time to return. Hurt and desolate, he made his way back to his abode in the heavens. The twinkling lights of stars greeted him. From a distance he could see a grand stage bedecked with flowers. Legendary artistes of yesteryears were waiting to greet him with his classics on his birthday.
Perhaps his wish was to be fulfilled after all. But not in the earthly world!