Country's first butterfly park in Chittagong (video)
The beauty of a colourful butterfly captivates us instantly, making us wonder where they get their beautiful wings from. Surely this sight of a shimmering butterfly inspired the National poet Kazi Nazrul Islam to write his popular song 'Projapoti' (Butterfly).
Now-a-days, butterflies are rarely seen in the cities. However, in Chittagong there is a park where several hundred butterflies of 11 different species fill the air with dancing, flitting colours.
Every day hundreds of visitors visit the Butterfly Park near the Shah Amanant International Airport. The number increases to several thousand during the holidays.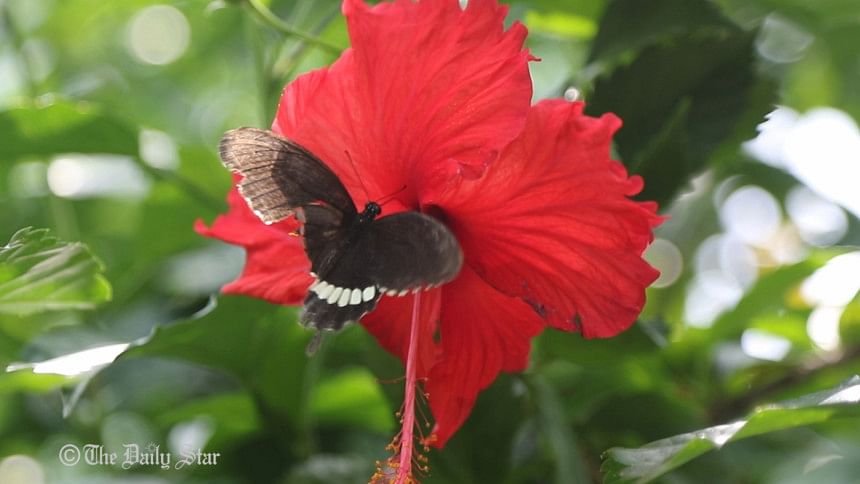 Established in a compound of over six acres, the park was officially opened in 2012.
Visitors of the park can watch butterflies hovering over flowers, feeding on nectar, flitting from flower to flower.
The park has live butterfly-zone, breeding centre and collection of dead butterflies in a museum. 
If you look closely you might even see the rare sight of their eggs, the larvae eating leaves, and even the chrysalis on way to become a butterfly in the breeding centre.
"Sunny days are the best time to watch the beauty of flying butterflies. Butterflies do not move much during cloudy day and afternoons and hide under leaves and bushes," says butterfly curator Alimuddin.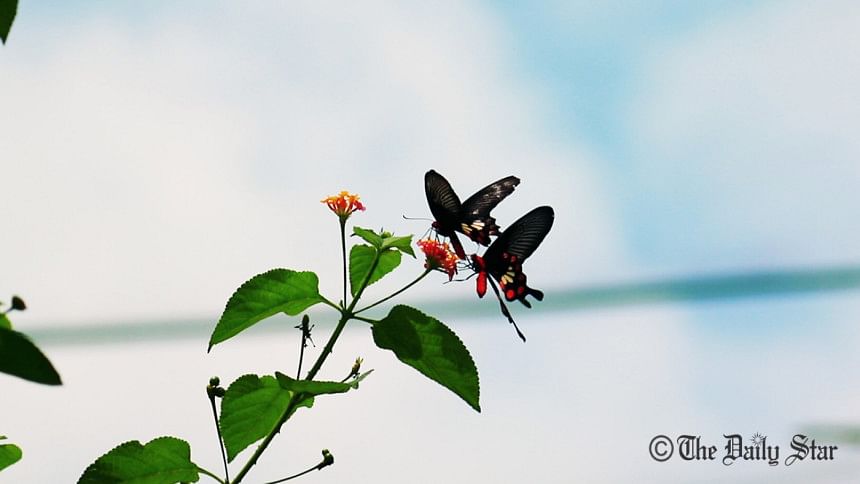 The life-cycle of the butterfly involves four stages-- egg, larvae, pupa and adult butterfly.
"It takes six days for the larva to emerge from the egg, in 18 days the larva turns into a pupa and in 12 days a butterfly emerges," Alimuddin informed.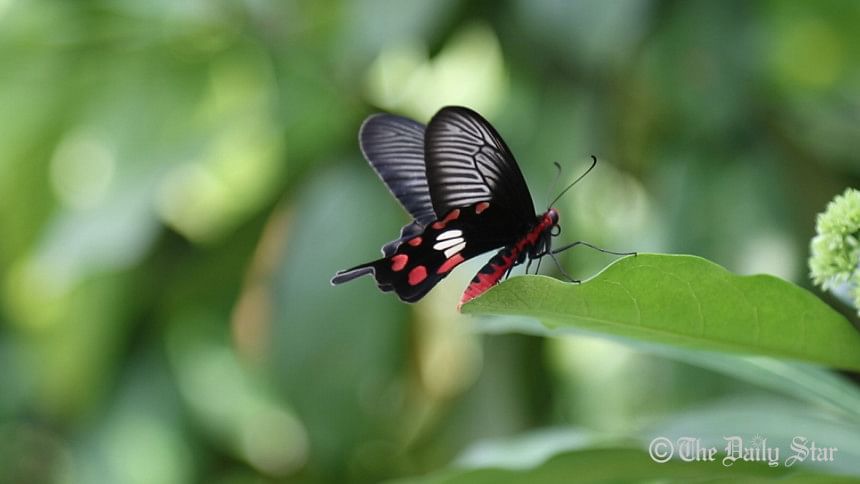 Their lifespan depends on the type. Adults may live from four weeks to several months, according to Alim Uddin.
Once abundant, destruction of butterfly habitats has made them a rare sight now.
Researchers estimate a total of around 400 species are residents of the country.
Visitors believe if the park could be set up in a larger area it could help conserve butterflies and attract more visitors.