DU and Chhayanaut to jointly celebrate Victory Day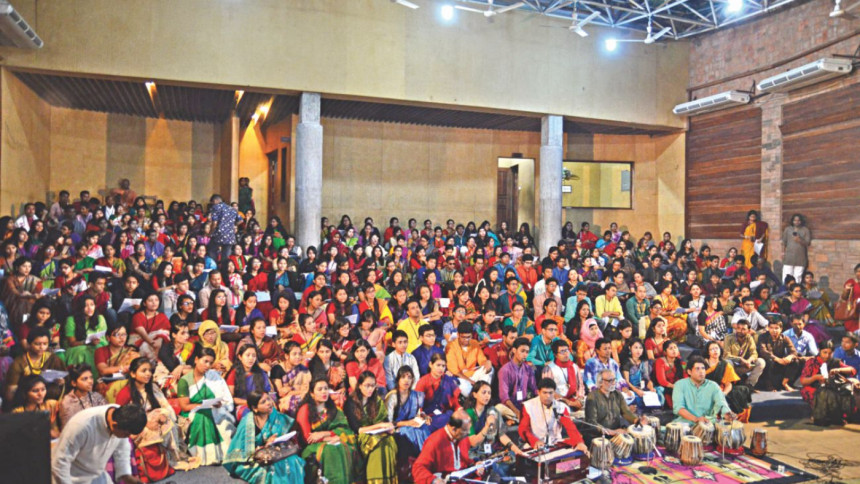 Dhaka University (DU) and cultural lighthouse organisation Chhayanaut are celebrating this year's Victory Day jointly. On December 16, thousands will gather at the Central sports field of DU for a cultural programme featuring music, dance and recitation. 
In a press statement, Chhayanaut said: "After four decades of Independence from Pakistan, people of Bangladesh have not yet become complete Bangalees to embrace global humanity, rather there have been divisions and violence, as a result of deterioration of mentality and values. Chhayanaut believes that if people come together in singing songs of loving the motherland and its people, those divisions will dissolve. Chhayanaut believes that Bangalees can be united once again through culture."
"During the Pakistan regime, to instill the confidence and belief in Bangalees of their own identity, Chhayanaut initiated the Bangla Noboborsho in 1967, a festival that has transcended boundaries of the capital Dhaka to all across the country and the world, to become the biggest festival of Bangalees. Chhayanaut hopes that their new initiative to bring people together in the spirit of patriotism will be successful," the statement continued. 
A total of seven patriotic songs will be sung in chorus by young students and teachers of Chhayanaut at 3:50pm on the day, which organizers hope the audience will join in chorus. Rehearsal for the event is currently on at Chhayanaut.