YOUNG ACHIEVER
RUET graduate wins engineering competition with 'one-member' team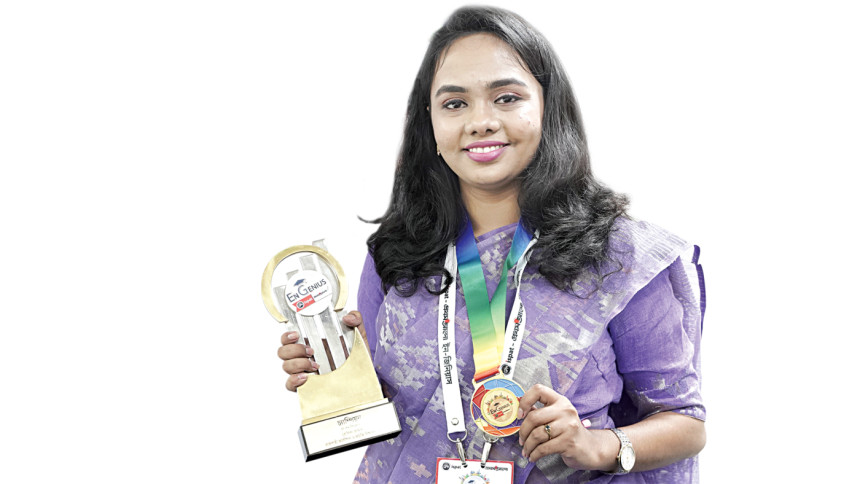 Jesika Zaman is the champion of GPH Ispat-Prothom Alo En Genius Competition, which focuses on structural designs. 223 teams participated in the selection period of the event, from Bangladesh.
The judges for the event included 24 renowned professors of civil engineering departments from different renowned universities, and professional engineers of the country.
Jesika held a fascination for engineering from a young age. She completed her Bachelor of Science degree in Civil Engineering from Rajshahi University of Engineering & Technology (RUET) in 2017.
In 2018, she joined a structural consultancy firm, Design Solutions, as a junior consultant. "After graduation, I turned my passion towards structural designing into my job, and I enjoy my work very much," says Jesika.
She is currently a full-time junior engineer at the Mass Rapid Transit Line-1 project (MRT Line-1), and part-time structural engineer at Design Solutions.
The En Genius Competition came as a golden opportunity for Jesika to learn about structural engineering.
 "To register in the competition you need a team of three: a graduate and a couple of third or fourth-year engineering students from your university," she adds.
"However, my juniors at RUET were busy with their semester final examinations at that time, and I couldn't find members to build my team. I sought advice from the coordinator of the competition, and formed my one-member team, The Conqueror."
Balancing her job and the competition tasks were not easy for Jesika. "I had to study hard to keep up with the competition but I knew I had to see this to the end,"'she says.
Of the 223 teams that applied for the competition, 36 made it to the second round. Only 10 teams reached the third round.
Due to the Covid-19 pandemic, the competition experienced a pause in 2020. Along this long journey, Jesika really enjoyed the two-day workshops, conducted by some of the greatest engineers of Bangladesh.
"This championship strengthened my confidence. I aspire to acquire higher studies in structural engineering," she concludes.
The author is a freelance journalist. Email: akhlakurrahmancharles@gmail.com