Expired licence: Students halt police van in Rampura for an hour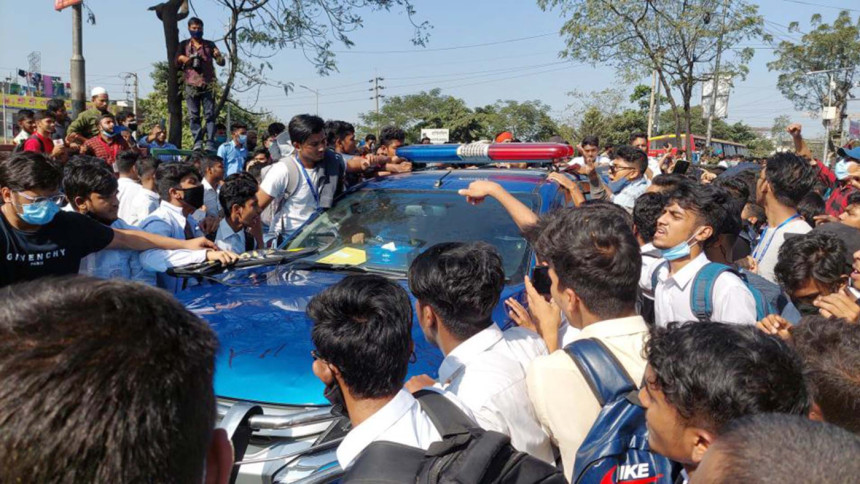 Agitating students, demanding safe roads, today did not let a police van pass through in Dhaka for an hour and forced a traffic police to fine a police officer for carrying a date-expired driving licence.
As the students were checking documents of vehicles on Rampura Bridge since this morning, they stopped a police van around 12:40pm that did not have any registration plate. Additionally, the driver, who is also a police officer, was carrying an expired licence, reports our staff correspondent.
The vehicle belongs to Motor Transport (MT) Division of police.
When the students requested on-duty police officers to take action against the vehicle and its driver, the policemen were first reluctant.
A scuffle took place between police and students as some locals shouted "bad cops" and law enforcers tried to catch two of them.
Around 100 students surrounded the vehicle and shouted slogans against police.
In the meantime, Additional Deputy Commissioner (Khilgaon Zone) of Dhaka Metropolitan Police, Nurul Amin, tried to calm the students down.
Some students also wrote on the police van: "No License", "Law is same for everyone".
After arguing for an hour, around 1:30pm, a traffic sergeant arrived and sued the police van driver.
"We fined him Tk 5,000 for having an expired driving license. He didn't renew it for a year," Assistant Commissioner of Khilgaon Zone, Khandaker Rezaul Hasan, told reporters on the spot.
Asked why it does not have any registration plate, he said that they were yet to get it after applying for registration.
Like yesterday, the students also stopped at least four motorcycles used by policemen for failing to show valid papers.