The last girl standing
All but one female student of class 9 at a Kurigram school married off during pandemic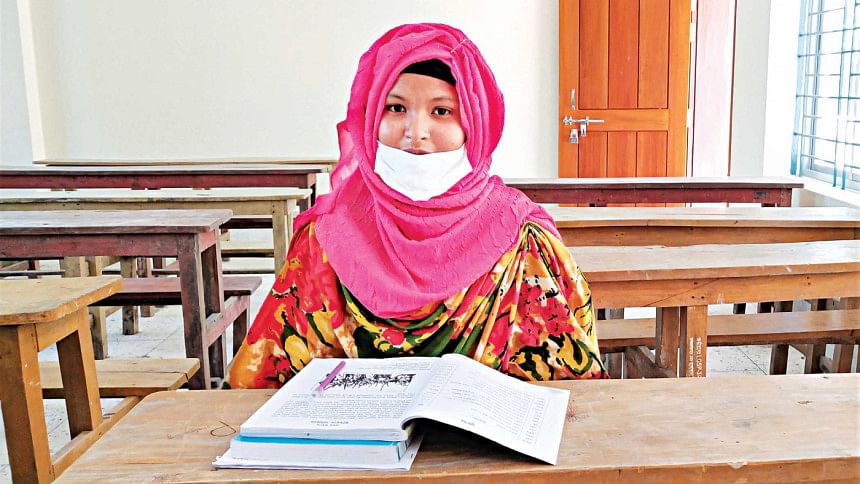 Nargis Nahar and eight other girls graduated from class eight together at Sardob High School in 2020 before the pandemic hit. After schools were shut down, she lost touch with her friends.
After over a year and half, Nargis was elated when the announcement of schools reopening came.
Prepared to begin her classes and meet her friends on September 12, she entered her classroom only to see that of the nine of them, she was the only one there.
Every day since then, she found herself to be the lone girl in her class.
Her eight other female classmates were married off after the closure of schools.
Fazle Rahman, the head teacher of the school in Kurigram Sadar upazila, confirmed to The Daily Star that except Nargis, the other girls of class nine were married off, while three girls of class 10 were also married off.
"Besides, we have come to know that a sixth grader, two seventh graders and four eighth graders were also married off by their family members," he said, adding that before the schools were temporarily shut down, there were 63 female students, out of 225, from class six to 10.
After reopening, there are about 60-65 students attending, of whom, only 15 are female.
"Attendance has not been satisfactory since the school reopened," he said, adding, "we have formed a team of teachers who will go to each absent student's house to see why they have not been coming."
Speaking to The Daily Star, Nargis, all alone in her classroom, said she was upset to learn that all her classmates had become victims of child marriage.
"I have been having troubles as I have no friends to share anything with anymore… I don't know how I will continue attending classes as the lone girl student, but I am trying not to give up."
Nargis said a local "matchmaker" had come to her house with a marriage proposal as well last April. She, however, made it clear to her family that she would not marry now.
Nargis's father Abdul Khaleq told The Daily Star that multiple proposals had come for his daughter but they rejected all of them as per their daughter's wish.
"Our daughter is now the only girl student in the class and she is struggling. We are also disappointed at the situation," he said.
Nazrul Islam, father of a female absentee of the school, said his daughter didn't continue studying at home after school closure.
 "A good marriage proposal also came along last May."
Asked how and with whom the child had gotten married, the father did not respond.
Shamsul Alam, Kurigram district education officer, told The Daily Star that the situation was similar in many other schools across the district.
"The problem is especially evident in schools on chars and in border areas… We have started a survey through teachers and will soon be able to find the number of students absent in each school and reasons behind it."