Secondary schools, colleges to reopen on February 22
Both vaccine doses required to attend class; primary schools may follow suit 2 weeks later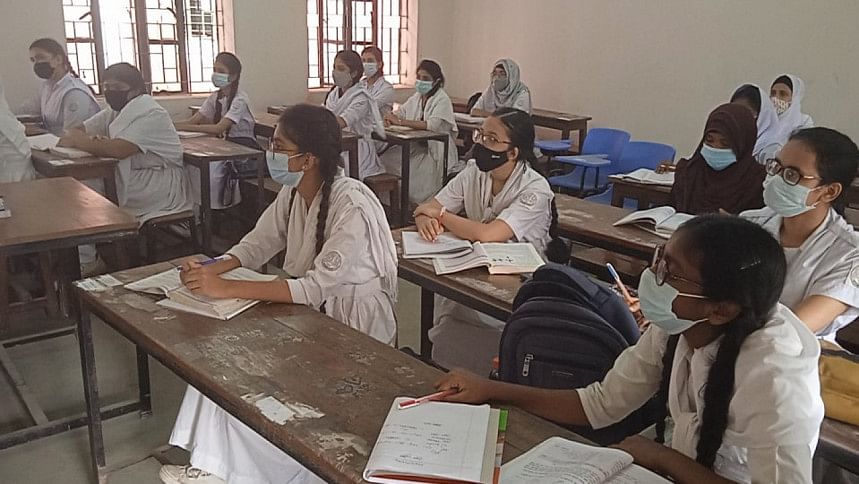 In-person classes will resume partially in secondary schools and colleges on February 22, and only students with two doses of Covid-19 vaccines will be allowed in classrooms.
The authorities hoped they would be able to resume in-person classes at primary schools within two weeks after February 22, as the Covid-19 infection rate is declining significantly.
In addition, universities will be able take their own decision regarding reopening as well.
"Covid-19 safety protocols will be followed strictly when in-person classes begin," Education Minister Dipu Moni said at a press conference at the Secretariat yesterday. Zakir Hossen, state minister for Primary and Mass Education also attended the conference.
Dipu Moni also said that students with only one dose of vaccine will have to attend online or TV classes, adding that she hopes they will all receive the second dose by February 22.
The decision was taken following the recommendations of The National Technical Advisory Committee (NTAC) on Covid-19 and directives from Prime Minister Sheikh Hasina, she said.
There are 1.28 crore students from grades six to 12. About 1.27 crore already have received the first vaccine dose and 34 lakh have received the second.
The minister added that the government also has plans to bring students aged below 12 under the vaccination campaign.
Once classes resume for 2022, SSC candidates will need to attend four classes and students of grade 10 three classes a week. Students from grades eight and nine will attend three classes twice a week and sixth and seventh graders three classes once a week.
Educational institutions were shut from March 17, 2020, due to the Covid-19 pandemic and resumed partially on September 12 last year.
This was one of the longest school closures -- 543 days -- in the world.
Following a sharp rise in Covid transmission, the government again shut down all schools and colleges for two weeks from January 21. The closure was later extended till February 21.