Communal question in HSC test: A gross violation of govt guideline
Jashore board officials say as teachers behind it identified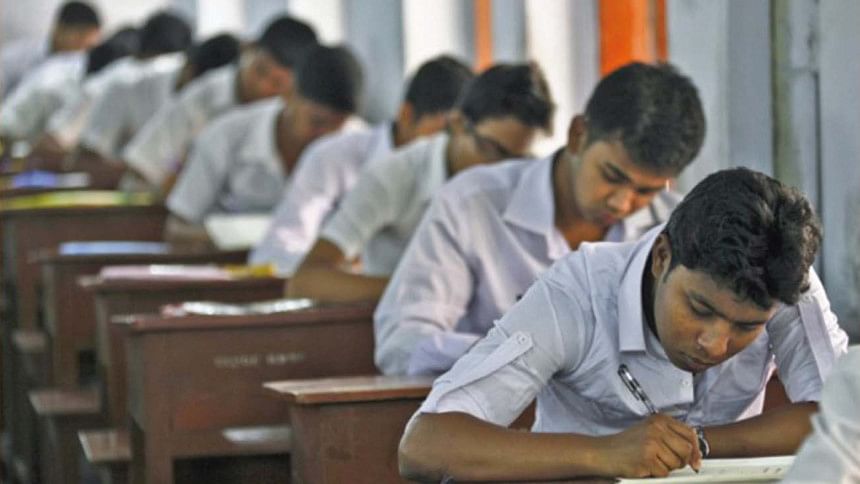 Teachers who prepared and scrutinised the HSC Bangla first paper question that hurt the religious sentiments of the Hindus have violated government guidelines for making question papers, officials have said.
Education board officials said they identified five teachers involved and launched a probe yesterday.
According to Tapan Kumar Sarker, chairman of Dhaka education board, Assistant Professor Prashanta Kumar Pal of Dr Saiful Islam Degree College made the question that was moderated by Associate Professor Syed Tajuddin Shaon of Narail Government Victoria College; Associate Professor Shafiqur Rahman of Satkhira Government Mahila College; Assistant Professor Shyamal Kumar Ghosh of Mirzapur United College in Narail; and Assistant Professor Rezaul Karim of Bheramara Adarsha College in Kushtia.
Jashore board officials told The Daily Star that all five teachers were under Jashore board and were master trainers for question-paper makers and moderators.
"Normally a question setter gets three days' training but they have received 14 days of training as they are master trainers," said Jashore Education Board Chairman Prof Ahsan Habib.
He said the board yesterday formed a three-member probe committee, led by Jashore board Inspector of College KM Rabbani, to investigate the allegations of "instigating communalism".
It was asked to submit the probe report within three to seven days.
The number 11 question in the HSC Bangla first paper test under Dhaka board held on Sunday sparked uproar nationwide.    
GUIDELINE FLOUTED
The Daily Star collected an education ministry directive of 2009 that barred question makers and moderators from making any question that disrespects religion, religious place, state establishment, historical place, and others.
The education ministry directive also prevents teachers from making and allowing questions that has the names of politically, religiously, and socially important people.
There should be no topic that demean any religion, caste, group, language, culture, tradition, and national ceremonies of Bangladesh, the directive says.
Shafiqur, one of the moderators of the question paper in question, said they usually do not drop anything from the questions set by the question maker. "It was completely an unintentional mistake," he said.
Shyamal, another moderator, said he did not know how it all happened and that he could only speak about it after knowing the matter properly.
Hinting at the issue of hurting religious sentiment, moderator Tajuddin told The Daily Star that they usually drop such matters. "At this moment, the matter is not clear to me," he said.
The two other teachers could not be reached for comments.
HOW QUESTIONS ARE SET
Education board officials said three months before a public exam, four trained senior teachers of a certain subject prepare four sets of questions in an education board.
This results in 36 sets of question papers being made per subject as there are nine education boards.
The question papers are sealed and submitted to board. About two months before the exams, four trained senior teachers of each subject review the questions. They are authorised to bring any changes they deem fit.
The questions are then again sealed and submitted to the board.
After the scrutiny, top board officials put aside the questions prepared by teachers of their board and hold a lottery on the remaining 32 sets to pick two sets. The two sets are then sent to the BG press for printing.
After printing, the sealed questions are sent to treasury offices in districts and reaches to exam centres early in the morning of the test. Just 25 minutes prior to the exam start, the board chairman picks a set.
Bangladesh Hindu Bouddha Christian Oikya Parishad in a statement yesterday demanded arrest and punishment of the people involved in "instigating communalism" by November 15.
Our correspondents in Bagerhat and Satkhira contributed to this report.