Children to get 2yrs of pre-primary education
Initiative to start with 3,000 schools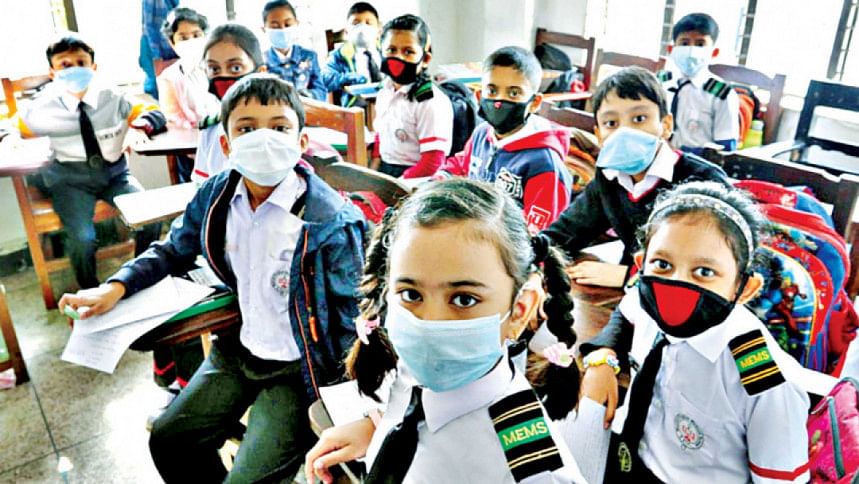 The government is going to introduce two-year pre-primary education at primary schools next year despite the fact that the pre-primary training programme could not prepare teachers for effectively teaching students in classrooms, especially considering the play-based approach towards education.
The one-off 15-day training for teachers of pre-primary education (PPE) also could not help the educators effectively identify, report and track children development outcomes, found a latest World Bank report.
Against this backdrop, the government is planning to extend the duration of PPE, an important component of early childhood learning, to two years from existing one year from January 1 next.
Under the extended PPE, pre-primary learning will start with children above four rather than above five.
Prof Farhadul Islam, chairman of the National Curriculum and Textbook Board (NCTB), said the two-year PPE curriculum was approved on June 25.
"We are going to introduce the two-year pre-primary education at 3,000 government primary schools from January 1 on a pilot basis," he said.
After reviewing the results, the NCTB would expand the education to all primary schools, he added.
Primary and mass education ministry officials said that the government took the decision as the target 4.2 of the Sustainable Development Goals (SDG) calls for ensuring that all girls and boys have access to quality early childhood development, care and pre-primary education so that they are ready for primary education by 2030.
The one-year PPE was introduced in government primary schools for 5-year-old students in 2014. There are now 39 lakh above-five students in pre-primary schools in the country.
STUDY FINDINGS
The World Bank study titled "Playful Pre-Primary Education in Bangladesh: Study on Professional Development Needs of Pre-Primary Teachers and Headteachers" surveyed 200 PPE teachers and 200 headteachers of government primary schools.
It said a 2020 World Bank assessment found that the current provision of professional development opportunities for PPE teachers in government schools had not translated into effective pedagogy in the classroom.
In Bangladesh, pre-primary teachers receive a 15-day induction training, which covers a wide array of topics ranging from characteristics of young children and the importance of the environment for young learners to communication, classroom management, and specific guidance on pedagogical aspects and specific content areas.
"PPE teachers participate in a 15-day induction training but have limited opportunities for ongoing training or support via supervision or coaching", found the study.
Headteachers, who oversee PPE as part of their role, are not required to take PPE training, and have limited guidance on supervision and mentoring of PPE teachers, it added.
According to the study, the growth of PPE teacher recruitment and deployment is inadequate to meet the increasing demand for PPE.
Contacted, Muhibur Rahman, director general (additional charge) of the Directorate of Primary Education (DPE), said they were working on revising the PPE teachers' training curriculum and duration.
Alamgir Mohammed Mansurul Alam, immediate past DPE DG, said the government has a plan to cover the PPE issue in the Diploma in Primary Education (DPEd) curriculum so that all teachers have more idea of child psychology and pedagogy.
He said that there will be no crisis of teachers as the recruitment of 45,000 assistant teachers to government primary schools is at the final stage.
The WB study said despite increases in pre-primary enrolment overall, there are notable disparities in access to pre-primary education across socioeconomic groups.
In 2017, around 30 percent of 5-year-old children from the poorest families were enrolled in PPE compared to 40 percent from the richest families.
In 2019, 84 percent of 5-year-olds from the richest quintile were attending an early childhood education programme or primary school, while the number was only 69 percent in the poorest quintile, said the study.
Children with disabilities, either physical or cognitive, also have inequitable access to PPE. An analysis of 2016-17 Household Income and Expenditure Survey data shows that a child with a disability is 54 percent more likely not to be enrolled in PPE compared to a child with no disability.
With the upcoming expansion of PPE, the expected rise of 29 lakh 4-year-old students will further increase the need for additional trained teachers, said the study.