RU clash: Normal activities resume on campus following 2 days' closure
One teacher stages barefoot protest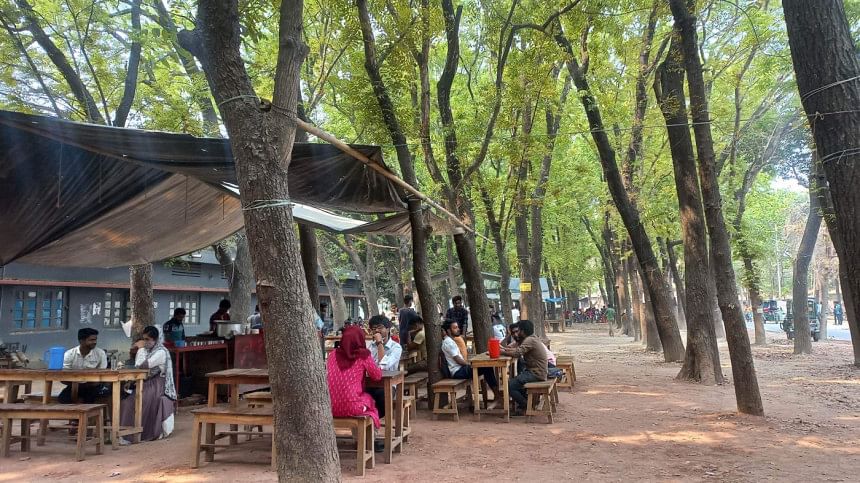 Normalcy returned to the Rajshahi University campus this morning as students joined their classes and sat for examinations after RU authorities had shut down academic activities for two days following Saturday night's clashes between students, locals and police.
In the morning, students and teachers were seen appearing in different departments and gathering at tea stalls.
Shops in the campus operated normally, our Rajshahi correspondent reports.
Pinki Karmakar, a second-year student of the Department of Mass Communication and Journalism, said her classes started today for the first time after the trouble in Binodpur and a mobile vegetable market was operated near the girls' halls.
"Everything appeared normal," she said.
RU Pro VC Prof Sultanun Islam said the administrative activities have also resumed.
Following the clashes with transport workers, local traders at Binodpur Bazar and police over a trivial issue, the students staged demonstrations on Sunday and issued a 24-hour ultimatum to fulfil their five-point demand.
Their demands included proper treatment of injured students and ensuring safety on campus.
The clashes left some 200 persons including more than 50 students injured.
Three separate cases were also filed accusing a total of 1,100 unnamed people for the clashes, arson and railway track blockade.
Prof Sultanun Islam said a five-member committee headed by another pro VC, Prof Humayun Kabir, started investigating the clashes.
The university authorities fulfilled some of the students demands and will discuss about other demands today, he said.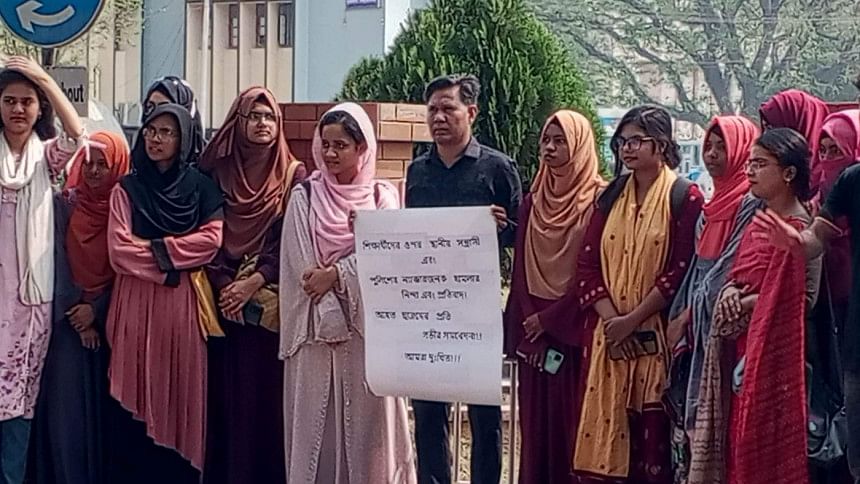 TEACHER'S PROTEST
Farid Khan, a teacher of economics department, stood barefoot with a placard for one hour from 10:00am at the city's Zoha Square protesting what he said was the attack on students.
A few dozen students stood beside him to show solidarity.
His placard reads: "In condemnation and protest against brutal attacks by local criminals and police on students. Deep condolences to the injured students. We are sorry".
Prof Khan said he would not attend classes today.
"I can't attend classes when our students are still suffering in hospitals," he said.