Evenings on DU campus no longer abuzz as shops close by 8pm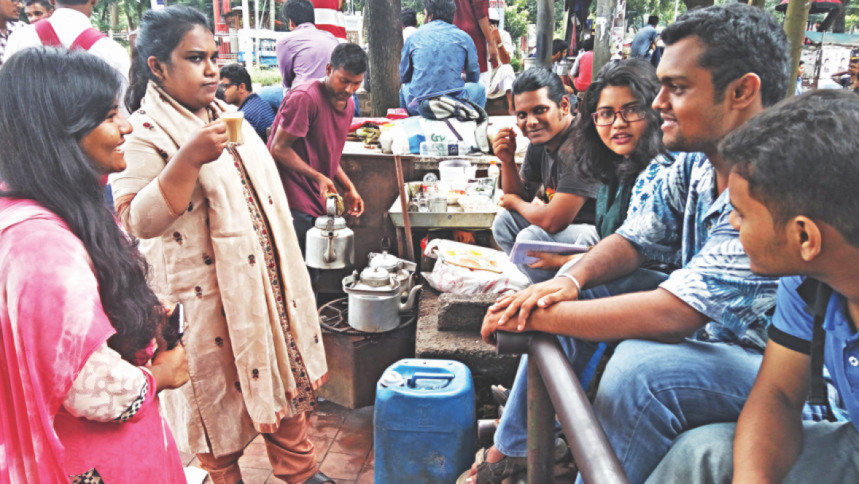 The vibrance of people on Dhaka University campus in the evening is diminishing gradually as vendors and shopkeepers are closing their businesses by 8pm, as per the directives from the university authorities.
Many students used to chat with friends on the campus centring the tea stalls. Following the DU authorities' directives, the shops now have to close by 8pm. The same is the case with other shops and businesses as well, reports our DU correspondent.
The government on June 20 directed shops, markets and other retail outlets to close shops after 8pm to save power.
"Tea stalls, of course, do not consume power like markets or large retail outlets do. Yet we have noticed that the tea-stalls owners on the campus are closing their shops by 8pm every day. We don't expect decisions like this to be taken by the authorities of a self-governed institution," said Sadikul Islam Sadik, president of Samajtantrik Chhatra Front (Marxist) DU unit.
Several tea stall and other shop owners told The Daily Star wishing anonymity that they were directed by DU authorities to comply with the government directive and close their shutters by 8pm. They also said people from DU's proctorial team would come and vandalise their shop if they keep their shops open after 8pm.
However, DU Proctor Prof Dr AKM Golam Rabbani told The Daily Star that there was no such directive given to the shop owners by the university authorities. They were only told to come forward to help all comply with the government's directive on power saving.
He also noted that there are many floating shops on the campus which are doing businesses without permission, and deteriorating the environment on the campus.
"There is no permission for shops or stalls on the campus. All these illegally set-up shops are detrimental to the environment of the campus. We need cooperation from all quarters to evict these illegal businesses," Prof Rabbani said.
Just a few minutes before 8pm, our DU correspondent went to a tea stall but the shop owner said, wishing anonymity, "It's 8pm already, got to close now."