CU Fine Arts students padlock gates to stage sit-in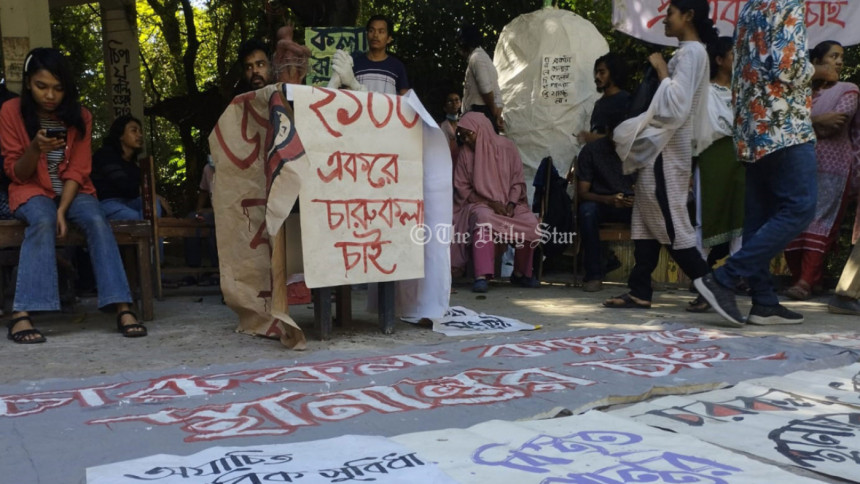 Students at Institute of Fine Arts at Chattogram University (CU) are staging a sit-in by padlocking the main entrance of their institution to press authorities to meet their 22-point demand.
The students locked the gate around 9:00am today according to their pre-announced programme.
Earlier, the demonstrators wrote a letter to the Vice Chancellor Shirin Akhter, also demanding transfer of the institute to CU's main campus.
Israt Jannat Isha, a first-year student of Fine Arts, told The Daily Star, "We are not getting the environment we are supposed to get here. We feel like we come to coaching classes. The plaster of the building is collapsing. It's very risky for students. And there is no residential hall for the girls," she added.
Their demands include introduction of students' buses; opening a canteen; arrangement of safe drinking water; proper arrangement of basins; construction of adequate washrooms; facility of art materials; clean-up system; library reformation; arrangement of generators; medical backup; arrangement of adequate instruments for sports; girls' accommodation; elimination of unhealthy environment; resolving the power crisis in each classroom; the provision of an auditorium for the students; expanding the scope of seminars; ensuring internet connection; ensuring proper arrangements for prayers; adequate lighting arrangements after evening; ensuring the arrangement of lockers for each student and arranging halls for the students.
The institution of fine arts of Chittagong University started its journey in 1970. In 2010, the institute was established by merging with the Government Fine Arts College of the city. The institute is located 22 km from the CU on Badsha Mia Road in Mehedibagh in the city.
Currently, the number of students in the institute is 353. Of them, 179 are female and 174 are male students.