World leaders vow to defend climate pact after Trump pullout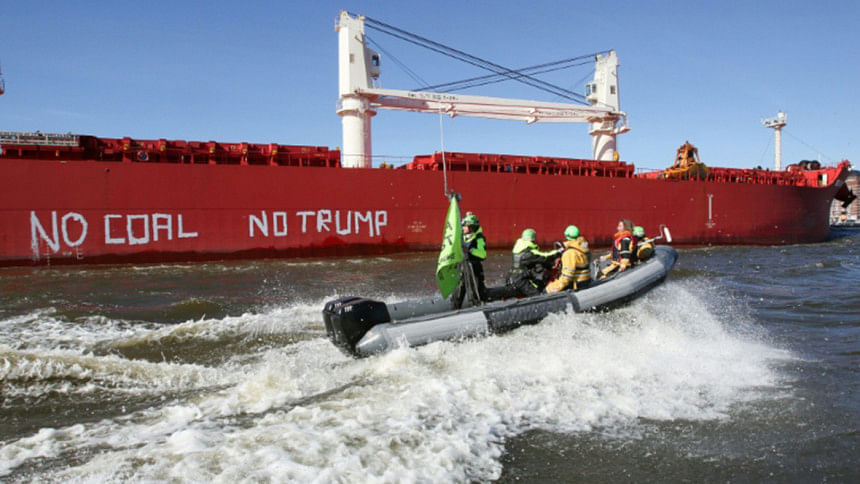 World leaders reacted with anger and defiance after President Donald Trump on Thursday announced the United States, the world's second biggest carbon emitter, was quitting the 2015 Paris climate agreement.
With France's Emmanuel Macron taking the lead, they lashed Trump's decision as misguided and vowed to defend an accord they portrayed as crucial for the planet's future.
In an exceptional step, continental Europe's three biggest economies -- Germany, France and Italy -- issued a joint statement to criticise Trump's move and slap away his offer of renegotiating the deal.
"We note the United States' decision with regret," they said, describing the carbon-curbing accord as "a vital tool for our planet, our societies and our economies."
"We are firmly convinced that the agreement cannot be renegotiated," they added, referring to Trump's announcement that Washington was open to negotiating a new agreement.
Canadian Prime Minister Justin Trudeau called Trump to express his disappointment at the decision, but said he was inspired by "the growing momentum around the world to combat climate change and transition to clean growth economies".
Mexican ministers said the world had a "moral imperative" to live up to the commitments made in the Paris climate pact, while Brazil's foreign ministry said it was concerned and disappointed by Washington's move.
Venezuela and Argentina also denounced the decision.
Fiji's Prime Minister Voreqe Bainimarama, who will serve as president of UN climate talks in Germany later this year, labelled Trump's announcement "deeply disappointing".
"While the loss of America's leadership is unfortunate, this is a struggle that is far from over," he said.
In unusually strong comments, Japanese environment minister Koichi Yamamoto said: "It's as if they've turned their back on the wisdom of humanity.
"In addition to being disappointed, I'm also angry."
'Make our planet great again'
In France, the Elysee presidential palace said newly elected leader Macron had phoned Trump to say that "nothing was negotiable" in the Paris agreement.
France and the United States "would continue to work together," but not on climate change, it said.
In a TV broadcast made both in French and English, Macron said he believed that Trump had made a historic mistake, and invited frustrated US climate scientists and entrepreneurs to come and work in France.
"They will find in France a second homeland," he said. "I call on them, come and work here with us, to work together on concrete solutions for our climate, our environment."
And cheekily adapting the nationalist slogan used by Trump on his election campaign trail, Macron urged defenders of the climate to "make our planet great again."
Trump said America was "getting out" of a deal he said imposed "draconian" burdens costing millions of US jobs and billions of dollars.
The pact was "very unfair" to the United States and beneficial to other major polluters like China and India, the president claimed.
In Berlin, Chancellor Angela Merkel expressed regret at the decision, and called for a continuation of "climate policies which preserve our world".
In London, British Prime Minister Theresa May told Trump that the climate accord was a safety net for future generations, Downing Street said.
"The Paris Agreement provides the right global framework for protecting the prosperity and security of future generations, while keeping energy affordable and secure for our citizens and businesses," May told Trump by phone, it said in a statement.
New Zealand's Climate Change Minister Paula Bennett said that "so much of what (Trump) said is wrong", arguing that America was not paying a disproportionate cost to be part of the deal.
Australia's Environment and Energy Minister Josh Frydenberg said the agreement was meaningful even without Washington's participation.
Green anger
Among environmental groups, Climate Action Network said the withdrawal "signals that the Trump Administration is in total discord with both reality and the rest of the world."
"Unfortunately, the first to suffer from this injudicious decision is the American people," the group, an alliance of climate activists, said.
"This action is totally contrary to their best interests: their health, security, food supply, jobs and future."
Oxfam France branded the decision as "shameful and irresponsible, scorning people and world peace."
Among the scientific community, Britain's prestigious Royal Society said Trump's decision would hamper US innovation in cleaner technology.
"The future is in newer, cleaner and renewable technologies, not in fossil fuels," said the society's president, Venki Ramakrishnan.
"Such technologies will also help in our fight against air pollution and ensure greater energy security globally. President Trump is not putting America first, he is tethering it to the past."