Brace for a scorching summer as El Nino shifts into high gear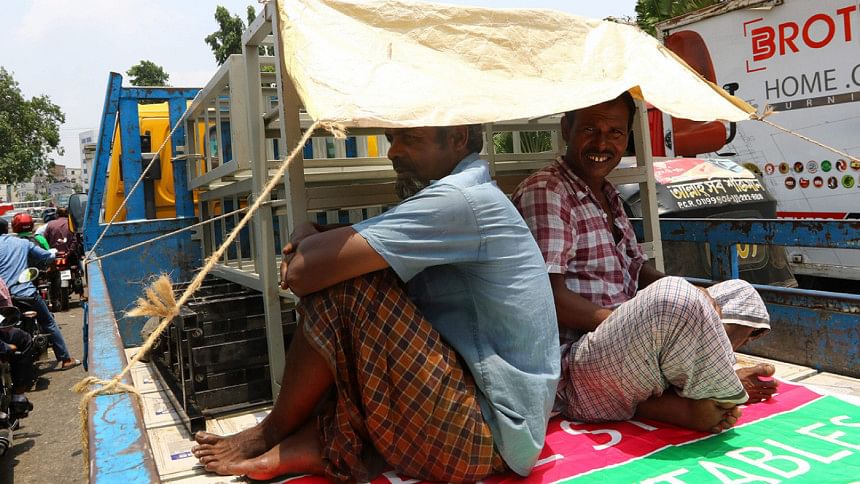 Climate change, a now ubiquitous term for global warming caused by greenhouse gases (GHG) vented into the atmosphere by us, is once again hitting humanity with punishing heat waves. The month of April in Dhaka started with daily temperatures on the doorstep of 40 degrees Celsius, recording its highest of 40.2 degrees Celsius in 58 years on the Bangla New Year's Day. 
Parts of India saw temperatures soaring above 44 degrees Celsius in mid-April. Because of high humidity, the temperature in the resort island of Phuket in Thailand felt hotter than 54 degrees on a late-April day. In Europe, Spain and Portugal recorded the hottest ever April, with temperatures above 30 degrees, flirting with 40 degrees at times. 
Even last winter was unusually warm. The month of January was warmer-than-average across most of Europe and the Arctic, northern and eastern regions of North America, as well as northwestern, central, and southeastern Asia. And many European countries experienced their warmest ever January. As per a report released by the National Oceanic and Atmospheric Administration (NOAA), the average global surface temperature in January was 0.87 degrees Celsius above the 20th century average of 12 degrees. 
Although exceptional, the warm January temperatures are a stark reminder that, despite all the rhetoric about pivoting to green sources of energy like solar and wind, climate change is taking a turn for the worse because global GHG emissions are not showing any signs of a downward trend. Instead, they are rising and currently are just about five percent higher than in 2015, the year of the Paris Climate Agreement. 
Another driver, other than GHG emissions, behind the seasonal weather patterns is El Niño – "the little boy" in Spanish. It is a natural weather phenomenon with across-the-board implications that develops when surface temperatures in the eastern Pacific Ocean near the equator warm up, as they are rapidly doing now. The temperatures are now on the cusp of reaching the threshold for triggering El Niño. To put this into perspective, the average global temperature of the oceans, which absorbs more than 90 percent of the world's excess heat, was the hottest – 21.1 degrees – in recorded history in early April of this year. Hence, El Niño is expected to begin in the coming months, with a good chance of persisting into 2024. 
El Niño is also associated with a weakening of the trade winds or easterlies that blow from east to west just north and south of the equator. This condition could bring drought to countries in the western Pacific, such as Indonesia and Australia. 
The opposite of El Niño is La Niña – "the little girl," which is a cooling of ocean waters along the tropical west coast of South America. It causes winter temperatures in the southern hemisphere to rise followed by torrential downpour, but a drop in temperatures in the northern hemisphere. In general, most, if not all, of the impacts of La Niña are opposite to those of El Niño. 
Typically, El Niño occurs every two to seven years, lasting nine months to two years, whereas La Niña lasts longer, sometimes for several years. La Niña has been in effect for much of the past three years, marked by drought in California and incessant rainfalls in New Zealand and Australia.
No two El Niño events are exactly alike. They will be stronger if the surface temperatures of the Pacific Ocean are further away from normal. As a consequence, the odds of severe weather with far-reaching effects will increase. The last El Niño that occurred in 2019 was quite weak, while the one in 2015-2016 was dubbed as a "super" El Niño. It is therefore not surprising that the year 2016 is one of the hottest years on record. 
Various studies show that summer temperatures in the northern hemisphere increase by about 0.2 degrees during an El Niño episode, and fall by the same amount during La Niña. It should be noted that a rise of 0.2 degrees in temperature adds about 20 percent to the existing global temperature rise of 1.1 degrees from climate change. 
The El Niño in the making will also catalyse atmospheric changes that will impact weather patterns worldwide as we head into summer and toward autumn. Besides affecting summer temperatures globally, it could alter the amount of rainfall in certain parts of the world, too. 
Experts are concerned that recent high surface temperatures of the Pacific Ocean, together with bursts of westerly winds (a catalyst for El Niño) that is expected in mid- to late-May, will make the upcoming El Niño even more threatening. Consequently, the secretary-general of the World Meteorological Organization (WMO) warns that this year's El Niño will "most likely lead to a new spike in global heating and boost the chance of breaking temperature records." In fact, WMO expects global temperatures to rise during the next few years. Accordingly, scientists are now convinced that the 1.5-degree limit set on the rise in global temperature at the 2015 Conference of Parties in Paris will likely be breached sooner than later. 
However, there is an upside to the El Niño. A warmer Pacific Ocean tends to prevent Atlantic tropical systems from developing. Thus, this year, a slightly below-average hurricane season could be on the cards. La Niña, on the other hand, increases the chance of hurricanes. 
Alongside climate change and warmer ocean temperatures, El Niños will be stronger and more frequent in the decades ahead, causing more extreme weather-related events. As for this year, we should buckle up and brace ourselves for a scorching summer due to a double whammy of global warming and El Niño that is shifting into higher gears. We could be looking at the hottest year on record until now. 
Dr Quamrul Haider is a professor of Physics at Fordham University in New York, US.