Man discovers mysterious face on Canada cliffside
A mysterious, "large" face on the cliffside of an island in the Pacific Rim National Park Reserve has recently been re-discovered by a man from who has been searching for the face for over two years, according to government agency Parks Canada, reported ABC News.

Hank Gus of the Tseshaht First Nation, an aboriginal group in the area, first heard about the "face in the rocks" of Reeks Island, part of the Broken Group Islands, two years ago after hearing a story that a kayaking tourist spotted the face in 2008, said Parks Canada First Nation's program manager Matthew Payne. He added that Gus was not able to find the reported face until just a few weeks ago.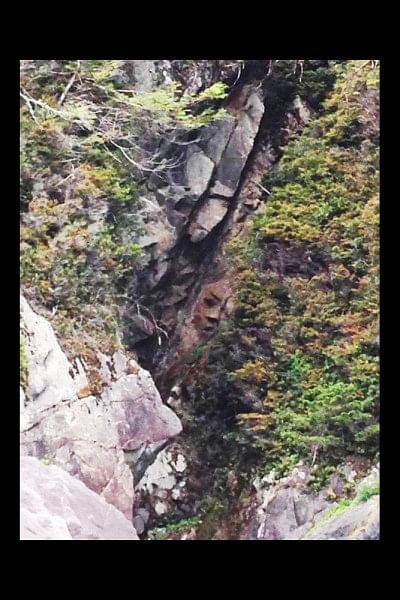 "Gus and some Tseshaht beach keepers recently discovered it a few weeks ago, and they were very excited to share it with us and the archaeologist we work with," Payne, 43, told ABC News today. "We went out to see it recently, and it's remarkable. It really is a face staring back at you."
The face, believed to be about seven-feet-tall, is similar to a wooden carving on the door of the Tseshaht administration office, Payne said.
"The Tseshaht has lived in area for thousands of years, so we working with the First Nations to find out if there are any oral histories the face could link back to," Payne added.
Now, Tseshaht First Nation and Parks Canada are trying to figure out if the face was man-made or if it's a natural marvel, he said.
"Mother Nature is capable of creating all sorts of amazing things, though the face is very striking," Payne said. "But we still can't definitively say if the face is man-made or not."
Though the Tseshaht and Parks Canada would like to examine the face up-close, the cliff the face is on is treacherous, Payne said.
"The island has a rocky shoreline with lots of hidden rocks, and it can be dangerous depending on sea conditions," he explained. "You need to know what you're doing to go and look at it."
The Tseshaht First Nation did not immediately respond to ABC News' requests for additional information.