Trump, Modi exchange hugs during Rose Garden statements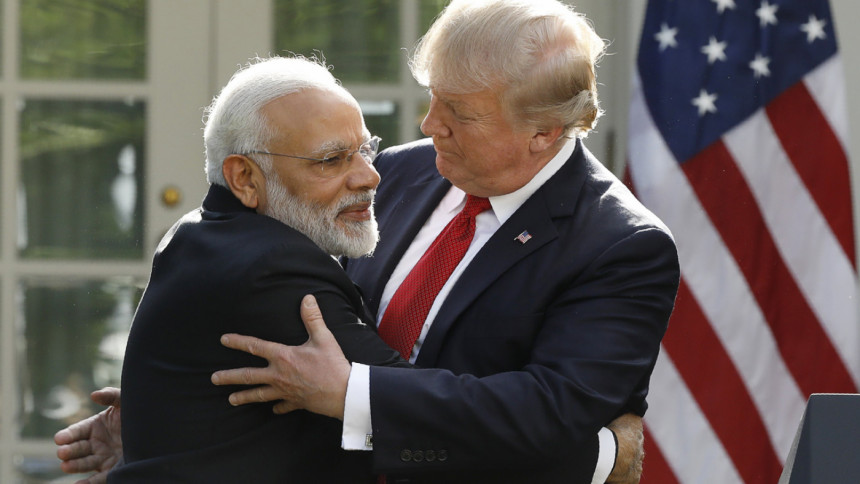 So much for handshakes. President Donald Trump found out Monday that India's Prime Minister Narendra Modi is a hugger.
Modi swooped in for two big bear hugs with the U.S. president during their joint statements in the Rose Garden, wrapping his arms around Trump's midsection and ending their first embrace with a lingering handshake that stretched the president's arm between their two lecterns.
After wrapping up his own remarks, the much shorter Modi hugged Trump a second time, placing his head close to the president's shoulder in video that quickly spread around social media.
Modi offered yet another embrace as he departed the White House. After shaking Trump's hand, Modi went in for a third and final public hug — resting his head first near Trump's left shoulder, then near his right. Trump welcomed the parting gesture, patting Modi kindly on the back.
Trump welcomed Modi to the White House for their first in-person meeting and both sought to convey warm relations between the two global powers. The president said he had lived up to his campaign promise to give India "a true friend in the White House" and announced that daughter Ivanka Trump had accepted an invitation to visit India this fall.
For his part, Modi cited Trump's "vast and successful experience in the business world" and even gave a shout-out to Trump's campaign mantra of "making America great again" in his statement.
Trump is a self-admitted germaphobe who preferred tossing his trademark red baseball caps into crowds at campaign rallies over shaking numerous hands along the rope line. But he has been willing to express America's special relationship with a select few.
When he welcomed British Prime Minister Theresa May to the White House in late January, Trump ignited a tabloid frenzy in Great Britain when the two leaders held hands as they walked along the White House colonnade. Britain's Daily Express proclaimed, "Hand in Hand United We Stand."
And when Japanese Prime Minister Shinzo Abe's sedan pulled into the West Wing in February, Trump greeted Abe with a hug, a display of public affection rarely seen among leaders in Japan. Later, in the Oval Office, Trump sent social media abuzz when his handshake with Abe lasted a full 19 seconds.
"I shook hands but I grabbed him and hugged him because that's the way we feel," Trump said at a joint news conference, describing the Abe embrace. "We have a very, very good bond, very, very good chemistry."
Trump treated Modi to cocktails and dinner at the White House on Monday night after their meeting and shared a laugh when he pointed to their social media dominance. Trump's @realdonaldtrump Twitter handle has 32.8 million followers, while Modi's Twitter game draws more than 31 million followers.
Trump playfully said he was "proud to announce" that "Prime Minister Modi and I are world leaders in social media — we're believers — giving the citizens of our countries the opportunity to hear directly from their elected officials, and for us to hear directly from them."
"I guess it's worked very well in both cases," Trump said.