Modi vows citizenship to Bangladeshi minorities if re-elected
BJP unveils election manifesto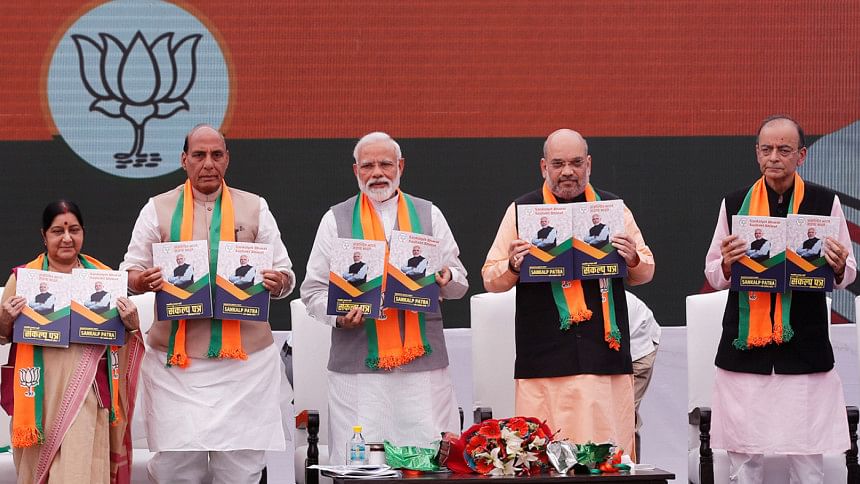 Prime Minister Narendra Modi today unveiled Bharatiya Janata Party's manifesto for upcoming parliamentary polls that says all trade movement with Bangladesh, Nepal and Bhutan will be conducted through integrated check-posts after completion of 14 more such check-posts by next four years.  
The manifesto promised that if the BJP is voted back to power it would ensure passage of Citizenship Amendment Bill that gives citizenship to religious minorities from Bangladesh, Pakistan and Afghanistan and vowed effective steps against illegal immigration into north eastern India by completing the controversial National Register of Citizens and further enhancing border security.
"We will focus on creation of developmental and other necessary infrastructure in border areas to ensure that border security is strengthened and to enable increased participation of and benefits for border areas in the country's development and progress," the manifesto said.
"We have completed building six integrated check-posts with another under-construction to facilitate easier trade and travel from the neighboring countries. We will further ease the movement of goods and people by constructing 14 more integrated check-posts by 2024. After completion of all the proposed integrated check-posts, all trade movement with Bangladesh, Nepal and Bhutan will be conducted through the integrated check-posts," it added.
On foreign policy, the poll document said a BJP government would take forward India's 'Neighbourhood First' policy "by extensively leveraging forums such as BIMSTEC to accelerate regional coordination and economic co-operation with countries in our neighbourhood."
The manifesto also said that a BJP dispensation "will take effective steps to prevent illegal immigration into the north eastern states. There has been a huge change in the cultural and linguistic identity in some areas due to illegal immigration, resulting in adverse impact on local people's livelihood and employment.
"We will be expeditious about the NRC process in these areas on priority basis. In future, the NRC will be implemented in a phased manner in other parts of the country," it added.
The manifesto released at the BJP headquarters in Delhi said the party was committed to enactment of the Citizenship Bill for the protection of individuals of religious minority communities from neighbouring countries escaping persecution.
In an apparent reference to the groundswell of resistance to the Bill among most of the non-Bangla speaking people of the seven north eastern states, the manifesto said the BJP will explain the issue to the people of the area.
Promise to secure the country against "internal and external aggression", scrapping a law for special rights to residents of Jammu and Kashmir state and doubling farmers' income by next year headlined the BJP's manifesto launched today by Prime Minister Narendra Modi for the national election beginning Thursday.
"Nationalism is our inspiration, empowerment of weaker sections is our vision and good governance is our mantra," Modi said, adding that it would take India on "one mission, one direction".
The manifesto also "reiterated" the promise of a Ram temple at Ayodhya and pledged to "explore all options" for this, introduce uniform civil code and scrap Article 370 which gives a special status to Jammu and Kashmir.
The manifesto promises a "zero tolerance" approach to terrorism and says the party will "continue to give security forces a free hand".
The party promises a permanent house for every family living in temporary houses or without any home by 2022.
The manifesto also promised pension for small and medium farmers and shopkeepers, days after the Congress manifesto vowed to bring about several welfare measures, including a grant of Rs 72,000 to the poorest 20% households in the country, if voted to power.
The BJP also said it would spend Rs 25 lakh crore in the next five years for rural and agricultural development. The manifesto promised to revise tax brackets to help the middle class, after the Modi government's last budget dished out major tax relief in February.