India polls: EVM 'tampering' video goes viral
The county's election commission terms it baseless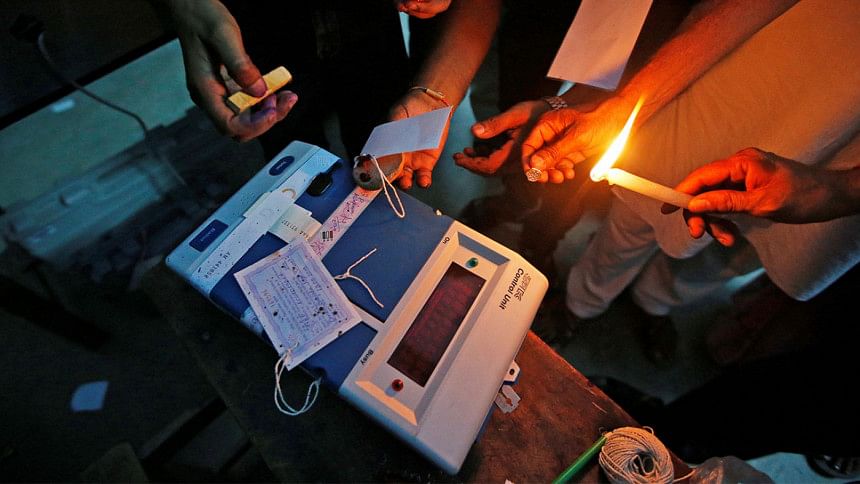 Videos of alleged tampering of EVMs in India's Uttar Pradesh went viral in the social media today, two days ahead of the beginning of vote counting in Indian parliamentary elections.
The charges are, however, dismissed by the Election Commission as "frivolous" and "unfounded".
As the videos of alleged EVM tampering went viral on the social media, workers of various political parties in Uttar Pradesh held protests in Ghazipur, Chandauli and Domariyaganj alleging that the machines were being "moved around" outside strong rooms.
A video clip of EVMs being unloaded from a truck and put in a room inside the counting centre complex in Chandauli was doing the rounds on social media. BJP's state unit president Mahendra Nath Pandey is seeking re-election from the seat.
Another video is from Ghazipur where Samajwadi Party-Bahujan Samaj Party alliance candidate Afzal Ansari is seen staging protest alleging that the administration was trying to change EVMs.
In the video, Ansari and his supporters were seen having a heated exchange with a police officer. The officer is urging them to clear the area, but the leader and his supporters refuse to budge, claiming there was an attempt to take out a vehicle loaded with EVMs.
Afzal Ansari is the brother of don-turned-politician Mukhtar Ansari, who is serving sentence in Uttar Pradesh's Banda jail in connection with various criminal cases and is pitted against federal minister Manoj Sinha of the BJP.
Chief Electoral Officer of the state Venkateshwarlu sought to allay fears of political parties.
Referring to the Ghazipur incident, he said the candidate wanted more number of people to keep a watch on EVMs on the basis of his apprehensions and the DM there has satisfied him and those staging protest have returned.
Mumbai Congress unit president Milind Deora has written a letter to Maharashtra Chief Electoral Officer expressing fear of "tampering of EVMs" stored in various centres in the city.
Deora alleged some people as well as vehicles were found moving around these centres in a suspicious manner. All the six parliamentary constituencies in Mumbai went to polls on April 29.
Former President Pranab Mukherjee has expressed concern over the allegations of EVM tampering saying in a statement, "I am concerned at reports of alleged tampering of voters' verdict. The safety and security of EVMs which are in the custody of the Election Commission of India (ECI) is the responsibility of the Commission. There can be no room for speculations that challenge the very basis of our democracy. People's mandate is sacrosanct and has to be above any iota of reasonable doubt."
"The onus of ensuring institutional integrity in this case lies with the ECI. They must do so and put all speculations to rest."
 The former President said this a day after he lauded the Election Commission for conducting the national elections perfectly at a book launch function in Delhi on Monday night.