Trump mocks rival Kasich's 'Disgusting' eating habits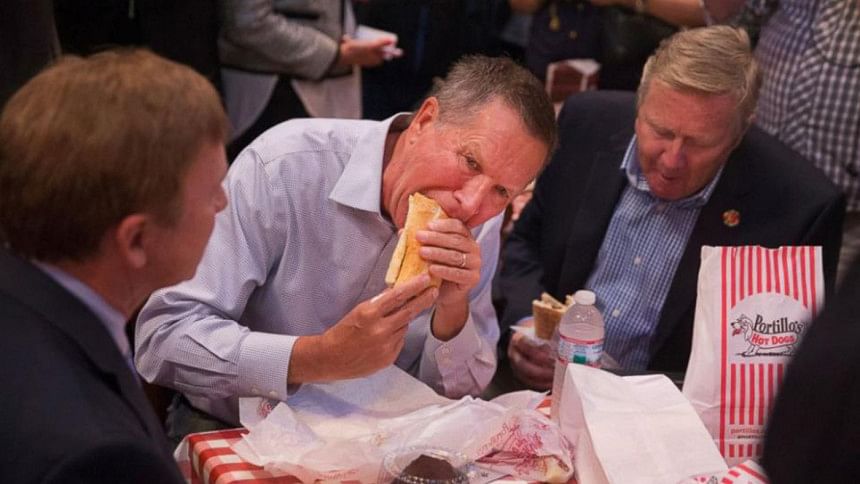 Republican Donald Trump took aim at rival John Kasich's table manners Monday, labeling his eating "disgusting" and calling him "a stubborn guy who eats like a slob."
Especially offensive to the GOP front runner was Kasich's on-camera consumption of pancakes, which he suggested was unpresidential.
"This guy takes a pancake and he's shoving in his mouth. It's disgusting. Do you want that for your president? I don't think so," said Trump, who later said his youngest son, Barron, had called him over to the television to watch. "I have never seen a human being eat in such a disgusting fashion," Trump added, saying later that his youngest son, Barron, had called him over to the television to watch.
He said, "'Daddy look.' I said, 'Don't watch!'" said Trump, who said he's been trying to teach his son to always take, "Little bites, little bites."
Later at a rally in West Chester, Pennsylvania, Trump again zeroed in on the footage of Kasich, describing him "shoving pancake - I never saw anything like it. It's pouring out of his mouth and the cameras are on him."
"That's not presidential, I can tell you," added Trump, who has shown no signs of toning down his rhetoric, despite assurances by senior aides to Republican leaders that he would be evolving.
Trump has been arguing that Kasich should drop his presidential bid because he has no mathematical path to the nomination without a contested convention.
"This is just a guy who's a stubborn guy who eats like a slob and shouldn't have press conferences while he's stuffing stuff down his throat," he says.
Kasich spokesman Chris Schrimpf issued a statement that did not respond directly to Trump's comments. But he said that, "Day in and day out Donald Trump demonstrates why he loses toHillary Clinton in every poll and why he would give Democrats control of the White House,  the Senate and the Supreme Court."