Trying to resolve Teesta issue, Modi tells Hamid
Rohingya issue discussed with Myanmar, Modi says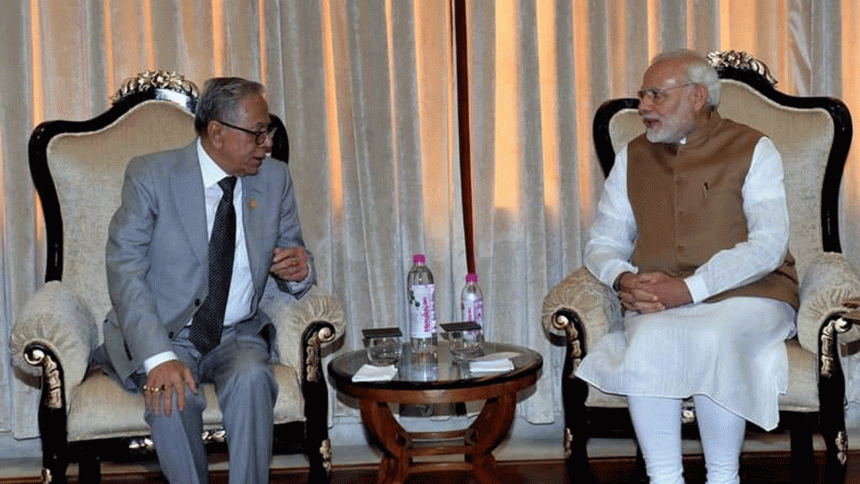 Indian Prime Minister Narendra Modi today said they were trying to resolve the hurdles to the signing of the Teesta water-sharing deal with Bangladesh 'keeping all concerned on board'.
He made the remarks during a meeting with President Abdul Hamid on the sidelines of the International Solar Alliance founding conference 2018 at the Rashtrapati Bhavan here.
"During the meeting, President Abdul Hamid underscored the importance of the Teesta water availability for the socio-economic development of Bangladesh. In response, Narendra Modi said his government is making all-out efforts to this end and is keen to resolve the issue together with everyone," President's Press Secretary Md Joynal Abedin said after the meeting.
Without mentioning the name of West Bengal Chief Minister Mamata Banerjee, he mentioned that the Indian Prime Minister said, "We're trying to keep her on board."
The Teesta water-sharing deal was about to be signed during the visit of former Indian Prime Minister Manmohan Singh to Dhaka several years back, but it was stopped in the last moment due to Mamata Banerjee's objection.
After this, the Indian government has repeatedly been assuring Bangladesh of signing the agreement, but the problem has not been resolved yet.
The President also sought Indian cooperation for safe, dignified and sustainable return of forcibly displaced Rohingyas to their homeland in Rakhine state of Myanmar.
In reply, Modi said the matter has already been discussed with Myanmar, assuring Bangladesh of giving assistance in this regard as it is a big problem for it.
During the meeting, Modi also congratulated Abdul Hamid on being elected Bangladesh President for the second term, Joynal Abedin said.
He also lauded the communal harmony prevailing in Bangladesh mentioning the festivals of all religions being celebrated at Bangabhaban.
When the President apprised the Indian Prime Minister of his last two-day visit to different places in Assam and Meghalaya, Modi said, "This tour is very significant as you (Hamid) are a freedom fighter."
Modi also said he is happy and feels honoured for his visit to Assam and Meghalaya as well as for showing respect to the Indians who took part in the 1971 Liberation War of Bangladesh.
Abdul Hamid said Bangladesh attaches great importance to the existing excellent relations between the two countries and the relationship is gradually being expanded.