Traffic camera films collapsing Kathmandu structure (video)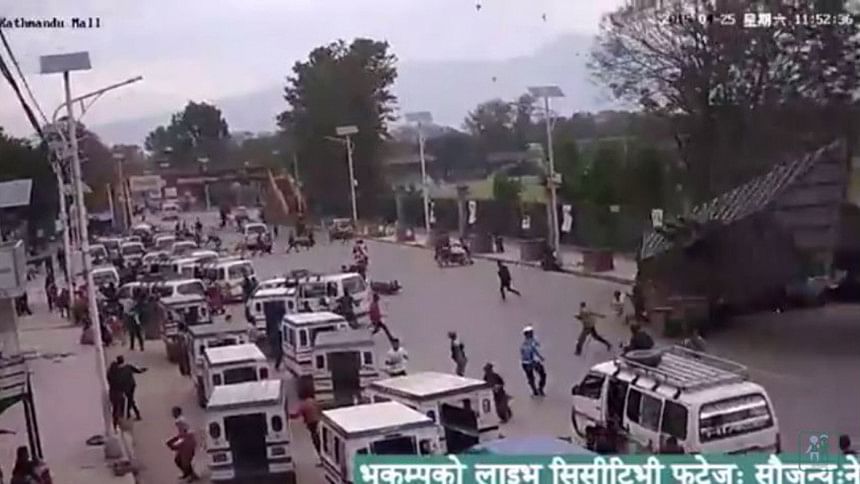 A dramatic footage recorded by traffic camera has emerged of the moment a magnitude-7.8 earthquake struck the Nepalese capital, Kathmandu, Saturday.
ABC News has published online the footage taken outside a Kathmandu mall, shows a large arch falling onto a busy street at 11:52am (local time).
People can be seen rushing to the aid of those who appear to be trapped under rubble.
A total of 5,489 people are known to have died in the quake, according to an update from the National Emergency Operation Centre, while more than 100 others have been killed in neighbouring India and China.
Many Nepalis, including some in the Gorkha district, the quake's epicentre, are waiting for aid without food or shelter.
The exact extent of the damage in far-flung rural areas is yet to become clear with relief coordinators warning that the vast size and lack of roads in the Himalayan nation will complicate efforts to reach victims.
Five days after the quake hit, up to 20 Australians are still unaccounted for.
Consular officials in Kathmandu have confirmed the welfare of 1,500 Australians in the country.
RAAF planes will fly in from Bangkok and deliver 15 tonnes of Australian aid, including water purification blankets and shelter provisions, before evacuating Australians to Bangkok.
Australian nationals are huddled in their tents and under tarps in the rain outside the Australian embassy in Kathmandu, waiting to be transported to the airport.
About 80 Australians are expected to be flown out today.
Others have secured commercial flights out of the country, or are due to leave in coming days.
Consular officials have also been stationed in the popular trekking towns of Lukla and Pokhara, where there are Australians waiting to get back to Kathmandu.
UN launches appeal for survivors amid food shortages
The UN has launched a $415 million appeal for survivors, while coordinators have warned it might take five days to deliver relief supplies to some of the worst-hit rural areas.
US president Barack Obama promised his country will do "all it can" to aid the relief effort as he offered his deepest condolences for the tragedy to Nepal's prime minister Sushil Koirala, the White House said.
Around 70,000 houses have been destroyed and another 530,000 damaged across 39 of Nepal's 75 districts, the UN said.
Although the number of aftershocks since Saturday's quake has subsided, fresh tremors were felt in Kathmandu overnight.
Hundreds of thousands of residents have however fled the city since Saturday, fearing aftershocks and wanting to inspect the damage back in their families' villages.
The government acknowledged it had been overwhelmed by the devastation from the quake.
Riot police battled to contain the huge queues of people trying to get on long-haul buses on Wednesday that the government had promised to lay on.
Some protesters forced a truck carrying drinking water off the road and climbed on top of it, throwing the bottles to the crowd.