Polls security: Pak-Afghan border point closed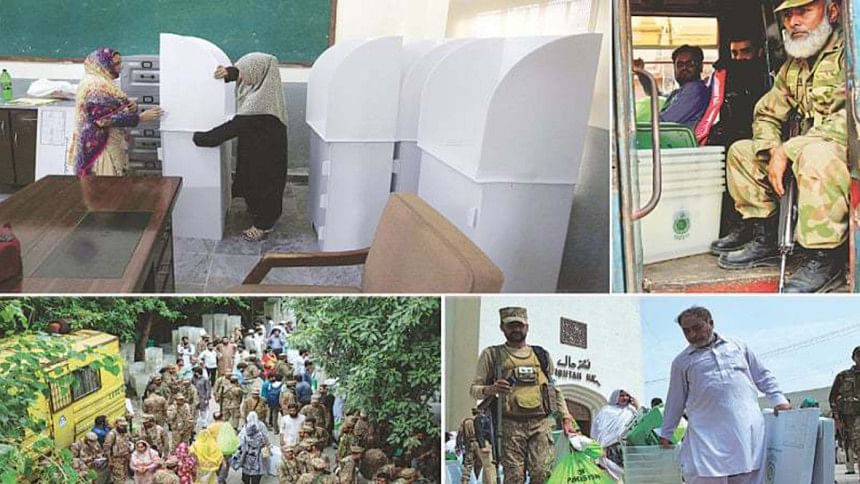 The authorities in Balochistan yesterday closed the Pak-Afghan border crossing at Chaman for three days -- July 24-26 -- as part of the security measures taken to ensure peaceful conduct of elections across the province.
"No Afghan national would be allowed to enter into Pakistan during elections," Balochistan Frontier Corps officials told DawnNewsTV. Security at the porous border has also been tightened to maintain law and order situation during the elections, they added.
Moreover, internet services in Killa Abdullah, the bordering district with Afghanistan, will remain suspended during the elections. In addition to Killa Abdullah, the internet services in Awaran, Khuzdar, Turbat and other sensitive areas will also be suspended.
In Balochistan, 1,768 polling stations have been declared "extremely sensitive" and 768 declared "sensitive" out of almost 5,000 polling stations.
Balochistan police DIG Razzaq Cheema said 6,300 policemen and 3,500 FC personnel have been deployed in and around Quetta to carry out security duties during the elections. "A control room has been set up at DIG police office to monitor the polling process in the city," Cheema said.
Besides, in the northern districts of Balochistan, more than 15,000 FC personnel have been deployed to ensure peaceful conduct of elections. Moreover, police and levies personnel would also be deployed outside polling stations.
Later in the day, the FC personnel claimed to have foiled terror bids in Balochistan's Dera Bugti and Chaman areas.
The FC personnel reportedly conducted intelligence-based operations in Chaman, Dera Bugti and Sui areas of Balochistan, DawnNewsTV reported.
The security forces arrested three suspects and recovered RPG rockets, hand grenades, an improvised explosive device and other arms and ammunition during the operations.
Copyright: Dawn/ Asia News Network