India sees dawn of a new era
Like the Indian government, the country's media have also termed Prime Minister Narendra Modi's maiden visit in Bangladesh as dawn of a new era.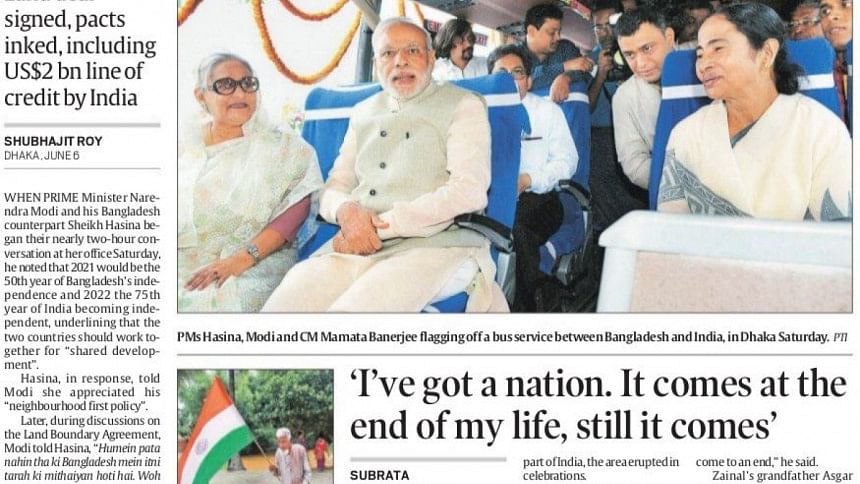 Almost all of the major print, electronic and online media of India came up with assertions of history in the making as Bangladesh and India
work together to boost relationships
.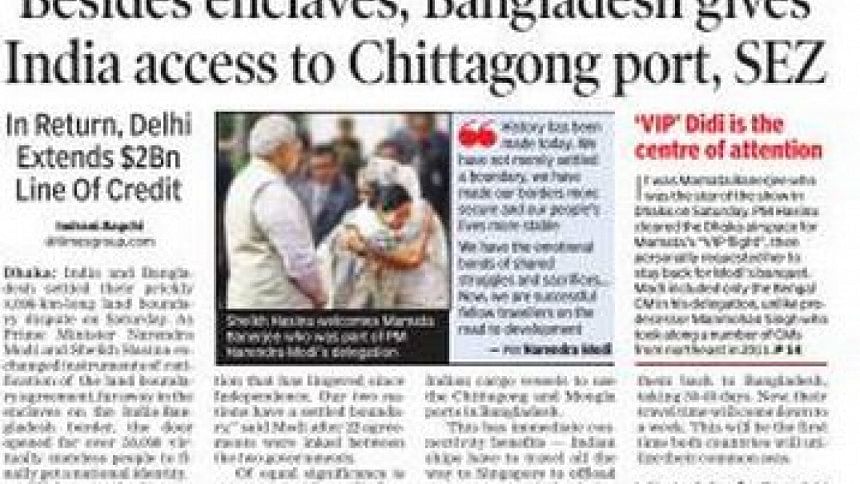 The Times of India reported
that there was a very strong sense in India that Modi's Bangladesh visit is more special than his visits to Nepal or Sri Lanka.
"… there is an expectation that India would be part of Bangladesh's growth story," it said.
Zee News on the same day termed the signing of land boundary agreement between the two countries "
a historic move
".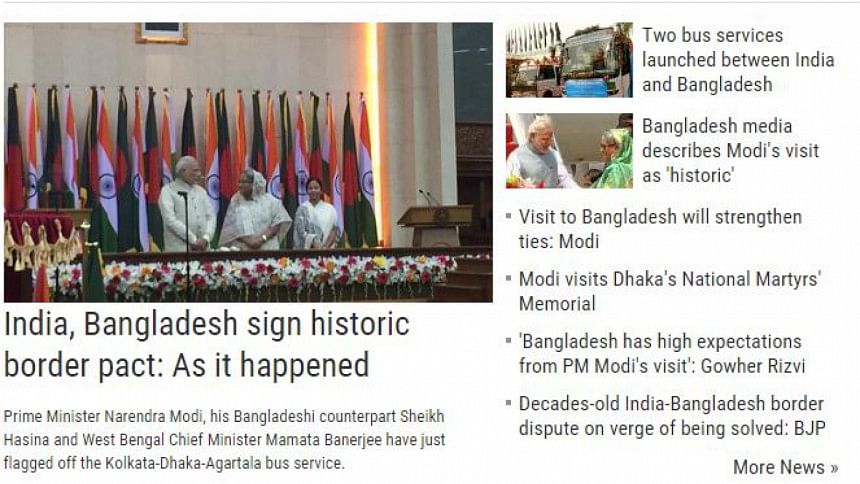 They also have marked a change in the overall political situation in Bangladesh as the opposition parties, especially those including BNP with strong anti-India stance, come to realise the importance of the event.
The main Bangladeshi opposition party BNP singnifies a "shift" in its approach towards India as its chief Khaleda Zia is set to meet PM Modi in the afternoon,
The Hindustan Times reported
.
This marked a significant departure from her stand in 2010, when she accused her arch-rival, Prime Minister Sheikh Hasina, of "selling out to India" after Dhaka clinched its biggest ever trade deal with New Delhi, it added.
The BNP leader also refrained from meeting President Pranab Mukherjee when he visited Bangladesh in March 2013. It was Mukherjee's first visit to a foreign country after becoming President.
Bus service between India and Bangladesh flagged off in Dhaka by PM Modi, Bangladesh PM Sheikh Hasina & Bengal CM Mamata Bannerjee.

— Hindustan Times (@htTweets) June 6, 2015
In another report today, the HT said
Mamata Banerjee's presence
, and more importantly her one-on-one meeting with Prime Minister Narendra Modi, was
a key highlight
of the first day of Modi's visit to Dhaka.
In its editorial
, The Indian Express wrote: "In particular, the "Hasina Doctrine", if we may call it so, has centred on the notion that all pending issues between subcontinental neighbours can be resolved through constructive diplomatic engagement if sufficient goodwill is created concerning each actor's intentions. Over the last six and a half years, we have seen this doctrine catalyse a unique transformation in not only how problems are approached by the two countries, but also in developing a genuine faith in each other's commitment to resolving pending issues."
PM @narendramodi in Bangladesh: We are two nations bound by the threads of history, religion, culture, language, a passion for cricket

— Hindustan Times (@htTweets) June 6, 2015
"… there is a new wave of optimism about bilateral relations in the wake of the LBA. He has proved sceptics wrong by not only succeeding where his predecessors failed, but also mobilising a broad national consensus in ratifying the treaty. This has definitely curtailed the perception of non-reciprocity from New Delhi despite substantive overtures by Dhaka, the opinion said on the maiden visit of Modi in Bangladesh. 
PM @narendramodi in Bangladesh: Everything I have experienced here reflects the warmth and generosity of people of Bangladesh

— Hindustan Times (@htTweets) June 6, 2015
"Hasina's policy of being "pro-engagement" goes hand-in-hand with Modi's "neighbourhood-first" policy. Thus, the onus is now on both leaders to take bilateral relations to the next level," it said.