Route to lot of hopes
Shipping deal to cut costs, time significantly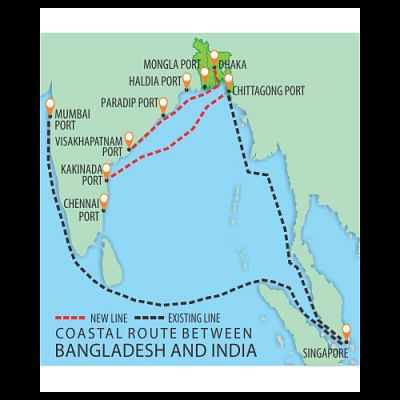 Bangladesh and India yesterday signed the coastal shipping agreement which would help reduce the time spent in shipping goods, cut costs and lessen the load on busy roads.
The freight charge for carrying one tonne of rice to Bangladesh from India would be between $30 and $35, whereas it costs $90 now, said SK Mahfuz Hamid, managing director of Gulf Orient Seaways, a local shipping company.
Importers have to pay the high charge since the ships reach Bangladesh via Singapore or Colombo as they could not ply directly between the two countries.
Now, importers need to pay $1,700-$2,400 as freight charge per container, with 4,000-5,000 tonne capacity, and have to wait 30 to 40 days to get their goods.
Hamid said the importers would need to pay only $400 for carrying the same amount of goods and they would reach Bangladesh in eight days.
"Definitely, the less freight charge will have a positive impact on the prices of commodities, as Bangladesh mainly imports basic commodities from India," he told The Daily Star over the phone.
Bangladesh imports onion, rice, lentils, cotton, industrial raw materials and machinery from India. Bangladeshi shipping companies would also be benefited as they would have the opportunity to open up a new business avenue, he said.
A total of 15 cargo vessels ply between India and Bangladesh via Singapore and Colombo, Hamid said, adding that the number would be 50 by the end of 2016 since entrepreneurs were either expanding their capacity or investing in shipping companies.
Under the agreement, Indian vessels would be allowed to carry goods using Chittagong and Mongla sea ports in Bangladesh.
Bangladeshi ships would also be allowed to carry goods using the Indian sea ports, including Visakhapatnam of Andhra Pradesh, Paradip of Orissa, and Haldia of West Bengal.
In the agreement, 10 ports (five in each country) have been named as ports of call. In Bangladesh, the ports of call are Narayanganj, Khulna, Mongla, Sirajganj and Ashuganj. In India, the ports are Kolkata, Haldia, Karimganj, Pandu and Silghat.
Ports of call are ports where a ship docks in the course of its journey to load /unload passengers or cargo, obtain supplies, or to have repairs done.
"The coastal shipping agreement will boost bilateral trade," Modi said in his speech after signing several deals. "We will work together to harness the rich potential of our relationship. And, we will address our challenges in a spirit of friendship and from a position of mutual trust and confidence," he said.
"Our agreements reflect this vision and commitment. We have renewed existing trade and transport agreements. We have added new dimensions to our economic ties," Modi added.
Sumit Mazumder, president of CII (Confederation of Indian Industry), the apex Indian trade body in a statement on Friday, said, "The trade has the potential to touch $10 billion by 2018."
The balance of trade between the two countries is heavily tilted towards India. Bangladesh's imports from India were recorded at $6.03 billion in 2013-14 fiscal year and $4.78 billion in the previous year, according to data from the commerce ministry.
Bangladesh's exports to India were worth $456.63 million in 2013-14 compared to $563.97 million the previous year.
In order to reach the $10 billion target, the two countries should aim at opening new land customs stations, harmonisation and recognition of standards, pruning of negative lists, and banking and finance cooperation, said Mazumder.
The coastal shipping route have been launched under the Protocol on Inland Water Transit and Trade (PIWTT) that was signed between the two countries in 1972 for increasing trade and commerce through river routes.