Dawn of a new era
Hasina, Modi pledge mutual growth; land deal documents exchanged; 22 deals signed; $2b fresh Indian credit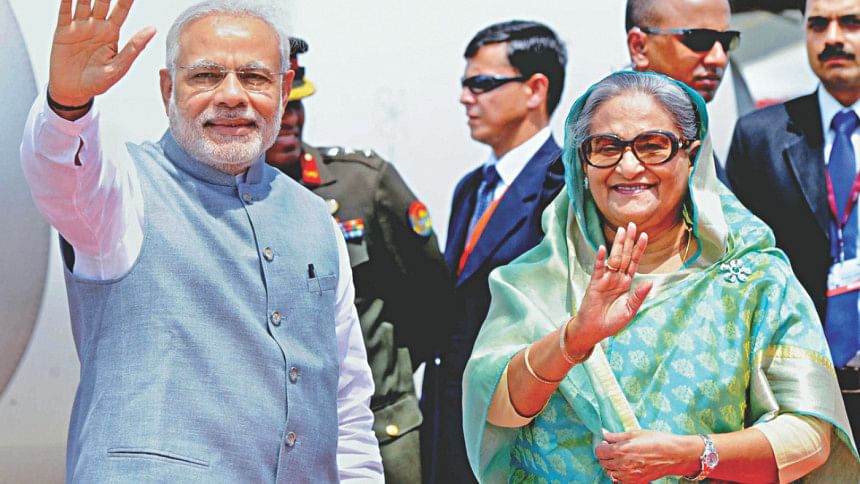 Bangladesh and India yesterday opened a new chapter of hopes in their relations, fraught with dubious politics, myopic diplomacy and tardy bureaucracy over the decades.
When Indian Prime Minister Narendra Modi was leaving Delhi for Dhaka in the morning, he twitted a message, saying this visit would strengthen the bond between the two nations and benefit people of the two countries as well as of the region.
Bangladesh PM Sheikh Hasina didn't hesitate to reciprocate. She broke the protocol to welcome her counterpart at the Hazrat Shahjalal International Airport.
Hasina's gesture was not lost on Modi, who responded by twitting: "Thank you PM Sheikh Hasina for the warm welcome."
Modi chirped again: "Hello Bangladesh. I bring with me the affection & goodwill of the people of India."
Thus the morning began yesterday, setting up the stage for signing 22 deals to boost economic growth, connectivity and security cooperation.
Top leaders of the two countries translated their goodwill in actions by signing a host of treaties and agreements to pave the way for regional connectivity, economic development and increasing people to people contact.
"Connectivity by road, rail, rivers, sea, transmission lines, petroleum pipelines and digital links will increase. Today, we have unveiled some of the pathways to this future," Modi said at a joint press briefing after the signing of the deals. 
"We launched two bus services that will connect our citizens more easily and our two nations more closely," he said in a statement.
At the briefing, Hasina said, "We understand each other's concerns and priorities. Prime Minister Modi and I agree that a greater connectivity is vital for the development of the two countries and the region."
She mentioned that connectivity across the region would reduce inequality and maximise welfare gains.
With the ratification of the Land Boundary Agreement, the official procedure was completed for swapping territories and people between the two countries around 41 years after the 1974 Indira Gandhi-Sheikh Mujibur Rahman historic pact.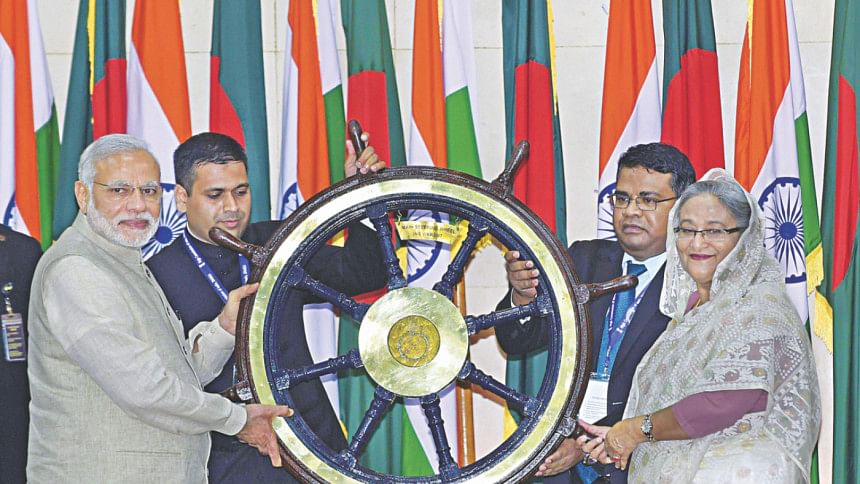 In his speech, Modi also addressed Bangladesh's longstanding concern over sharing of the Teesta water.
At the initial stage of his plan for Dhaka visit, it was expected that Teesta water-sharing deal would be inked during the visit. But a couple of days before his visit, the Indian side announced that the deal would not be signed this time.
Unwillingness of West Bengal Chief Minister Mamata Banerjee stood as an obstacle to signing the deal. This showed there was no lack of sincerity on Modi's part.
Yesterday, he assured Dhaka of the water-sharing deal. "I am confident that with the support of state governments In India, we can reach a fair solution on Teesta and Feni Rivers."
He clearly stated the importance of resolving the problem. "Our rivers should nurture our relationship, not become a source of discord. Water sharing is, above all, a human issue. It affects life and livelihood on both sides of the border."
As the Indian leader spoke for shared prosperity of the neighbours, he announced quick implementation of the line credit of $800 million and full disbursement of $200 million in grants as "a tribute to our cooperation".
Modi announced extending another line of credit of $2 billion for infrastructure and other development activities in Bangladesh.
He also touched upon the issue of Bangladesh's trade deficit of $5.5 billion with India, and assured Hasina that he would do everything to bridge the deficit.
Modi's words "the future I dream for India is the future I wish for Bangladesh" also reflected the reality how India needs a strong and developed Bangladesh for its own interests because of Bangladesh's geographical position.
Earlier, the two sides approved 22 deals, giving a clear indication that they want to strengthen bilateral cooperation and integrate economic activities through rail, road and waterways connectivity.
Indian Foreign Secretary S Jaishankar and his Bangladeshi counterpart Md Shahidul Haque signed the protocol to ratify the Land Boundary Agreement in the presence of Modi, Hasina and Mamata.
Both the officials also exchanged the Instruments of Ratification of the LBA.
According to the 1974 LBA and protocol, Bangladesh will receive 111 enclaves with 17, 160 acres of land and cede 51 enclaves with a land mass of 7,110 acres to India.
"History is made as the instruments of ratification of the Land Boundary Agreement are exchanged," posted the Indian Prime Minister's Office on its official twitter page after the exchange was done.
Prior to his one-to-one talks with Hasina and the signing of the deals, Modi had a meeting with Mamata, who arrived in Dhaka directly from Kolkata a day ahead of Modi.
Earlier on his arrival, the Indian PM had been presented a 19-gun salute and guard of honour by a contingent of Bangladesh Army, Navy and Air Force members.
At 11:25am, Modi went to the national memorial at Savar to pay tribute to the martyrs of the 1971 Liberation War.
He visited the house of Father of the Nation Bangabandhu Sheikh Mujibur Rahman at Dhanmondi, and toured the memorial where Bangabandhu along with most of his family members was brutally killed by some disgruntled army men on August 15, 1975.
At the PMO in Dhaka, Hasina, Modi and Mamata formally inaugurated Dhaka-Shillong-Guwahati and Kolkata-Dhaka-Agartala bus services around 3:45pm.
The two PMs also unveiled foundation stones for construction of Khulna-Mongla railway line, rehabilitation of Kalaura-Shahbajpur section of Bangladesh Railways, Bangladesh–India Friendship Building at National Police Academy in Sardah, Rabindra Bhaban at Kuthibari in Shilaidaha, and construction of Bangladesh-India Friendship Bridge-1 over Feni River.
They also inaugurated upgraded laboratories at the BSTI and Tarapur-Kamlasagar Border Haat.
Modi handed over to Hasina a compact disc of Bangabandhu's February 1972 speech in Kolkata, and transcripts of Indian parliamentary sessions regarding amendment to the LBA.
He also presented a tapestry to Hasina, who gifted her counterpart the photograph of "Signing the Instrument of Surrender 1971".
The two leaders then led delegation-level talks where the two sides discussed a wide range of bilateral, regional and international issues of common concern. The two sides signed 22 deals.
In the evening, Modi attended the state banquet at Grand Ball Room of Sonargaon Hotel. Mamata Banerjee also attended it. Modi's entourage, ministers, lawmakers, top civil and military officials, foreign diplomats and prominent personalities were present there.
Prior to the dinner, the two prime ministers addressed the gathering and enjoyed a colourful musical soiree.
Today, the concluding day of his visit, Modi will go to the Dhakeshwari temple and Ramakrishna Mission in the capital. He will then inaugurate the newly constructed Indian High Commission's Chancery at Baridhara.
Modi will call on President Abdul Hamid at 12:40pm at the Bangabhaban. On behalf of former Indian PM Atal Bihari Vajpayee, he will receive Bangladesh Liberation War Honour from Hamid.
Modi will then attend a luncheon hosted by the president at the Bangabhaban.
Around 3:00pm, the Indian PM will return to Sonargaon Hotel where he will receive a number of political and business leaders. The list includes Leader of the Opposition Raushan Ershad and BNP Chairperson Khaleda Zia.
Modi will deliver a public speech at Bangabandhu International Conference Centre at 6:35pm. He will depart for New Delhi at 8:20pm by a special flight of Indian air force.