Mamata here, yet not here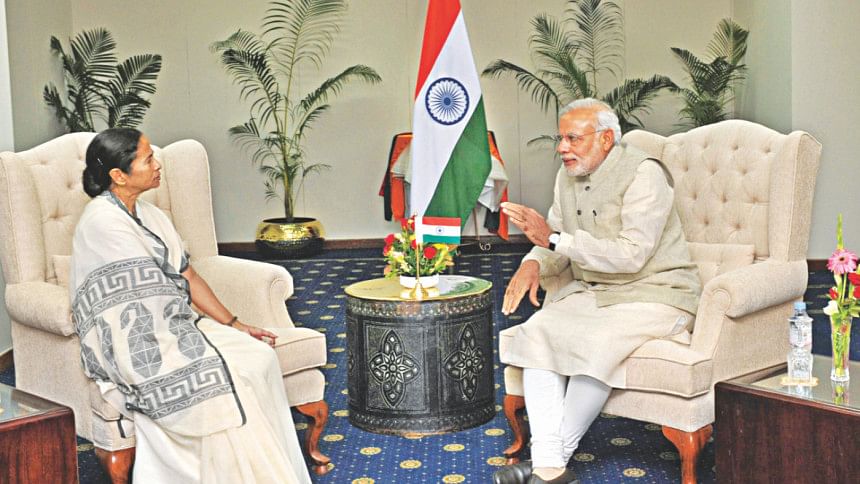 The visit of West Bengal Chief Minister Mamata Banerjee seemed more about showing diplomatic courtesy than real fortitude to foster relations between the two countries through signing the Teesta water-sharing deal.
She came separately, stayed at a separate hotel and skipped many events, clearly indicating that she was not part of the Indian delegation accompanying Prime Minister Narendra Modi on his maiden visit to Bangladesh.
She was also scheduled to leave early, yesterday evening, without even attending the official banquet hosted by Prime Minister Sheikh Hasina last night.
However, Mamata had a meeting with Modi yesterday and was present during the signing of the Land Boundary Agreement and the inauguration of Dhaka-Guwahati and Kolkata-Dhaka-Agartala direct bus services.
Mamata arrived in Dhaka on Friday night and went to Radisson hotel where she received a call from Sheikh Hasina, requesting the chief minister to stay in Bangladesh one more day and also to attend the banquet. She did attend the banquet but left for Kolkata on a 9:40pm flight.
At her hotel, Mamata passed time with the members of her entourage, gossiping at the lobby. She was at the hotel when Modi was visiting the National Memorial in Savar and Bangabandhu Memorial Museum in Dhanmondi upon his arrival in the morning, according to journalists based in Kolkata.
She had her first meeting with Modi at Hotel Sonargaon at 3:15pm. From there, the two went to the Prime Minister's Office (PMO) where 22 deals and MoUs were signed or renewed and the bus services inaugurated.
As they walked out of the hotel to leave for the PMO, Modi asked Mamata to travel with him in his car, which she did.
On reaching the PMO, the chief minister hugged Hasina and seemed in a good mood as she exchanged greetings. She also presented Hasina with a baluchuri sari she had brought from Kolkata. Earlier, Mamata sent mangoes and litchis to Hasina's official residence.
However, many see Mamata's Dhaka visit as a pure political game, exposing India's internal politics to a third country.
This was also clear in the speech of Congress Vice-president Rahul Gandhi who at a meeting in Kolkata yesterday said, "When our government was there [in office], our PM wanted to go to Bangladesh. We spoke to her [Mamata] and requested her to go with us. She said no, 'ekla chalo re' [I will go alone].
"Now, Modiji is there, so no 'ekla chalo re'. We will go together. Why is this happening? What is the friendship about? You must know the reason."
According to several West Bengal journalists, Mamata's state got Rs 3,008 crore in allocation from the centre for the land swap deal. This was one reason for her visit to Dhaka. Also, they say, she is under pressure due to the much-talked-about Saradha fund scandal and also the alleged link of her party leaders with the Burdwan blast in October last year.
By the looks of it, the journalists added, Mamata took the trip to make Modi happy, but did not accompany him as it might send a wrong signal to West Bengal's Muslim voters who are Mamata's vote bank.
Soon after her landing in Dhaka on Friday night, Mamata termed the LBA "historic" in a tweet but mentioned nothing about the Teesta deal, which remains elusive mainly due to her opposition.
During her previous Dhaka visit in February this year, Mamata assured Hasina of playing a "positive role" in resolving the Teesta issue while protecting interests of both sides.
Ahead of Modi's Bangladesh visit, India made it clear that the Teesta deal would not be signed now as India was yet to reach an internal consensus on the matter.
Diplomatic sources in Dhaka and New Delhi said Mamata's decision not to travel with Modi clearly showed that she was not ready to seal the deal.